What type of social life can someone expect in Granada?
When we asked expats and global nomads about their social experiences in Granada, they replied...
"Expatriates, retirees and digital nomads living in Granada typically have an active social life. There are many opportunities to meet people from all over the world, as well as locals, through language exchanges, meet-ups, and social events. Granada is also home to a vibrant nightlife, with plenty of bars, clubs, and restaurants to explore. Additionally, there are many outdoor activities to enjoy, such as hiking, biking, and exploring the nearby Sierra Nevada mountains. With its rich culture and history, Granada is an ideal place to make friends and build a social network," said another in Granada, Spain.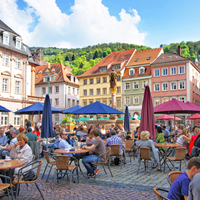 Furnished Rentals in Spain from Homelike
We've partnered with Homelike, to connect expats and newcomers with temporary accommodations in Spain. If you're moving to Spain, rent a short-term, furnished apartment or home for the first few months from Homelike and take your time figuring out the best place to live in Spain.
SEARCH RENTALS
Other Questions:
What type of social life can someone expect in Granada?
If you live in Granada, newcomers to Granada would love to hear your answer to this question: