What is the social scene like in Cambridge?
When we asked people living in Cambridge about the social scene there, they described it saying...
"The social scene in Cambridge is vibrant and diverse. There are plenty of pubs, clubs, and restaurants to explore, as well as a variety of cultural events and activities to take part in. The city is also home to a number of student societies and clubs, providing plenty of opportunities to meet new people and make friends. Cambridge is also known for its lively nightlife, with a range of bars, clubs, and live music venues to choose from," commented one expat who made the move to Cambridge, England.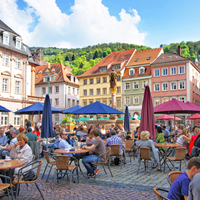 Furnished Rentals in UK from Homelike
We've partnered with Homelike, to connect expats and newcomers with temporary accommodations in UK. If you're moving to UK, rent a short-term, furnished apartment or home for the first few months from Homelike and take your time figuring out the best place to live in UK.
SEARCH RENTALS
Other Questions:
What is the social scene like in Cambridge?
If you live in Cambridge, newcomers to Cambridge would love to hear your answer to this question: