What advice do you have for expats having a baby in UK?
We asked expat moms who gave birth in UK about their experiences and advice they have for other moms to be. They said...
"Ensure that both you and your partner are registered with a GP as soon as possible, as they will be able to help you throughout your pregnancy by providing support, advice, and guidance. Make sure to familiarize yourself with the NHS maternity services available to you. Look into private medical insurance to provide additional benefits such as choice of midwife and private rooms where available. Make sure to book antenatal classes and childbirth sessions in advance to ensure that you have the opportunity to get to know your chosen birthing partners and to ask any questions that you may have. Finally, don't forget the importance of the hospital bag preparing; pack important documents, supplies and other items that may help you on the big day," wrote a member who made the move to UK.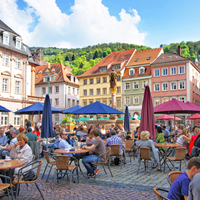 Furnished Rentals in UK from Homelike
We've partnered with Homelike, to connect expats and newcomers with temporary accommodations in UK. If you're moving to UK, rent a short-term, furnished apartment or home for the first few months from Homelike and take your time figuring out the best place to live in UK.
SEARCH RENTALS
"Move to Chipping Norton. Not all units are good units. Chipping Norton has the UNICEF Baby Friendly Award. They care for their mums and do not consider them numbers. As maternity services struggle to provide good care, Chippy is a diamond in the lot," explained one expat living in Chipping Norton, UK.
Other Questions:
What advice do you have for expats having a baby in UK?
If you live in England, newcomers to England would love to hear your answer to this question.
About the Author

Joshua Wood, LPC joined Expat Exchange in 2000 and serves as one of its Co-Presidents. He is also one of the Founders of Digital Nomad Exchange. Prior to Expat Exchange, Joshua worked for NBC Cable (MSNBC and CNBC Primetime). Joshua has a BA from Syracuse and a Master's in Clinical and Counseling Psychology from Fairleigh Dickinson University. Mr. Wood is also a licensed counselor and psychotherapist.
Some of Joshua's articles include Pros and Cons of Living in Portugal, 10 Best Places to Live in Ireland and Pros and Cons of Living in Uruguay. Connect with Joshua on LinkedIn.