What cultural faux pas should I try to avoid making in Austria?
We asked people in Austria if they could share any humorous cultural blunders they commited. For new expats, keep in mind that these incidents are an inevitable part of expat life. Learning to laugh about them is the key!...
"One cultural faux pas to avoid making in Austria is to speak loudly in public, as this is considered rude and could lead to embarrassment or confrontations. Additionally, it is considered disrespectful to skip lines and push ahead in a queue, and to do so could be seen as impolite. It is also important to show respect to Austrian customs, traditions and customs and to dress conservatively and respectfully when visiting places of worship. It is also important to avoid giving 'thumbs up' as a gesture as this can be seen as vulgar in some contexts, and to avoid using physical contact such as hugging or kissing when first meeting someone. Finally, it is important to be aware of your table manners and to avoid sprawling on chairs or reclining at the table," remarked another expat in Austria.
"When first here I rode the Tram and wanted to stop. Not knowing what the red handle was for, I chose to pull it, thereby stopping the tram abruptly. The driver came back and scolded me in German. You get the idea," said a member in Vienna, Austria.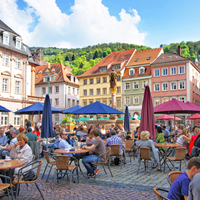 Furnished Rentals in Austria from Homelike
We've partnered with Homelike, to connect expats and newcomers with temporary accommodations in Austria. If you're moving to Austria, rent a short-term, furnished apartment or home for the first few months from Homelike and take your time figuring out the best place to live in Austria.
SEARCH RENTALS
Other Questions:
What cultural faux pas should I try to avoid making in Austria?
If you live in Austria, newcomers to Austria would love to hear your answer to this question.