Is the cost of living in Germany high?
We asked people how much they someone comfortably live on in Germany, they wrote...
"We have 1750,- Euros, with 4 different pensions, one German and 3 English ones. I think in England we would be on the border line. One can live here without any debts on 1000 Euros easily. On a park, where we are, it is very cheap. As we only pay the site fees which are about 3.800,- Euros including Electricity and gas and water is free," said a member in Eifel , Germany.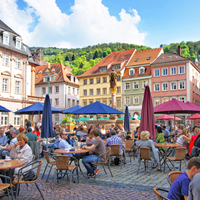 Furnished Rentals in Germany from Homelike
We've partnered with Homelike, to connect expats and newcomers with temporary accommodations in Germany. If you're moving to Germany, rent a short-term, furnished apartment or home for the first few months from Homelike and take your time figuring out the best place to live in Germany.
SEARCH RENTALS
"This would fluctuate with currency ups and downs, lifestyles location and circumstances. These vary considerably so I cannot provide an accurate figure. But, a ballpark figure for one person, to be comfortable, would be about $50,000 a year," remarked another expat who made the move to Friedrichsdorf, Germany.
Other Questions:
Is the cost of living in Germany high?
If you live in Germany, newcomers to Germany would love to hear your answer to this question.