What are healthcare services like in Austria?
We asked retirees if they have access to good medical care in Austria. They wrote...
"In Austria, healthcare is provided by a universal, publicly-funded service. Comprehensive health insurance is managed through the country's statutory health insurance system, which is provided by a variety of social insurance funds. All legal residents of Austria are entitled to receive healthcare from a general practitioner and the national health-care system covers the majority of medical costs. Austria has one of the most advanced healthcare systems in Europe, and its citizens have access to a range of services, including preventative care, specialist consultations, diagnostics and treatment, and long-term care. The system also covers mental health services, drug and alcohol rehabilitation, and physiotherapy," explained one expat living in Austria.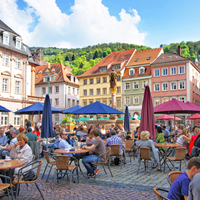 Furnished Rentals in Austria from Homelike
We've partnered with Homelike, to connect expats and newcomers with temporary accommodations in Austria. If you're moving to Austria, rent a short-term, furnished apartment or home for the first few months from Homelike and take your time figuring out the best place to live in Austria.
SEARCH RENTALS
Other Questions:
What are healthcare services like in Austria?
If you live in Austria, newcomers to Austria would love to hear your answer to this question.