Should I buy or rent a home in Portugal?
If you have not spent a lot of time in Portugal, you should rent before even thinking about buying. We asked expats there about the buy vs. rent decision...
"Deciding whether to buy or rent a home in Portugal depends on your personal budget, lifestyle, and goals. If you are looking for a more permanent living situation and a long-term investment, purchasing a home in Portugal could be a great option for you. On the other hand, if you are looking for short-term accommodation or want more flexibility, then renting a home may be the better option. Ultimately, the decision between buying or renting a home in Portugal should be based on your individual needs and preferences," remarked another expat in Portugal.
"We are renting a lovely house in a Portuguese residential community. Very peaceful and quiet. Lovely neighbors. Just a 15 minute walk to the ocean - Good transportation. Many people speak English or French. We have all kinds of nice little restaurants in this neighborhood all within walking distance and we will probably look to purchase near here," said a member in Cascais, Portugal.
Other Questions:
Should I buy or rent a home in Portugal?
If you live in Portugal, newcomers to Portugal would love to hear your answer to this question.
About the Author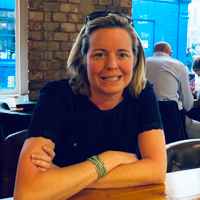 Betsy Burlingame is the Founder and President of Expat Exchange and is one of the Founders of Digital Nomad Exchange. She launched Expat Exchange in 1997 as her Master's thesis project at NYU. Prior to Expat Exchange, Betsy worked at AT&T in International and Mass Market Marketing. She graduated from Ohio Wesleyan University with a BA in International Business and German.
Some of Betsy's articles include 12 Best Places to Live in Portugal, 7 Best Places to Live in Panama and 12 Things to Know Before Moving to the Dominican Republic. Betsy loves to travel and spend time with her family. Connect with Betsy on LinkedIn.