What is life like as an expat in your area?
When we asked people living abroad what life is like in their areas and how people spend their time, they said...
"Life as an expat in the area can be both exciting and challenging. The culture, language and customs are different from most home countries, and it can be difficult to adjust to a new way of life. However, there are plenty of expats who have gone before, so there is a community for expats to seek advice and make connections. Life in the area is generally multicultural, with a wide variety of restaurants, entertainment options, parks, and other activities for expats to explore. The cost of living is moderate and the transportation systems are reliable and convenient. Overall, life as an expat in the area can be a great experience, as long as one is open to new experiences and is willing to put in the effort to learn the new culture and make connections," commented one expat who made the move to Ukraine.

International Health Insurance
PassportCard Introduces an innovative approach to expat and digital nomad health insurance with no out-of-pocket expenses, no paperwork and no long claim processing, facilitating payout on the spot when you really need it. Outstanding service validated with more than 2 million customers for over 20 years. Get a quote from our partner, PassportCard.
GET A QUOTE
"Life for the girls definitely revolves around fashion. Whoever can look the best has a better chance to leave the country with a rich man is what their mother taught them and sadly enough, it's true," remarked another expat in Kiev, Ukraine.
Other Questions:
What is life like as an expat in your area?
If you live in Ukraine, newcomers to Ukraine would love to hear your answer to this question.
About the Author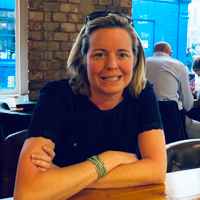 Betsy Burlingame is the Founder and President of Expat Exchange and is one of the Founders of Digital Nomad Exchange. She launched Expat Exchange in 1997 as her Master's thesis project at NYU. Prior to Expat Exchange, Betsy worked at AT&T in International and Mass Market Marketing. She graduated from Ohio Wesleyan University with a BA in International Business and German.
Some of Betsy's articles include 12 Best Places to Live in Portugal, 7 Best Places to Live in Panama and 12 Things to Know Before Moving to the Dominican Republic. Betsy loves to travel and spend time with her family. Connect with Betsy on LinkedIn.