What is life like as an expat in your area?
When we asked people living abroad what life is like in their areas and how people spend their time, they said...
"Life for expats and digital nomads in Austria is generally very rewarding. With its bustling cities, stunning countryside and vibrant culture, many expats and digital nomads are drawn towards the alpine nation. The locals are also known to be friendly and welcoming, helping expats to easily integrate into the Austrian culture and lifestyle. The country is also well connected with excellent public transport, making it easy to explore the different cities and regions. Expats and digital nomads will also find plenty to do in Austria with its museums, galleries, festivals and outdoor activities, providing a range of options to suit all interests," said a member in Austria.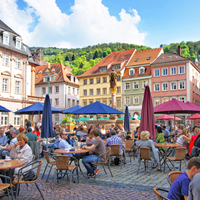 Furnished Rentals in Austria from Homelike
We've partnered with Homelike, to connect expats and newcomers with temporary accommodations in Austria. If you're moving to Austria, rent a short-term, furnished apartment or home for the first few months from Homelike and take your time figuring out the best place to live in Austria.
SEARCH RENTALS
"Lives evolve around work during the weekdays and relaxation on the weekends, some people are also fans of the Rapid Austria and Wien soccer clubs," remarked another expat who made the move to Vienna, Austria.
Other Questions:
What is life like as an expat in your area?
If you live in Austria, newcomers to Austria would love to hear your answer to this question.