What is life like as an expat in your area?
When we asked people living abroad what life is like in their areas and how people spend their time, they said...
"Life for expats and digital nomads in Egypt can be both exciting and challenging. The country offers a unique cultural experience, with its ancient monuments, vibrant cities, and stunning landscapes. Expats and digital nomads can find a wide range of activities to explore, from exploring the pyramids and ancient temples to taking a cruise down the Nile. The cost of living is relatively low, making it an attractive destination for those looking to stretch their budget. However, the language barrier and cultural differences can be a challenge for some. Additionally, the political situation in Egypt can be unpredictable, so it is important to stay informed and take necessary precautions," explained one expat living in Egypt.

Cigna Global Health Insurance
Expats interested in International Health Insurance should take a minute to get a quote from our trusted expat health insurance partner, CIGNA.
GET A QUOTE
"In Egypt, Family is number one but going for coffee is right up there as well. Going to the mall (Carfor) seems to be a big deal here," said another expat in Alexandria, Egypt.
Other Questions:
What is life like as an expat in your area?
If you live in Egypt, newcomers to Egypt would love to hear your answer to this question.
About the Author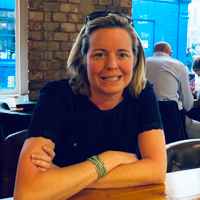 Betsy Burlingame is the Founder and President of Expat Exchange and is one of the Founders of Digital Nomad Exchange. She launched Expat Exchange in 1997 as her Master's thesis project at NYU. Prior to Expat Exchange, Betsy worked at AT&T in International and Mass Market Marketing. She graduated from Ohio Wesleyan University with a BA in International Business and German.
Some of Betsy's articles include 12 Best Places to Live in Portugal, 7 Best Places to Live in Panama and 12 Things to Know Before Moving to the Dominican Republic. Betsy loves to travel and spend time with her family. Connect with Betsy on LinkedIn.