What are the schools in Bahamas like?
When we asked about the schools in Bahamas, they said...
"The Lyford Cay International School (LCIS) is a coeducational K-12 private international school located in Nassau, Bahamas. It offers both a bilingual English/French program and an English-only program, with many of the courses taught in French and Spanish. Students at LCIS benefit from inspiring and innovative teaching from international faculty, as well as from embracing the values and culture of both their national and international learning environment. The school provides an academically rigorous curriculum combined with a dynamic and creative approach to learning. Lyceum Academy is an accredited international primary, middle and high school located in Nassau, Bahamas. This school offers preschool through secondary school, in an atmosphere of strong academic standards and a commitment to the development of the individual. The curriculum is based on the International Baccalaureate standards, with the inclusion of French, Spanish and Mandarin. Lyceum Academy provides plentiful opportunities for learning, such as leadership programs, workshops, and field trips. St. Andrew's International School is a private school located in Nassau and Freeport, Bahamas offering Early Childhood, Primary, Middle School and High School programs. The school is based on an American educational system, however it seeks to honor the traditions and culture of the islands. St. Andrew's provides students with a well-rounded education in an environment of strong academic excellence and development, while placing emphasis on the importance of respect and appreciation for diversity. Additionally, the school also offers extracurricular activities such as athletics, music and foreign language, which provides an opportunity for students to promote and develop their social, artistic and physical talents," commented one expat when asked about in Bahamas.
Other Questions:
What are the schools in Bahamas like?
If you live in Bahamas, newcomers to Bahamas would love to hear your answer to this question.
About the Author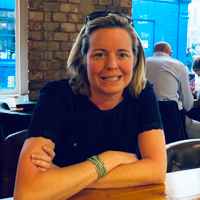 Betsy Burlingame is the Founder and President of Expat Exchange and is one of the Founders of Digital Nomad Exchange. She launched Expat Exchange in 1997 as her Master's thesis project at NYU. Prior to Expat Exchange, Betsy worked at AT&T in International and Mass Market Marketing. She graduated from Ohio Wesleyan University with a BA in International Business and German.
Some of Betsy's articles include 12 Best Places to Live in Portugal, 7 Best Places to Live in Panama and 12 Things to Know Before Moving to the Dominican Republic. Betsy loves to travel and spend time with her family. Connect with Betsy on LinkedIn.