What is the average cost of housing in Portugal?
If you are thinking about moving to Portugal, cost of living in probably a key consideration. Expats commented about the cost of housing...
"The average cost of housing in Portugal is generally considered to be quite reasonable. Prices vary depending on the location, size and quality of property, but most one bedroom apartments in the city centre cost between 500 and 700 euros per month, while larger family homes can start at around 1000 euros. Rent prices are generally cheaper outside the cities, and Portugal's extensive coastline means that beachfront properties can be slightly more expensive than inland properties," said a member in Portugal.

Expat Health Insurance in Portugal
Expats interested in expat health insurance should take a minute to get a quote from our trusted expat health insurance partner, CIGNA.
GET A QUOTE
"Housing cost is less than half of what we were paying in Denver, Colorado. Depending on the size of place you need and location, $700-1200/month can be average. Porto is more affordable than Lisbon and Vila Nova de Gaia, which is a 10 minute drive from Porto, across the river can be several hundred dollars cheaper than Porto. Neighboring smaller cities are even more affordable," remarked another expat who made the move to Porto, Portugal.
Other Questions:
What is the average cost of housing in Portugal?
If you live in Portugal, newcomers to Portugal would love to hear your answer to this question.
About the Author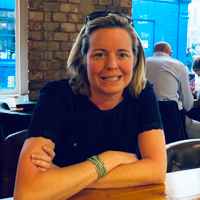 Betsy Burlingame is the Founder and President of Expat Exchange and is one of the Founders of Digital Nomad Exchange. She launched Expat Exchange in 1997 as her Master's thesis project at NYU. Prior to Expat Exchange, Betsy worked at AT&T in International and Mass Market Marketing. She graduated from Ohio Wesleyan University with a BA in International Business and German.
Some of Betsy's articles include 12 Best Places to Live in Portugal, 7 Best Places to Live in Panama and 12 Things to Know Before Moving to the Dominican Republic. Betsy loves to travel and spend time with her family. Connect with Betsy on LinkedIn.