Where should I setup a bank account in Spain?
We asked expats in Spain what banks they use and there advice about banking. They advised...
"Before retiring in Spain, expats should research the cost of living in the area they plan to move to as this can vary greatly across the country. They should check if their pension or other income will be taxed in Spain and what the tax rate will be. It can be helpful to learn some basic Spanish, or the local language in the area, in order to get to know the local culture and better integrate into the community. Knowing about local healthcare, such as public or private insurance and private medical providers, may be beneficial. Expats should also make sure that they are familiar with their residence rights, visa restrictions and other legal requirements for living in Spain. Finally, deciding on where to live, considering factors like amenities, infrastructure, and climate, can be an important step in the retirement process," commented one expat who made the move to Spain.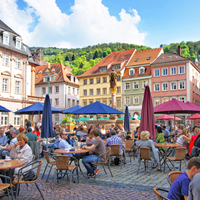 Furnished Rentals in Spain from Homelike
We've partnered with Homelike, to connect expats and newcomers with temporary accommodations in Spain. If you're moving to Spain, rent a short-term, furnished apartment or home for the first few months from Homelike and take your time figuring out the best place to live in Spain.
SEARCH RENTALS
"I have always used a Swedish Building Society called Esanda as I get 5% interest and a bonus of 6% p.a. (www.esandabuildingsociety.com)," remarked another expat in Nice, Spain.
Other Questions:
Where should I setup a bank account in Spain?
If you live in Spain, newcomers to Spain would love to hear your answer to this question.
About the Author

Joshua Wood, LPC joined Expat Exchange in 2000 and serves as one of its Co-Presidents. He is also one of the Founders of Digital Nomad Exchange. Prior to Expat Exchange, Joshua worked for NBC Cable (MSNBC and CNBC Primetime). Joshua has a BA from Syracuse and a Master's in Clinical and Counseling Psychology from Fairleigh Dickinson University. Mr. Wood is also a licensed counselor and psychotherapist.
Some of Joshua's articles include Pros and Cons of Living in Portugal, 10 Best Places to Live in Ireland and Pros and Cons of Living in Uruguay. Connect with Joshua on LinkedIn.