Where should I setup a bank account in France?
We asked expats in France what banks they use and there advice about banking. They advised...
"1. Expats should research the local laws and regulations of their chosen area in France, as these may vary from region to region. 2. It is also important to check whether a Visa is required and whether you will be eligible for health insurance in France. 3. It is essential to ensure that retirement funds can be easily transferred to the new country, or to explore the pension options available in France. 4. It is vital to explore the cost of living and housing costs to ensure that you can comfortably retire in France. 5. Expats should learn the French language, as it will make it easier to integrate into the local culture and make it easier to communicate. 6. Lastly, consider your lifestyle and if it will complement the French way of life to ensure that you can enjoy and make the most of your retirement in France," explained one expat living in France.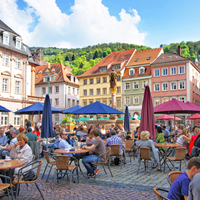 Furnished Rentals in France from Homelike
We've partnered with Homelike, to connect expats and newcomers with temporary accommodations in France. If you're moving to France, rent a short-term, furnished apartment or home for the first few months from Homelike and take your time figuring out the best place to live in France.
SEARCH RENTALS
"Initially yes. Because of our unfamiliarity with French banking when we moved from UK we used Credit Agricloe's Britline service - it offers all services in English (apart from its legal documentation, which is in legal French). But I now have a business account with BNP Paribas, and a mortgage account with Societe Generale. I've kept the Britline one though," said another expat in Normandy, France.
Other Questions:
Where should I setup a bank account in France?
If you live in France, newcomers to France would love to hear your answer to this question.
About the Author

Joshua Wood, LPC joined Expat Exchange in 2000 and serves as one of its Co-Presidents. He is also one of the Founders of Digital Nomad Exchange. Prior to Expat Exchange, Joshua worked for NBC Cable (MSNBC and CNBC Primetime). Joshua has a BA from Syracuse and a Master's in Clinical and Counseling Psychology from Fairleigh Dickinson University. Mr. Wood is also a licensed counselor and psychotherapist.
Some of Joshua's articles include Pros and Cons of Living in Portugal, 10 Best Places to Live in Ireland and Pros and Cons of Living in Uruguay. Connect with Joshua on LinkedIn.