Why do people move to France?
When we asked people why foreigners move to France, they responded...
"The appeal of France to expats is largely due to its relaxed lifestyle, rich culture, and excellent infrastructure. Its long-standing reputation as a haven for artists and its sophisticated cities and stunning countryside provide endless opportunities for exploration and inspiration. From its stunning natural landscapes to its vibrant and diverse cities, France offers plenty of attractions that make it an attractive destination for expats. The high standard of living, great educational opportunities, and excellent healthcare system mean that expats can feel secure in the knowledge that they can enjoy France's unique atmosphere and high quality of life. Additionally, the country's robust social security system and extensive job market open a wealth of opportunities for those looking to relocate. With its world-class culture, cuisine, and art, France has something for everyone, making it an ideal place for expats to call home," wrote a member who made the move to France.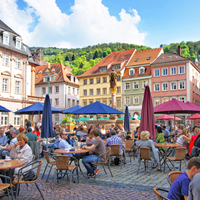 Furnished Rentals in France from Homelike
We've partnered with Homelike, to connect expats and newcomers with temporary accommodations in France. If you're moving to France, rent a short-term, furnished apartment or home for the first few months from Homelike and take your time figuring out the best place to live in France.
SEARCH RENTALS
"Mostly for work or school. Epinal is home to the only public timber engineering school in France, and also houses some international companies such as Michelin," explained one expat living in Epinal, France.
Other Questions:
Why do people move to France?
If you live in France, newcomers to France would love to hear your answer to this question:
About the Author

Joshua Wood, LPC joined Expat Exchange in 2000 and serves as one of its Co-Presidents. He is also one of the Founders of Digital Nomad Exchange. Prior to Expat Exchange, Joshua worked for NBC Cable (MSNBC and CNBC Primetime). Joshua has a BA from Syracuse and a Master's in Clinical and Counseling Psychology from Fairleigh Dickinson University. Mr. Wood is also a licensed counselor and psychotherapist.
Some of Joshua's articles include Pros and Cons of Living in Portugal, 10 Best Places to Live in Ireland and Pros and Cons of Living in Uruguay. Connect with Joshua on LinkedIn.