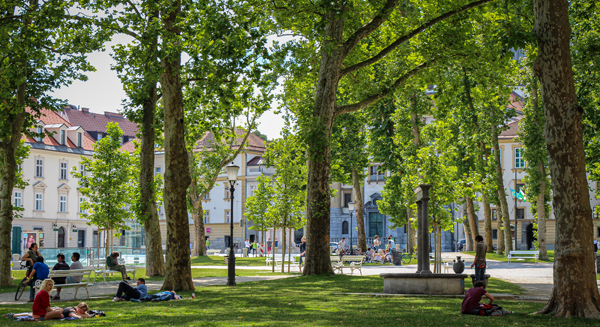 Welcome to Ljubljana! If you're planning to move to Ljubljana, congratulations on taking the first step towards a new adventure. While there are many things to think about before you leave, such as visas, housing, and transportation, it's important to remember that once you arrive, the fun really begins. In this article, we'll introduce you to some of the best sites, restaurants, and nightlife that Ljubljana has to offer, as well as provide tips on recreational activities and making friends in Ljubljana.
Ljubljana is a beautiful city with plenty of sites of interest for tourists and locals alike. One of the most popular attractions is the Ljubljana Castle, which is perched atop a hill overlooking the city. The castle is a great place to explore and take in the stunning views of the city. Other popular sites include the Triple Bridge, the Dragon Bridge, and the Prešeren Square. The Triple Bridge is a unique three-level bridge that spans the Ljubljanica River, while the Dragon Bridge is a beautiful Art Nouveau bridge adorned with four dragon statues. The Prešeren Square is a popular gathering place for locals and tourists alike, and is home to the Franciscan Church of the Annunciation.
Ljubljana is also known for its vibrant restaurant and nightlife scene. Some of the most popular restaurants include Gostilna Sokol, which serves traditional Slovenian dishes, and Gostilna Pri Škofu, which specializes in seafood. For a more upscale dining experience, there is the JB Restaurant, which serves modern European cuisine. For a more casual dining experience, there are plenty of cafes and bistros scattered throughout the city.
When it comes to nightlife, Ljubljana has plenty of bars and clubs to choose from. Some of the most popular spots include Klub K4, which is a popular dance club, and Klub Gromka, which is a live music venue. For a more relaxed atmosphere, there are plenty of pubs and bars such as the Union Pub and the Irish Pub.
When it comes to recreational activities, Ljubljana has plenty to offer. One of the most popular activities is hiking, and there are several trails in the surrounding area. For those looking for a more leisurely activity, there are plenty of parks and gardens to explore, such as Tivoli Park and the Botanical Garden. For those looking for a more active experience, there are plenty of sports facilities, such as the Ljubljana Sports Park and the Ljubljana Sports Hall.
Insider Tips from Expats in Ljubljana: Making the Most of Life and Connections
"Expats in Ljubljana can join a variety of clubs and activities, such as language exchange groups, sports teams, and cultural clubs. Expats can also meet people by attending local events, such as festivals, concerts, and art exhibitions. Additionally, many expats find it helpful to join online forums and social media groups dedicated to connecting expats in the city. Finally, expats can also meet people by simply exploring the city and striking up conversations with locals," said one expat living in Ljubljana.
"Life for expats and digital nomads in Ljubljana is generally quite pleasant. The city is small and easy to navigate, with a vibrant cultural scene and plenty of outdoor activities to enjoy. The cost of living is relatively low, making it an attractive destination for those looking to stretch their budget. The city is also very welcoming to foreigners, with a large expat community and plenty of English-speaking locals. The city is also well-connected, with good public transportation and easy access to the rest of Europe. All in all, Ljubljana is an ideal destination for expats and digital nomads looking for a comfortable and affordable place to live," commented an expat living in Ljubljana.