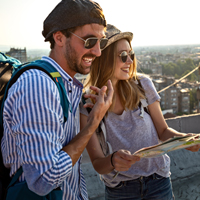 Now Health International
Live Healthier, Live Happier with award winning international health insurance. Get up to 40% discount on new plans.
GET A QUOTE

Living in Scotland Guide
Expat in Scotland love traditional Scottish culture, beautiful landscapes and they experiences both combine to make possible. Be aware of the high cost of living, but if you come prepared you will always want to come back to this very special place.
Scotland Forum
Join our Scotland forum to meet other expats and talk about living in Scotland.

Contribute
Help other expats and newcomers by answering questions about the challenges and adventures of living in Scotland.

34 Expats Talk about Healthcare & Health Insurance in Scotland
Expats living in Scotland talk about their own experiences with healthcare, hospital visits, emergencies, finding a doctor, buying health insurance in Scotland and more.

Cost of Living in Scotland
Expats offer insight into the cost of living in Scotland.

Moving to Scotland Guide
Here are 9 things to know before moving to Scotland from expats who have already moved there. Their advice covers topics such as the NHS, expat health insurance, village vs.

Real Estate in Scotland
Real estate listings in popular cities and towns in Scotland.

Pros & Cons of Living in Scotland
Take off your rose-colored glasses and learn what expats have to say about the biggest challenges and the greatest rewards of living in Scotland.

Retiring in Scotland
Advice for people retiring in Scotland.