8 Free Things to Do in Lyon, France
By Aga Marchewka
Summary: Aga Marchewka offers great advice on delving into the French culture in Lyon, France. Find out what you can do in the third biggest city in France... for free!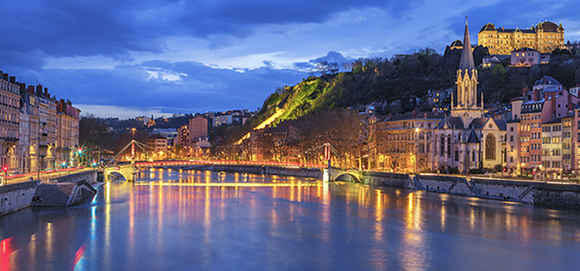 Have you heard about the amazing city of Lyon? The 3rd biggest city of France and my beloved one? I fell in love with it from the first sight! That is why I came back and moved here! Lyon has amazing history, and old parts that need to be explored. Lyon is the Capital of Gastronomy so you get the best French food here (and this is true!). Lyon has the modern part and is developing rapidly to provide new opportunities for people and the city. There is so much to be seen, experienced and to fall in love with... if you haven't been here yet, I highly recommend it. You can also get the very authentic French experience, and it's better then Paris... People speak French and they are typical Lyonnais who love their city and food; yet they are welcoming and helpful!
As much as I also love travelling I realize how expensive this is. That is why I want to share this list of things you can do in Lyon for free! Yes, you can enjoy your visit to Lyon and do it on a budget!
1. Enjoy the Parc de la Tete d'Or
Enjoy the best park ever – go to Parc de la Tete d'Or - the 105 hectares green area in the centre of Lyon. Have a walk, picnic, bike ride, meet with friends! But especially visit the impressive collection of flowers in their Botanic Garden. All for FREE!
2. Visit the Lyonnais Zoo
Visit Free Lyonnais Zoo. Yes, this is true! This big zoo - featuring lions, crocodiles, monkeys, pelicans, giraffes and more - is accessible for anyone and hidden in the huge the Parc de la Tete d'Or. But I am sure you will find it... the deer, ducks and emus will show you a way.
3. Climb Fourviere Hill
Get the amazing city view for Free! Climb the Fourviere Hill, which is so rewarding even if it is tiring! Otherwise you can go up by the famous Funicular, which is like an additional attraction. It takes just a couple of minutes to ride it up. Although the it is no longer free, the experience is pretty cool and relatively inexpensive - just the price of a metro ticket. The good news is that if you buy the one day ticket pass you can use it for free as well!
4. Visit Vieux Lyon (Old Lyon)
Visit the old & historical part of Lyon for the exceptional atmosphere that Vieux Lyon offers you! It's full of famous bouchons, small restaurants, and impressive churches to visit. More than anything else, it preserves the memory of this prosperous epoch and the textile industry. The boutiques displayed, the silk textiles to be bought, and the Traboules all show the way people transported the precious material. You can freely visit them and learn more about the Lyonnais history.
5. Visit All of Lyon's Famous Traboules (Passageways)
Visit all the famous Traboules of Lyon. Starting with Old Lyon focus on the Croix Rousse. Colline de la Croix-Rousse was an important centre of weaving in the early 19th-century. There is a Special Route you can follow to discover the history and all those hidden passages. You don't need to pay the guide. It's for FREE for you!
6. Discover Modern Lyon
Discover the modern part of Lyon located in between the Saone and Rhone. The Confluence area has become impressive and is one of the most sustainable districts in Europe. The building there will blow your mind! They are so modern and cool and in gold or silver, and people live in them! There is a new Confluence shopping centre and the new and famous Confluence Museum. Those two places are worth visiting and the view from them are offered for free!
7. Find the Fresque des Lyonnais
Admire the FREE Street Art! I am afraid you will not be able to see it all as Lyon has many amazing mural paintings to discover, but make sure you have seen the most popular! Find the Fresque des Lyonnais - a mural of famous people from Lyon - which is located at the Quai Saint Vincent, and Le Mur Des Canuts, which is in the Croix Rousse Area.
8. Visit the Gallo-Roman Theatre
Discover the history of Lyon by visiting the Gallo-Roman theatre. The city was founded in October 9, 43 B.C., by a Roman legate, on the Fourviere Hill. So the Gallo-Roman theatre is a great example of the Lyonnais historical heritage. It's free to enter but there is also a museum worth visiting and I have a good news for you! The museum is FREE for everyone on Thursdays!
Find out what is happening in Lyon and discover the events that are for FREE. You can find useful suggestions on the Lyon Crunch City website as well as MonWeekend a Lyon.
So I hope you liked it and found it useful. And I hope you will be packing soon and coming over to Lyon! If you want to find out more on how to enjoy Lyon and France, keep an eye on my blog: shopaholicfromhome.com where I continue to explore France and Lyon. For now... bon voyage!
About the Author
Aga is a Pole who lived in London, UK for over 6 years. More then traveling, she loves exploring different cultures and differences & similarities between different nations. She has been traveling a bit and loves to be in the international environment. She has been gaining many observations about the French lifestyle, places to visit in France and wanted to share them with others while starting to learn this beautiful yet so difficult language while slowly settling in in France. Your Home is Where Your Heart Is... that is why J'adore Lyon by Shopaholicfromhome has been created. Because Aga, on top of the fact that she fell in love with Lyon and the French... she also and mostly loves shopping, especially savvy shopping!

Write a Comment about this Article
First Published: Jul 22, 2015