Living in Estonia
Last updated on Feb 06, 2023
Summary: The approximate population of Estonia is 1.3 million people. The largest cities in Estonia are Tallinn, Tartu, Narva, Kohtla-Järve, and Pärnu. Expats love living in Estonia for its high quality of life, low cost of living, and friendly people. Life in Estonia is described as peaceful, safe, and relaxed. Popular foods in Estonia include rye bread, potatoes, pork, and fish. Soups, stews, and porridges are also popular. The cons of living in Estonia include the cold weather, the language barrier, and the lack of job opportunities. The average cost of living for an expat is around $1,500 to $2,000 per month. This includes rent, utilities, food, and other expenses.
What do I need to know about living in Estonia?
When we asked people what advice they would give someone preparing to move to Estonia, they said:
"Before retiring in Estonia, you should be aware of the different benefits you are eligible for and what type of visa or residency you need in order to retire in the country. It is important to research the pension system and its eligibility requirements, as well as the taxation system. Expats should consider the cost of living and housing market which vary from city to city. It is also important to be familiar with the language and culture of Estonia, as most locals do not speak English. You should also explore the country for the best retirement destination for you; the outskirts of cities may provide a more peaceful setting, while moving to the larger cities may provide more activities and cultural amenities," remarked another expat living in Estonia.
"Come here first and meet the people, and see how you like it. For winter, bring heaps of extremely warm clothes. Culturally it is a dream, with the concert hall and opera house performing 9 mos of the year, and best seats at only 11 dollars. Dining out at fine restaurants is no bargain. Bring Seasoning Salt in abundance, and boxes of seasoned stuffing if you like roast chook )or you'll have to make your own). MORE cigarettes also canä' be found here. You can join the Academic Library and check out books in English and many other languages," added another expat in Tallinn.
How do I meet people in Estonia?
When we asked people living in Estonia about club and activities where newcomers can meet others, they responded:
"Estonia is a great place to meet people because it is an incredibly friendly and welcoming country. There are many opportunities to meet people through attending social events, local festivals, joining a hobby or sports group, volunteering, or participating in student organizations. You can also look for job opportunities or attend language exchanges to meet locals and practice your language skills. Additionally, there are a lot of popular coffee shops and bars which are great places to meet new people and exchange ideas," remarked another expat who made the move to Estonia.
"British Chamber of Commerce American and Canadian Chambers of Commerce. Get a hold of This Week in Tallinn )a bimonthly puiblication) and Baltic Times weekly newspaper to find names of clubs and churches that might be of interest," explained one expat living in Tallinn, Estonia.
What is life like in Estonia?
When we asked people living in Estonia what life is like and how people spend their time, they said:
"Living as an expat in my area is a unique experience. You get to enjoy the benefits of living in a culturally diverse city with a vibrant nightlife, great shopping and culinary experiences, and endless opportunities to explore. You will meet people from all over the world who have come here to start new lives and fulfill their dreams, and you will come away feeling like you have become part of a global family. The cost of living is low compared to many other parts of the world and the quality of life is high. There are plenty of fun activities to do, from adventure sports and hikes in the outdoors to relaxing strolls along the beach. And you'll never run out of things to discover in this ever-changing city," explained one expat living in Estonia.
"Life here is family oriented up to a point, but many marriages are broken. Young people go out frequently to bars and clubs where English is generally well spoken. Foreigners are received in a friendly and welcome manner. In fact, they are plesantly surprised to see you here. Do not be shy about opening conversations," said another expat in Tallinn.
Is there a lot of crime in Estonia?
We asked people if there is a lot of crime. They answered:
"No, there is not a lot of crime in Estonia. The average crime rate in Estonia is low compared to other European countries. According to the 2019 UN Office on Drugs and Crime Report, in 2018, the total crime rate for Estonia was at 60.5 per 100,000 people. This is significantly lower than the European Union average of 70.4 per 100,000 people. National surveys have also found that the majority of Estonian citizens believe that the crime rate in Estonia is low," added another expat who made the move to Estonia.
Is there a lot of diversity? Are people in Estonia accepting of differences?
"Estonia is generally very diverse, especially in the capital Tallinn. There is a wide variety of ethnic backgrounds and religions represented in Estonia, and people are usually accommodating and open-minded when it comes to differences. The country has made significant progress in ensuring equal rights for people of minority ethnic backgrounds and religions. As a result, most people in Estonia are accepting of different cultures, viewpoints, and backgrounds," remarked another expat living in Estonia.
"About 35% are of Russian ancestry, and that is their usual language. They like going to Karaoki bars and paying a little to sing their hearts out. Many businesses function as much in Russian as in Estonian. It is hard to tell Estonians from Russian ancestry people unless you listen to them speaking with each other. Many Estonians do not like this group of people, and have made laws concerning their obtaining a total Estonian passport, with passing an Estonian language test )which the EU will probably rule to be a violation of human rights on Estonia joining that body). The Russian oriented people here are very different from Russians in Russia, in fact they think more or less alike with fellow Estonians. Religion is not strong here. The population is pretty broad minded in a Scandinavian manner in terms of sexual mores, which anyone will find out quickly if they get cable TV, as after midnight anything is shown. They think of sex as a completely norman bodily function, like eating breakfast, and they are not prudes. There is also a high level of gay tolerance, with as many clubs here in this city of only 500,000 as are found in Moscow with its 15m. I do not think black people would find problems here like they do in Russia, but I haven't direct experience on this subject in this 100% white nation. I think there is very little experience here in meeting black people, as they have only been free of the ex Soviet Union for 11 years. I know there is no prejudice against Hispanic peoples," added another expat in Tallinn.
What are the schools in Estonia like?
"Schools in Estonia follow an educational system based on the principles of lifelong learning and continuous development. Most Estonian students attend public schools, though there are also private schools available. Primary and basic education consists of nine years, during which students learn the basics of their respective language and a foundation of mathematics, sciences, history, and other humanities. Secondary education is further divided in three levels: lower secondary, upper secondary, and higher education. Depending on the school type and student preferences, they can pursue either general, vocational, or postsecondary education. Students typically attend classes in the morning, with free time in the afternoon and evenings to pursue activities such as leisure, sports, sciences, amateur art, and music," commented one expat when asked about in Estonia.
"I would encourage anyone considering bring their kids to Estonia to visit the school and see them in action. It is a great little school with a faculty that cares," remarked another expat living in Tallinn with children attending International School of Estonia.
Is the cost of living in Estonia high?
We asked people how much they someone comfortably live on in Estonia, they wrote:
"The cost of living in Estonia is generally considered to be lower than in other countries in Europe. Prices of goods and services, such as food, housing, transport, and entertainment, tend to be lower than the European average. Additionally, benefits such as free education, free medical care, and low taxes, make living in Estonia more affordable than in some other countries," said another expat in Estonia.
About the Author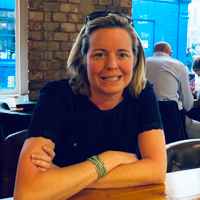 Betsy Burlingame is the Founder and President of Expat Exchange and is one of the Founders of Digital Nomad Exchange. She launched Expat Exchange in 1997 as her Master's thesis project at NYU. Prior to Expat Exchange, Betsy worked at AT&T in International and Mass Market Marketing. She graduated from Ohio Wesleyan University with a BA in International Business and German.
Some of Betsy's articles include 12 Best Places to Live in Portugal, 7 Best Places to Live in Panama and 12 Things to Know Before Moving to the Dominican Republic. Betsy loves to travel and spend time with her family. Connect with Betsy on LinkedIn.