Cost of Living in Belize
Last updated on Dec 11, 2022
Summary: What is the cost of living in Belize? Expats, digital nomads and retirees living in Belize talk about the general living costs, the cost of housing and health insurance.
Is the cost of living in Belize high?
We asked people how much they someone comfortably live on in Belize, they wrote:
"The cost of living in Belize is generally considered reasonable. Expenses for basic items such as fruits and vegetables, utilities, and rent vary greatly between the cities and rural areas. However, the cost of living is generally lower than in most Western countries," explained one expat living in Belize.
"Since we are debt free, and the property taxes are unbelievably low, we are primarily able to live just on our Social Security (about $3,000 U.S. per month). Again, however, we do not spend excessively on sightseeing or dining out. We love living a quiet life at a slow pace," said another expat in Hopkins Village.
Answer Question & View More Answers
Will I save money living in Belize?
"Living in Belize can help you save money compared to living in other parts of the world, such as the United States. The cost of living in Belize is much lower than in the US, meaning that you can live in comfort and still save money. Prices for basic necessities such as housing, food, utilities, and transportation are all much lower in Belize than they are in the US. Additionally, Belize has a low tax rate, which helps to keep your spending costs down," said another expat in Belize.
"Exceeded! The stores have ground expotentially. You can get anything else easily shipped in. My dad is 97 and we ship in his favorite Cookies all the time," added another person living in Cerros Sands Corozal .
Answer Question & View More Answers
What is the average cost of housing in Belize?
If you are thinking about moving to Belize, cost of living in probably a key consideration. Expats commented about the cost of housing:
"The average cost of housing in Belize varies depending on the location, size, and type of property. Generally, properties located closer to the beach tend to be more expensive than inland properties. However, overall, housing in Belize tends to be more affordable than in other countries in the Caribbean," said one expat in Belize.
"Lower. Average cost with some amenities is $400 US, I also have heard that for that price or a little more you can rent a whole house instead," remarked another in San Pedro.
Answer Question & View More Answers
What are typical rental prices for expats in Belize?
"Rental prices will vary based on the size (how many bedrooms, bathrooms, amenities, etc), the location (near the sea, river, inland), and whether it is high or low season. How the home is furnished may have a bearing on the rent also. In the Hopkins area rentals can be found for just about any budget," remarked another expat living in Hopkins.
"When renting in Belize, 500 USD a month for a 1/2 Bedroom and 1000 USD for a month 2/3 Bedroom. ," said one expat living in San Ignacio.
Answer Question & View More Answers
What appliances are typically included in a rental?
We asked foreigners in Belize what appliances are typically included in a rental, and, if there is anything else included or not included that a newcomer would not expect. Replies included:
"In Belize, most rentals come furnished since it would not be expedient for a renter to purchase furniture, large appliances, and kitchen items.," added another expat.
"Typically the kitchen is fully setup, the appliances are included, washer and dryer are included," commented one expat who moved to San Pedro.
About the Author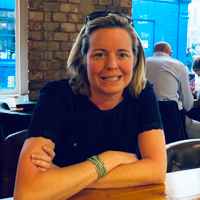 Betsy Burlingame is the Founder and President of Expat Exchange and is one of the Founders of Digital Nomad Exchange. She launched Expat Exchange in 1997 as her Master's thesis project at NYU. Prior to Expat Exchange, Betsy worked at AT&T in International and Mass Market Marketing. She graduated from Ohio Wesleyan University with a BA in International Business and German.
Some of Betsy's articles include 12 Best Places to Live in Portugal, 7 Best Places to Live in Panama and 12 Things to Know Before Moving to the Dominican Republic. Betsy loves to travel and spend time with her family. Connect with Betsy on LinkedIn.