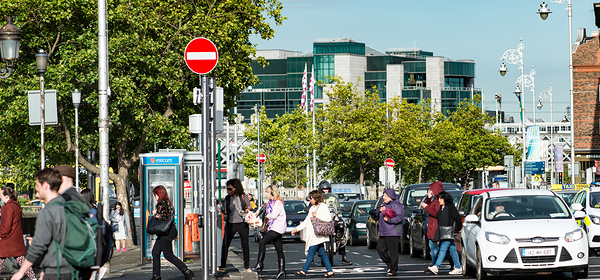 1. Understanding the Driving Side
First and foremost, remember that in Ireland, you drive on the left side of the road. This can be a bit confusing for those coming from countries where driving is on the right. It's crucial to familiarize yourself with this rule to avoid accidents and misunderstandings on the road.
2. Car Recommendation
Compact cars are recommended for driving in Dublin due to the narrow roads and limited parking spaces. Smaller cars are easier to maneuver and park, especially in the city center. However, if you plan to travel around the country, a larger car might be more comfortable.
3. Parking in Dublin
Finding parking in Dublin can be challenging, especially in the city center. Most parking spaces are metered, and the cost can add up quickly. It's advisable to use public transportation or walk when possible. If you need to park, consider using a parking garage or finding a spot outside the city center and walking or taking public transportation to your destination.
4. Driving with an International License
Foreigners can drive in Ireland with an international driving permit (IDP) for up to 12 months. After this period, you will need to obtain an Irish driving license. It's important to note that not all countries' licenses are recognized in Ireland, so check if yours is before you arrive.
5. Obtaining an Irish Driving License
If you're planning to stay in Ireland for more than a year, you'll need to get an Irish driving license. The process involves passing a theory test, taking driving lessons, and then passing a practical driving test. It's advisable to start this process as soon as possible after arriving in Ireland as it can take some time.
6. Be Prepared for Traffic
Like any major city, Dublin can have heavy traffic, especially during rush hour. Be prepared for this and allow extra time for your journey. It's also worth noting that Dublin's streets can be quite busy with pedestrians, cyclists, and buses, so always be vigilant and patient.
7. Familiarize Yourself with Irish Road Signs
Irish road signs can be different from those in other countries. They are bilingual, with place names in both English and Irish. Speed limits are in kilometers per hour. Familiarize yourself with these signs to ensure safe and legal driving.