Moving to Belize
Last updated on Feb 01, 2023
Summary: Many expats and digital nomads move to Belize for its low cost of living, warm climate, and relaxed lifestyle. The most popular cities for expats and digital nomads in Belize are San Pedro, Placencia, and Caye Caulker. People looking for a place to live in Belize can search online for rental listings, contact local real estate agents, or look for postings in local newspapers. Additionally, many expats and digital nomads find housing through word of mouth or by networking with other expats and digital nomads already living in Belize.
What do I need to know before moving to Belize?
When we asked people what advice they would give someone preparing to move to Belize, they said:
"Before moving to Belize it is important to consider the costs associated with living there, research the types of visas available, determine the best area to reside in, and understand the local language and customs. It is also helpful to familiarize yourself with the local healthcare system, currency, public transportation, and tax regulations. Additionally, it is important to gain a basic understanding of the climate and purchase travel insurance," replied a member in Belize.
"The best advice I got with regard to what you need to know before moving to Belize is this: Belizean people have no interest in becoming another country. If you come over and try to tell them how much better things are in the country you came from, they will listen politely and then recommend you go back there and enjoy those things. Remember, you are a guest in this beautiful country. Be polite, respectful, honor their culture and traditions, and do your best to adapt to their way of life," commented one expat who made the move to Belize.
Answer Question & View More Answers
How do I find a place to live in Belize?
We asked expats how they chose their neighborhood and found a place to live. They answered:
"Searching online is a great way to find a place to live in Belize. Sites such as Expat.com, HousesBelize.com, and Realtor.com listings provide helpful information about availability, amenities, cost of living, and other criteria. Additionally, many housing services are available through real estate agents and expat services providers. Local newspapers, classifieds, and word of mouth are also good ways to find a place to live in Belize. Once you have narrowed down your search, visiting potential homes in-person is the best way to make a final decision," said another expat in Belize.
"I lucked out with a bit of alone research. I found a listing on a Belizean rental site. The apt ended up being in the suburb area, for a 1 bedroom that ended up costing the same price as rent in the center of town and other parts of town usually where the locals live," remarked another expat who made the move to San Pedro.
Answer Question & View More Answers
What is a typical expat home or apartment like in Belize?
"Expat home and apartments in Belize vary in size, location, and amenities. Most expats choose to live in condos or houses on the beach or near town centers, offering convenience, privacy, and views of the Caribbean Sea. Common amenities include air-conditioning, clothes washers and dryers, fully-equipped kitchens, flat-screen TVs, Wi-Fi and balcony or patio, and many offer swimming pools or onsite bars. Some of the more upscale properties come with concierge and resort services, onsite parking and maid service. With Belize's diverse culture, food and shopping choices, there is something for everyone," added another expat who made the move to Belize.
"1 bedroom apt. Washer/Dryer, Internet. A couple of steps away from the beach. Living on an island [Ambergris Caye], you are NEVER to far from the beach. Yes, several expats live in the suburb type area," explained one expat living in San Pedro, Belize.
What is the average cost of housing in Belize?
If you are thinking about moving to Belize, cost of living in probably a key consideration. Expats commented about the cost of housing:
"The average cost of housing in Belize varies depending on the location, size, and type of property. Generally, properties located closer to the beach tend to be more expensive than inland properties. However, overall, housing in Belize tends to be more affordable than in other countries in the Caribbean," said another expat in Belize.
"Lower. Average cost with some amenities is $400 US, I also have heard that for that price or a little more you can rent a whole house instead," added another expat who made the move to San Pedro.
Answer Question & View More Answers
Should I buy or rent a home in Belize?
If you have not spent a lot of time in Belize, you should rent before even thinking about buying. We asked expats there about the buy vs. rent decision:
"Whether you should buy or rent a home in Belize is largely determined by your individual needs and circumstances. Buying a home in Belize can be a great investment if you are planning to stay in the country long-term. Additionally, buying could potentially offer considerable tax savings, depending on the laws and regulations in the specific municipality where you wish to reside. On the other hand, renting a home in Belize can be an economical option for those who are not sure how long they will stay or for those who are looking for an interim living situation before deciding to buy. Ultimately, it is important to carefully weigh the pros and cons of each option to choose the one that best suits your needs," remarked another expat who made the move to Belize.
"We purchased a seaside lot at Sittee Point and had a home built through a local builder. Rolando Gonzalez kept us informed regularly with emails and pictures, so we never felt isolated from the process," explained one expat living in Hopkins Village, Belize.
Answer Question & View More Answers
What should I pack when moving to Belize?
We asked people living in Belize to list three things they wish they had brought and three they wish they had left behind. They responded:
"Essential items to pack when moving to Belize include casual and semi-formal clothing, sunglasses, sunscreen, bug repellent, a first-aid kit, binoculars, a hat and beach/swimwear. Other important items include a laptop or tablet, passport, books and reading material, a camera with extra batteries, any needed prescription medications, and sturdy walking or hiking shoes. For items related to personal hygiene and home use, bring items such as shampoo, soap, toilet paper, laundry soap, paper towels, cleaning supplies, and personal items such as a hair dryer and other grooming items. It is also a good idea to bring an adapter for electrical appliances, as well as a power strip and/or surge protector," added another expat who made the move to Belize.
"I have lived in Corozal for 8 years+. I came with all of my tools, kitchenware, bed, and clothes. It cost a lot to bring the stuff but have not regretted it one bit. My neighbors that came here with only a tooth brush are always asking about borrowing, or do you have. I am careful to get my stuff back, but because I brought all my stuff, I am the go to person. I did not come QRP, I paid duty on all my things. Everyone is different. If you don't plan to lift a finger, than don't bring anything. If you tinker, work or house or cars, enjoy cooking, bring your stuff," explained one expat living in Belize.
Answer Question & View More Answers
What cultural faux pas should I try to avoid making in Belize?
We asked people in Belize if they could share any humorous cultural blunders they commited. For new expats, keep in mind that these incidents are an inevitable part of expat life. Learning to laugh about them is the key!:
"When visiting Belize it is important to be aware of the cultural differences between your home country and Belize. Respecting local customs, such as language and dress, is important when interacting with locals as well as avoiding activities that may be considered inappropriate or offensive. It is best to dress modestly, as public displays of affection are seen as inappropriate, and avoid making negative comments about race, religion, politics and class. In terms of language, English is the official language and Spanish is widely spoken but the biggest minority ethnic group are the Creole people who speak a creole dialect and it is polite to at least attempt to greet them in their native tongue. Additionally, do not expect tips or give them in many situations as Belizeans put a high value on personal relationships and trusting others, as opposed to expecting service for compensated labour. It is also important to be aware of local laws, rules, and regulations and obey them. Lastly, Belizeans enjoy socializing and making conversation, so being friendly and open to engaging with others is the best way to gain their trust and respect," said another expat in Belize.
"Many! In a nice, small outdoor cafe I was served a traditional Garifuna dish called hudut. A whole fish lay in a bowl of delicious broth and on a plate was a mound of mashed plantain. I had no idea what to do with the plantain, so I asked the waitress. With a bashful giggle she told me to dip it in the soup. Additionally, a napkin was put on the table with a smooth rounded brown rock. I asked what this was, thinking it was also something to eat! Even the cook laughed and said, "it's a rock so the napkin won't blow away!"," remarked another expat who made the move to Hopkins Village.
Answer Question & View More Answers
About the Author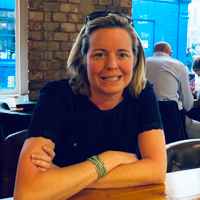 Betsy Burlingame is the Founder and President of Expat Exchange and is one of the Founders of Digital Nomad Exchange. She launched Expat Exchange in 1997 as her Master's thesis project at NYU. Prior to Expat Exchange, Betsy worked at AT&T in International and Mass Market Marketing. She graduated from Ohio Wesleyan University with a BA in International Business and German.
Some of Betsy's articles include 12 Best Places to Live in Portugal, 7 Best Places to Live in Panama and 12 Things to Know Before Moving to the Dominican Republic. Betsy loves to travel and spend time with her family. Connect with Betsy on LinkedIn.