Moving to Ireland
Last updated on Nov 26, 2022
Summary: Moving to Ireland? Expats talk about what you need to know before moving to Ireland.
What do I need to know before moving to Ireland?
When we asked people what advice they would give someone preparing to move to Ireland, they said:
"Advice before moving is DO YOUR HOMEWORK! The things you pay for in your current home will be very much similar and yet some will be different, like the required annual TV license fee here. We made a list of everything we paid for in Florida; groceries, medical and dental, rent, utilities, clothing, personal care like hair cuts, transportation, etc, then did a comparison by communities in our new intended home area. In searching for a home don't rely on real estate sites and photos, like even on a good website like daft.ie. Check with the local Garda (police) and the local papers to do a historical check on the area. We do not recommend renting or buying anything unless you have first seen the neighborhood. What appears "picture perfect" on the internet can be quite a rude awakening when seen first hand. Look for a temporary housing like can be found TripAdvisor.com so you can explore a number of locations. Priority for us was transportation hubs like bus, which is great, or train," commented one expat who made the move to Tobercurry.
"Renters only have to give one months notice so potential homes won't come onto the market till they are ready (or nearly ready) to be leased. Find out what the different types of houses are like; terraced, semi detached etc. Think about your lifestyle, would you like to be near the beach, a park, the DART (Dublin's main transport system, your office, kids school etc.... Know that Dublin's traffic jams are are really bad and getting worse, a 15 minute journey on a sunday morning can take an hour and a half during the week!The bus system is hopeless, the Dart is more reliable. It's always worth investing time and money on a reconnaissance trip before moving," remarked another expat in Dublin, Ireland.
How do I find a place to live in Ireland?
We asked expats how they chose their neighborhood and found a place to live. They answered:
"Originally we sought a retirement area south of the USA to live that was going to give us a good life for our retirement income (social security and savings).. Having discovered expatexchange.com over three years ago we found Ireland ranked highly in a listing there for cost of living affordability and we speak the language! In our additional research we found a gent and his wife who had preceded us to Tobercurry in County Sligo, who had retired and relocated 7 years before us. We struck up internet chatting and with the friendship that developed, our move was especially easy," explained one expat living in Tobercurry, Ireland.
"We came to Ireland on a pre-move visit to get a 'feel' for the different areas in and around Dublin. In the months previous to our move we scoured the homes for rent list on www.daft.ie which is THE website for real estate on which virtually all real estate agents and prive landlords advertise their properties. We eventually found our home via an estate agent," said another expat in Dublin.
What is a typical expat home or apartment like in Ireland?
"We found a lovely detached single family 4 bed, 4 bath home which is less common in a lot of Ireland. Most housing is semi-detached and we stayed in such our first month here while waiting for our present home to become available to rent. Homes in Ireland are very sturdy and are very similar in design," added another expat who made the move to Tobercurry.
"We rent a house with garden. This is typical for expat families, flats are more common for single people," explained one expat living in Dublin, Ireland.
Answer Question & View More Answers
What is the average cost of housing in Ireland?
If you are thinking about moving to Ireland, cost of living in probably a key consideration. Expats commented about the cost of housing:
"Remarkably our 4 bedroom home is about half the cost of the 2 bedroom apartment we rented in Florida and our home is private, in an upscale neighborhood with a backyard and abutting a large pasture. Depending on the location, renting and purchasing can vary significantly. We opted to avoid city life, like Dublin, where cost of housing is considerably more. Our location averages €650 per month where in Dublin similar could run €2500," remarked another expat in Tobercurry, Ireland.
"Far more expensive here. House cost about twice the price as in Boston. Food is about 30 to 40% more," said another expat in Dublin.
Should I buy or rent a home in Ireland?
If you have not spent a lot of time in Ireland, you should rent before even thinking about buying. We asked expats there about the buy vs. rent decision:
"In Ireland the quickest method to find housing is through an Estate Agent or Auctioneer. We arrived during a housing shortage but once on lists we found a rental home quite easily. We are now purchasing a home, a simple cash process. There are slight differences here, rent price is locked in for two years instead of the typical one, so that is a plus," commented one expat who made the move to Tobercurry.
"We currently rent and may buy once we become Irish Citizens. Our home is in an estate (group of similar homes) and talking to locals and agents got us in," remarked another expat in Tobercurry, Ireland.
What should I pack when moving to Ireland?
We asked people living in Ireland to list three things they wish they had brought and three they wish they had left behind. They responded:
"Easily what my husband and I wish we had brought for our retirement new home, and still hope for, are our two sons, grown and on their own, our grandkids, growing quickly, and our friends. Although they are missed dearly, hi-tech gadgets allow us face to face chats so it's not too difficult being without. The number of things we wish we had left in the States include too many pots and pans, too many electronics requiring adapters and transformers, and clothing! We had read stories online about the cost of such in Ireland and found that not to be true where we live, on the western side in a more relaxed locale with easy access to major stores. We have found all of the above items to be less costly than imagined," remarked another expat in Tobercurry, Ireland.
"Wish I'd brought; Bike (traffic circulation is horrendous), sewing fabric (hard to find nice stuff), antiques (excrutiatingly overpriced) Wish I'd left behind; bathing suit ;-), sunscreen ;-), anything else sun related :-(," said another expat in Dublin.
Answer Question & View More Answers
What cultural faux pas should I try to avoid making in Ireland?
We asked people in Ireland if they could share any humorous cultural blunders they commited. For new expats, keep in mind that these incidents are an inevitable part of expat life. Learning to laugh about them is the key!:
"I called and initiated a pollution investigation when I found out the development I was living in was polluting a stream at the edge of our development. They had a "temporary" sewage disposal plant with a expired operating permit and dumping partially treated sewage into this brook. That brook ran for a couple of miles through 2 dairy farms and milk cows drank out of it. It eventually ended up in a river where Salmon and trout live. What I did not know was most people in Ireland will not report illegal activity unless it effects their own bottom line. It goes back to the time when the British were in charge and if anyone reported anything, they could end up being penalized. BTW: It cost the owners 120,000 Euros to correct the problem. They knew about it, but were hoping to fill the place with renters before they fixed it. They were happy when I did not renew my lease. There were a few other problems I made them correct. Irish people, especially older ones tend not to complain," commented one expat who made the move to Enniscorthy.
"Well the typical first mistake is always making a comment or extending an invitation including the word "ride" vs "drive". Ie...Can I get a ride? Would you like a ride? Ride here is a sex act. Drive means a lift in the car," remarked another expat in West Clare, Ireland.
Answer Question & View More Answers
How are healthcare services Ireland?
When we asked expats and global nomads about the quality of medical care in Ireland, they replied:
"Private health insurance is absolutely essential. The private hospitals are OK provided it is not an emergency. There is no 24 hour A and E. If it were available I would insure also for a fly you back to Germany for accidents and emergencies. I was left on a trolley for 30 hours falling a fall with a broken collar bone and ribs. I am over 70 with a heart condition. Some third world countries have better medical services than Ireland," commented one expat who moved to Galway.
"My doctor recently made a house call to visit me when I was under the weather and unable to visit his office. Very happy with the costs and services," said another expat.
"Every visit to GP or consultant costs money, unless you earn very little money and have a medical card. Waiting times are insane, sometimes even when you are privately insured," said one expat living in Dublin, Ireland.
About the Author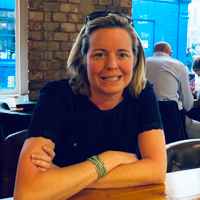 Betsy Burlingame is the Founder and President of Expat Exchange and is one of the Founders of Digital Nomad Exchange. She launched Expat Exchange in 1997 as her Master's thesis project at NYU. Prior to Expat Exchange, Betsy worked at AT&T in International and Mass Market Marketing. She graduated from Ohio Wesleyan University with a BA in International Business and German.
Some of Betsy's articles include 12 Best Places to Live in Portugal, 7 Best Places to Live in Panama and 12 Things to Know Before Moving to the Dominican Republic. Betsy loves to travel and spend time with her family. Connect with Betsy on LinkedIn.