Living in Barbados
Last updated on Feb 10, 2022
Summary: Expats, digital nomads and retirees talk about what it is really like living in Barbados. They offer advice about meeting people, cost of living, finding a home and more.
Is there a lot of crime in Barbados?
We asked people if there is a lot of crime. They answered:
"There is crime, which you hear about often but this is mostly because all news is big news here. The island is small in terms of population so you will hear about every killing that takes place. Mostly it is safe and we have walked alone outside at night without feeling afraid of such things happening to us. As with anywhere you need to take certain precautions and avoid bad areas at night," added another expat in Clapham Ridge.
What are the schools in Barbados like?
"Academically I think this is the best school on the island. It is an international IB school, the teachers are well qualified, approachable, excellent with the students and from all over the world. Check out the website as it has a lot of info on them and the IB. Given it size, it has a very family feel to it, class sizes are small and the kids get a lot of individual attention from the teachers. Communication is also very good," remarked another parent with kids at The Codrington School in St. Johns.
"check out all the other schools first - the education here is second to none - the teachers are excellent with top qualifications but most are disheartened with the way the school is run and it can affect how they teach the children. If you can put up with a lot of nonsense from the board then this is the school for you but if you want a peaceful and pleasant school experience for your children I would seek another school," explained one expat living in St. John , Barbados.
Is the cost of living in Barbados high?
We asked people how much they someone comfortably live on in Barbados, they wrote:
"This is a tricky question as it depends a lot on how much quality of life you are accustomed to. If you are the type that goes out and eats out often you will need considerably more then someone who prefers home cooked meals and having card nights with friends. I would suggest that you could live quite comfortably on $60,000 a year but that is very dependent on the person," explained one expat living in Clapham Ridge, Barbados.
About the Author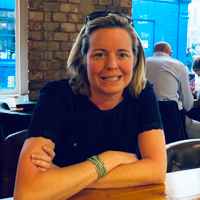 Betsy Burlingame is the Founder and President of Expat Exchange and is one of the Founders of Digital Nomad Exchange. She launched Expat Exchange in 1997 as her Master's thesis project at NYU. Prior to Expat Exchange, Betsy worked at AT&T in International and Mass Market Marketing. She graduated from Ohio Wesleyan University with a BA in International Business and German.
Some of Betsy's articles include 12 Best Places to Live in Portugal, 7 Best Places to Live in Panama and 12 Things to Know Before Moving to the Dominican Republic. Betsy loves to travel and spend time with her family. Connect with Betsy on LinkedIn.