15 Expats Talk about Health Insurance and Healthcare in India
Last updated on Feb 12, 2023
Summary: The quality of medical care in India is generally considered to be lower than in the US. However, India has made significant strides in recent years to improve the quality of its healthcare system. Emergency services in India are generally reliable, though they may not be as advanced as those in the US. To call for an ambulance in India, one can dial the emergency number 108, which is a free-of-charge service.
How are healthcare services India?
When we asked expats and global nomads about the quality of medical care in India, they replied:
"Healthcare services in India are provided both by public and private organizations. Public healthcare includes government hospitals and urban health centers which provide primary care services as well as specialized healthcare facilities. The quality of public healthcare in India is considered to be low, however, it does have the potential to improve if the government continues to invest in it. Foreign residents have limited access to the public healthcare system in India, with largely only Indian citizens having access to free treatments. There are some cases in which foreigners can enrol in the public system, however this is dependant on the institution and the type of healthcare service being sought. As such, many expats in India opt to access private healthcare services over public ones. Private care providers offer a wide array of services, with many offering treatment packages specifically designed for expats," commented one expat who moved to India.
"You can get elective surgery and other non-critical non-emergency medical treatment in India. The medical care is good and affordable to a US citizen. Of course you have to be selective which hospital and whcih doctor you may want to seek help from. Quality varies," said one expat.
What are medical services in India like?
When we asked expats and global nomads about the quality of medical care in India, they replied:
"Medical services in India vary depending on geographic region, but generally speaking there are a number of good hospitals and diagnostic centers located throughout the country. Many of these medical facilities offer a range of treatments, including routine check-ups and x-rays, as well as specialties such as cardiology, dermatology and oncology. In addition to private health facilities, India also has a strong public health system that offers basic health care to those without access to private services. Most cities also have numerous pharmacies that offer a variety of medications and other health supplies," remarked one expat in India.
"I can't wait to return to the delicious French Indian fusion food and regional Indian specialities that is found in Pondicherry.," remarked one expat living in Pondicherry.
Are healthcare and health insurance expensive in India?
"Yes, healthcare and health insurance can be expensive in India. Healthcare services can be expensive, particularly if you have to have a procedure done in a private hospital or clinic. Private health insurance can also be expensive, as premiums vary depending on factors such as age and pre-existing medical conditions. Additionally, many policies also have restrictions, caps and other limitations on coverage, which can make the cost of health insurance higher in India when compared to other countries," commented one expat living in India.
"Private Health insurance is expensive with lots of limitations. I have not taken health insurance. Decided to pay out of pocket. A day's hospital stay along with tests and doctor visit may cost around US $200 to $300," wrote one expat.
What are emergency services like in India?
When we asked about emergency services, members in India wrote:
"Emergency services in India are available to the public 24/7. Ambulance services are provided by a range of private and public institutions. In order to call for an ambulance, you can dial 108, an emergency response telephone number in India, or any of the local emergency services. In some cities, such as Delhi, you can also call the Control Room of the local police in order to request an ambulance," said an expat in India.
"Within 10 miles. Mostly private. The service is good. Hospital in India (Hyderabad) are usually crowded. Most hospitals have ambulance service and emergency care available. Quality of care varies a lot from one hospital to the other. Check out local hospitals where expats go. Most likely their care quality is good even though they may be a bit more expensive," commented one expat living in India.
Will I need to travel to see a specialist?
"India is home to many cities and areas that provide a wide selection of medical specialists. The country has a large and highly established network of health care providers, making it easy to access quality care in cities such as Delhi, Mumbai, Bangalore, Hyderabad, and Chennai. Additionally, many of the smaller towns in India, such as Patna, Lucknow, Jaipur, and Pune, offer specialized medical care as well. The best cities to visit for specialist care are often those with the most established hospitals, such as the All India Institute of Medical Sciences (AIIMS) in Delhi and the Tata Memorial Hospital in Mumbai," wrote one expat.
"Go by word of mouth or a well known hospital. Doctors mostly are attached to hospitals," commented one expat who moved to India.
Are common prescription medications available in India?
"Yes, common prescription medications are widely available in India. Many of the drugs available are generics, meaning that the active ingredients are the same as their brand name equivalents but sold under a different name. These medications can often be purchased over-the-counter without a prescription. Additionally, many pharmacies in India also sell more expensive branded drugs with a valid prescription from a qualified doctor," said an expat in India.
"Medicine costs are reasonable compared to US. Many pharmacies sell medications. May not get exact name brands as in USA but chemically equivalent medicines can be obtained. Most medications need Prescriptions. Many pharmacies do give out medicines if you tell them the local name," commented one expat living in India.
Do you have anything more to add about local medical facilities in India?
"Medical facilities in India are generally reliable. There are many well-equipped hospitals in the larger cities, and the standard of care is generally good. Rural areas may have less advanced facilities, but overall, the quality of medical care in India is improving. Indian doctors are highly trained and there are many specialists, including some internationally renowned. The Indian healthcare sector is increasingly accessible to all, as the government works to reduce waiting times and offer affordable treatment," said one expat living in India.
As a foreigner living in India, will I have access to public healthcare? What is it like?
"Yes, foreign nationals living in India do have access to public healthcare. The quality of public healthcare varies widely by region, with some centers providing excellent services and others falling short. Private healthcare is generally considered to be of a higher quality, however it also tends to be more expensive which may be prohibitive for some. Vaccines and preventative care are also widely available throughout the country," said one expat living in India.
What have your experiences during the pandemic with the local healthcare system been like?
We asked expats in India if they have access to public healthcare in India. And, if they do have access, what is it like. They wrote...
"Healthcare in India has been severely impacted by the pandemic. Many patients have reported having to wait for extended periods of time to get tests conducted, with the backlog of tests increasing substantially due to the high number of cases reported. Many healthcare facilities have also reported a shortage of medical staff, leading to long queues and overcrowding at hospitals and clinics. Further, patients have experienced difficulty in getting access to medication, leading to many people having to go without it. In general, healthcare in India during the pandemic has been chaotic and chaotic with limited resources and infrastructure unable to deal with the huge number of people affected by Covid-19," commented one expat living in India.
What advice do you have for expats having a baby in India?
We asked expat moms who gave birth in India about their experiences and advice they have for other moms to be. They said:
"Ensure that you arrange for your baby to have all necessary vaccinations and check-ups, and keep an updated health record. Additionally, assembling a pediatric medical team is a great way to guarantee that you and your baby receive the best medical care and advice. Find out the guidelines and rules of the local hospital and doctor that you will be using, and get informed on the available birth practices, necessary documents, and other other procedures. When it comes to maternity and newborn care, it is also important to do your own research to find the best resources, products and services available. Finally, don't forget to take time for yourself and your newborn to bond and nurture your family, and give yourself space to adjust to the new culture," explained one expat living in India.
Are healthcare services good in India?
We asked people if they have access to good medical care in India. They wrote:
"Healthcare services in India are predominantly provided by the public sector although there is a growing presence of private providers. The primary healthcare providers in India are general practitioners, often referred to as 'barefoot doctors', who mainly operate in rural areas. Secondary healthcare providers include specialist and super-specialist doctors who are available in major cities. India has an extensive network of hospitals which range from sophisticated corporate and research hospitals to more rural primary health care centres. The government subsidizes certain medical treatments and services, including medications and primary care. Additionally, the Government runs many health insurance plans through its national programs. Access to healthcare in India is highly variable and remains a problem in many areas," explained one expat.
About the Author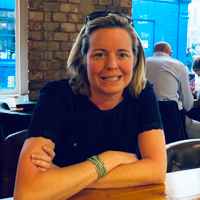 Betsy Burlingame is the Founder and President of Expat Exchange and is one of the Founders of Digital Nomad Exchange. She launched Expat Exchange in 1997 as her Master's thesis project at NYU. Prior to Expat Exchange, Betsy worked at AT&T in International and Mass Market Marketing. She graduated from Ohio Wesleyan University with a BA in International Business and German.
Some of Betsy's articles include 12 Best Places to Live in Portugal, 7 Best Places to Live in Panama and 12 Things to Know Before Moving to the Dominican Republic. Betsy loves to travel and spend time with her family. Connect with Betsy on LinkedIn.