Retire in Bahamas
Last updated on Nov 27, 2021
Summary: Retirees share their experiences living in Bahamas. What are the challenges and rewards of retiring in Bahamas?
What is it like to retire in Bahamas?
"Their is huge expat community here, people from all over the world and all types of characters retire here. This is a Caribbean island so don't expect to much amenities as you would find in the U.S.A. or Europe. We do not have a Walmart, Auchan or Harrods here although we did just get an IMAX theatre. We have lots of recreational activities related to the sea (having a boat is a huge advantage). We also have all types of nightlife as the tourist industry is fairly vibrant here as well," added another person in Coral Harbour.
"New Providence has a large expat community and it is easy to find other expats to hangout with. There are people of all nationalities and all financial situations ranging from Billionaires to retired school bus drivers so you can always find people that share interests with you. We have also found it amazing to speak with those who are nothing like us but give us a window into their world before living here. There are some forts and monuments to visit but cultural attractions are not really that great here as you would find in Europe or South America. We do have lots of water recreation and sports available for those who enjoy the beach and waves. The nightlife scene is very vibrant but you must be careful of which areas you go to. The more expensive areas are also the safer ones so be careful in the cheaper "bars"," remarked another retiree in New Providence.
What advice do overseas retirees have for others considering retiring abroad?
"You have worked hard during your life time and now you deserve to enjoy your retirement. Consider what makes you the happiest. Is it the weather, sporting activities, clubs, social life? What ever it is make sure your destination will provide you with that, then work out the rest of the details," commented one retiree living in Coral Harbour, Bahamas.
"Be prepared to adapt to your new environment. Remember you are living in some one else's culture and you need to adapt to their way of life. Do not expect it to be like the country you came from or it will make you miserable. Have an open mind, try new things and when you feel frustrated just go with the flow and relax a little," explained one retiree living in New Providence.
What are the most challenging aspects of retiring in Bahamas?
"The damages that can be caused by hurricanes. Make sure you put additional monies aside for unexpected damages that can and do occur when living in the Caribbean," explained one retiree living in Coral Harbour.
"Learning to relax and flow with the slower pace of the islands. Nothing gets done in a rush here and so you have to be ready to wait much longer periods for things like service installations then you would back in North America," said another retiree in living in New Providence, Bahamas.
What are the most rewarding aspects of retiring in Bahamas?
"We have made lots of new friends and get to spend our time in the sunshine. This is a big plus for someone like me who has a lot of aches and pains that are worse in the cold weather," explained a retiree in Coral Harbour.
"Also learning to relax! We lived such stressful and fast paced lives that it was necessary for us to learn to relax and enjoy the moments," explained one retiree living in New Providence.
What are healthcare services like in Bahamas?
We asked retirees if they have access to good medical care in Bahamas. They wrote:
"We have both a general hospital and private hospitals as well as private clinics. The healthcare is adequate. For major health issues many people choose to fly to Florida as well. The cost is comparable but the choice of healthcare is perceived to be greater," remarked another retiree in Coral Harbour.
"There are several clinics on the island as well as two large hospitals (one public and one private). We are also very close to Miami should you need a second opinion on something more serious. I personally have used the clinics and private hospital here without any issues. Most of the doctors are trained abroad and are quite competent," said a retiree who moved to New Providence, Bahamas.
How do I meet people in Bahamas?
When we asked people living in Bahamas about club and activities where newcomers can meet others, they responded:
"There is a large expat community in New Providence so it is easy to find others with the same interests as you. We have met most of our friends through the school which our children attend but there are also women's clubs, a Foodie group, running clubs, rugby leagues, a ball hockey league, sailing groups a kiwi club, a humane society that you can volunteer at and all other kinds of clubs and organizations. In addition you can find groups on Facebook of people living here on the island. There are also club houses on the island that you can purchase memberships at and meet people through as well, these tend to be more expensive then the cost of a similar club in North America," explained a retiree in New Providence.
What is life like in Bahamas?
When we asked people living in Bahamas what life is like and how people spend their time, they said:
"It is a vast range of differences. The range is from very hardworking individuals that are employed by the banks, hotels etc which get very little time off to enjoy the island to the ultra rich with family money that spend most of their time living up the easy life and everything in between. We are considered a medium class family back home in Canada and so we are somewhere in the middle and spend most of our free time with our three children visiting and attending youth sports and clubs. Their is a vibrant night life scene but it can become fairly expensive quickly. The beach is a big draw in the warm months but locals do not swim in the winter months and so they are normally fairly empty at that time of the season," said another retiree in New Providence.
What do I need to know before retiring in Bahamas?
When we asked people what advice they would give someone preparing to move to Bahamas, they said:
"Really take a close look at the cost of living before deciding. Everything is much more expensive here then it would be in most parts of the world. As an example a car here will cost about double the value in the USA. If you import it they add 75-80% duty on the value they determine (along with all the freight costs it quickly gets to 100% on top of the value) and if you purchase here the prices are already about double the price in the USA to begin with. Rent, Water and electricity are also very expensive here. This is not a location you would come to in order to lower your cost of living and "stretch" your salary but if you can afford the high cost of living the weather, beaches and people are quite inviting," said another retiree in New Providence.
What type of recreational activities are there in Bahamas?
"We love the beach and sun. We walk to or take the golf cart to Cabbage Beach (public side) via the Paradise Island Resort entrance. It is on the east side of the island but well away from the public beach near Atlantis which is covered in tourists, vendors and others. Paradise Island Resort also has a small market that serves alcohol as well. We golf at the Ocean Club Golf Course. Fantastic and beautiful club and course. There are also three other courses in Nassau: Lyford Cay (private), Albany (private) and The Blue Course (Bahamar Resort). Most if not all of these have tennis. It is common to boat to some of the family islands for the day or weekend. Several charters from any marina if you don't have a boat. It may take a couple months to figure all the activities out and what is good for you but it will be worth it. Oh, snorkling, freediving and spear fishing are very popular," said another retiree in living in Paradise Island, Bahamas.
Where will I buy groceries and do other shopping in Bahamas?
"Fresh Markets and Super Value are two food chains that service as major grocery stores. The latter being a bit less pricey and offers discounts for repeat business. Fresh Market has a wider assortment of expat delights but is far more expensive. Suggest Lowes for cleaning supplies, pharmacy and baby supplies. We shop Super Value for a big shop of necessities. Lowes for baby stuff and disposables. Fresh Market for meat and fish. The Marathon Mall has a store called, Kelleys, which is similar to a Walmart/Target," added another person in Paradise Island.
About the Author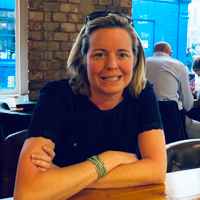 Betsy Burlingame is the Founder and President of Expat Exchange and is one of the Founders of Digital Nomad Exchange. She launched Expat Exchange in 1997 as her Master's thesis project at NYU. Prior to Expat Exchange, Betsy worked at AT&T in International and Mass Market Marketing. She graduated from Ohio Wesleyan University with a BA in International Business and German.
Some of Betsy's articles include 12 Best Places to Live in Portugal, 7 Best Places to Live in Panama and 12 Things to Know Before Moving to the Dominican Republic. Betsy loves to travel and spend time with her family. Connect with Betsy on LinkedIn.