Real Estate in Bahamas
Last updated on Nov 27, 2021
Summary: People living in Bahamas offer advice about real estate. How do you find a home in Bahamas? Should you buy or rent? What is the cost of housing?
How do I find a place to live in Bahamas?
We asked expats how they chose their neighborhood and found a place to live. They answered:
"We used a couple online real estate agents: Dupuch and Paradise Island living. Looking for anything on Paradise Island close to Atlantis," remarked another member in Paradise Island.
"Saw a variety of places in the West on a prior visit and gave realtor an idea of what I liked. Recommendation from local contacts was to look out West as traffic from East into town was terrible and job was in town," explained one expat living in Nassau, Bahamas.
Answer Question & View More Answers
What is a typical expat home or apartment like in Bahamas?
"It is like an old beach house transformed into everyday living. They are all sharing walls but not duplexes or town homes. Similar to a one story condo. Several expats live in the area," added another expat who made the move to Paradise Island.
"I live in a gated community with a pool. It's a townhouse style condo and the complex of 20 units is made up almost entirely of expats," explained one foreigner living in Nassau, Bahamas.
What is the average cost of housing in Bahamas?
If you are thinking about moving to Bahamas, cost of living in probably a key consideration. Expats commented about the cost of housing:
"Rent is about the same but utilities far surpass what we were paying in UAE. That says a lot. I'd say average power bill is $500 month with summer months peaking at $750 and water bills average $150. We do have a private small pool which adds to the cost of both," said another person in Paradise Island.
"About the same in terms of rent. Of course, in Bahamas everything comes furnished. You won't find that in Connecticut. ELECTRICITY here is ridiculously expensive," added another expat who made the move to Nassau.
Answer Question & View More Answers
Should I buy or rent a home in Bahamas?
If you have not spent a lot of time in Bahamas, you should rent before even thinking about buying. We asked expats there about the buy vs. rent decision:
"We rented at first to make sure we were happy here. We later bought a home and both options work well. For the residency documents you can use either a rental lease or a property deed but the minimum value has changed over the years," said another person in Coral Harbour.
"When we first arrived we purchased a small condo which was rather easy to do. There are a lot of taxes and fess involved and the real estate laws are a little complicated here so it is highly recommended you get a good real estate agent involved and not purchase directly from the seller," added another expat who made the move to New Providence.
What do I need to know when buying property in Bahamas?
When we asked expats what advice they would give a foreigner before buying a property in Bahamas, they said:
"Above all I suggest renting when you first arrive and take the time to learn the island and make contacts before buying into anything. You will discover that some areas are much more desirable than others. The maintenance cost can also be drastically different depending on where you are located, remember that Nassau is subject to hurricanes and hurricane insurance is quite expensive," said another expat in Nassau.
What appliances are typically included in a rental?
We asked foreigners in Bahamas what appliances are typically included in a rental, and, if there is anything else included or not included that a newcomer would not expect. Replies included:
"Most rentals are completely furnished with all the main appliances necessary to live. It was hard to find a rental property where we could put our children's room set. Many of the properties are set up for vacationers so much of the furniture is whicker and cheap. A well furnished home is out there, but must be looked for," said another person in Nassau.
About the Author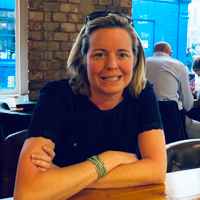 Betsy Burlingame is the Founder and President of Expat Exchange and is one of the Founders of Digital Nomad Exchange. She launched Expat Exchange in 1997 as her Master's thesis project at NYU. Prior to Expat Exchange, Betsy worked at AT&T in International and Mass Market Marketing. She graduated from Ohio Wesleyan University with a BA in International Business and German.
Some of Betsy's articles include 12 Best Places to Live in Portugal, 7 Best Places to Live in Panama and 12 Things to Know Before Moving to the Dominican Republic. Betsy loves to travel and spend time with her family. Connect with Betsy on LinkedIn.