Retire in Portugal
Last updated on Feb 01, 2023
Summary: Retirees are attracted to Portugal for its stunning landscapes, vibrant culture, and relaxed lifestyle. Portugal is known for its mild climate, with temperatures ranging from the mid-50s to the mid-70s Fahrenheit in the winter and the mid-60s to the mid-80s Fahrenheit in the summer.
What is it like to retire in Portugal?
"Retiring in Portugal can be a pleasant experience. Portugal is known for its mild climate, beautiful scenery, and relaxed lifestyle. The cost of living is inexpensive in comparison to other European countries, and the healthcare system is excellent. Portugal also offers a broad array of social benefits, such as pension and health plans, for retired people. Expats who have moved to Portugal have praised the warm and welcoming people, diverse culture, plentiful restaurants and cafes, and spectacular beaches. Additionally, Portugal has a variety of special programs designed for expat retirees, including discounts on public transportation, tax incentives, and health care provisions. All of these benefits make retirement in Portugal a great way to enjoy a comfortable lifestyle in a stunning environment," remarked another retiree in Portugal.
"Cascais is a very vibrant city. There are many things going on all the time, and there is a lively expat community in Cascais. There are international people from all over the world, and there are many networking opportunities. There is music, sports, you name it. Lisbon is just a 30 minute train ride away and the list of things to there is endless and enticing," said a retiree who moved to Cascais, Portugal.
Answer Question & View More Answers
What advice do overseas retirees have for others considering retiring abroad?
"It is a wonderful relaxing place to be in the Azores with little to no crime and we want to keep it that way. It is an unspoiled land with no overbuilding yet and hopefully it stays that way," said another retiree in Portugal.
"Have an adventure while you still can. Experience a different pace of life. See some new sights. Live to the fullest while you still can - It's a big old wonderful world," commented one retiree living in Cascais, Portugal.
Answer Question & View More Answers
What are the most challenging aspects of retiring in Portugal?
"One of the biggest challenges of retiring in Portugal is navigating the bureaucracy and paperwork associated with obtaining residency. Securing healthcare and understanding Portuguese taxation regulations can also be difficult. The cost of living can be high, especially in the larger cities, so retirees need to have a reliable source of income in order to maintain their lifestyle. Many services are only offered in Portuguese, so language can be an obstacle for those who aren't fluent. Additionally, those retired in Portugal may find themselves at odds with Portuguese cultural norms or expectations due to differences in values or societal norms," said a retiree who moved to Portugal.
"Certainly the bureaucracy in Portugal is daunting, although we have found most people very helpful - Having learned some Portuguese has come in very handy - People are very appreciative to hear you try to speak and understand," said another retiree in Cascais.
Answer Question & View More Answers
What are the most rewarding aspects of retiring in Portugal?
"The cost of living in Portugal is substantially lower than in other parts of Europe or the United States, so retirees can enjoy a higher standard of living for less money. Its Mediterranean climate ensures comfortable temperatures year-round, meaning you can enjoy outdoor activities even in winter. Portugal also has a very welcoming expat community, so retirees don't have to worry about feeling isolated or alone. The country also boasts a vibrant culture, rich history and a diverse landscape with plenty of outdoor activities to explore. Portugal also has universal health care, so retirees can be assured of accessing medical care when they need it. Last but not least, Portugal is an EU member state, which means retirees can travel freely throughout the continent," commented one retiree living in Portugal.
"I love the people, the weather, our beautiful home and my doctor! I have already made some very good friends who have helped me find a decent used car, taken the day to go with us to get our papers, in case there was a language barrier. The people I have met are very helpful," explained one retiree living in Tavira .
Answer Question & View More Answers
What are healthcare services like in Portugal?
We asked retirees if they have access to good medical care in Portugal. They wrote:
"In Portugal, healthcare services are provided both publicly and privately. The public healthcare system is funded by the national budget and is based on the principle of universal access to healthcare for citizens and legal residents. All public healthcare services are free at the point of access and are regulated and provided by the state-run National Health Service (Serviço Nacional de Saúde). The private healthcare system includes clinics and hospitals as well as a variety of services and products related to health and well-being (such as gym and nutrition centers). Private healthcare services may require a fee and they are subject to market competition. Health insurance is available to help cover the cost of medical care and services. Both public and private healthcare centers are subject to standards and quality controls to ensure quality and safety," explained one retiree living in Portugal.
"Yes, we have access to Portuguese National Health which is quite good depending on where you go. And we have a supplemental at 48 Euros per month which gives us choices and pays out quite a lot of the out of pocket expense. If we see doctors and dentists and opthalmologists who belong to our plan, costs and copays are controlled and quite low. The care has been excellent," said another retiree in living in Cascais, Portugal.
Answer Question & View More Answers
How do I meet people in Portugal?
When we asked people living in Portugal about club and activities where newcomers can meet others, they responded:
"There are plenty of ways to meet people in Portugal. Networking in professional groups is one option, as well as joining expat communities and utilizing popular social media sites to connect with locals. You can also go out to local bars and restaurants, or to events such as festivals and concerts, to meet people. Joining a local sports team or recreational activity is another great way to make friends. Volunteering or taking language classes are also great ways to get to know people in Portugal," remarked another retiree in Portugal.
"Volunteer with dog/cat shelters Join local groups on FB Become a regular at a coffee shop," said a retiree who moved to Foz do Arelho, Portugal.
Answer Question & View More Answers
What is life like in Portugal?
When we asked people living in Portugal what life is like and how people spend their time, they said:
"Living as an expat in this area can be an incredibly rewarding experience. There is a great sense of community and many activities that can easily engage newcomers. Natural beauty, culture, and food combine to create a unique and vibrant atmosphere. Services such as healthcare, education, and transportation are reliable, making it easy to settle into the area. Expats who enjoy outdoor activities will find plenty to do, from hiking and biking, to golf and water sports. Many expats also take advantage of the excellent cultural activities available in the area, such as theatre, art galleries, sightseeing, and live music. It is also quite easy to network and connect with the locals and other expats, making it an ideal place to make new friends and expand your social circle. Whatever one's reasons for choosing the region, living as an expat can be a tremendous adventure," explained a retiree in Portugal.
"Foz is a quiet town on the Atlantic, or Silver Coast. It also has the benefit of the huge Lagoon which offers a variety of water sports from kayaking, paddle boarding, wind surfing, sailing, and swimming. The water in the Lagoon is calm and shallow which make it warm enough for families to swim. The beach itself is very wide and has a good offering of restaurants right on the sand. In town there are also a good selection of restaurants, a butcher, two small grocery markets, a bank, hair salon and doctor," explained one retiree living in Foz do Arelho.
Answer Question & View More Answers
What do I need to know before retiring in Portugal?
When we asked people what advice they would give someone preparing to move to Portugal, they said:
"When considering retiring in Portugal, you should research the local laws, culture, and customs. It is advisable to ensure that you are familiar with Portuguese customs and laws, as well as establish a network of contacts and support, such as advisors and attorneys knowledgeable about the local legal system. Also important are financial considerations, such as the average cost of living, tax rates, and health care options. You should also research the most desirable locations for retirees, given climate and other factors. Additionally, visa requirements for retirement should be investigated, including both short- and long-term residency options. Finally, it is important to consider language proficiency, as this may impact quality of life and making the transition smoother," said another retiree in Portugal.
"Don't expect to find another version of your part of America. Expect to embrace change and a new lifestyle (I go every morning to my local coffee shop to read my news online)," commented one retiree living in Silver Coast, Portugal.
Answer Question & View More Answers
About the Author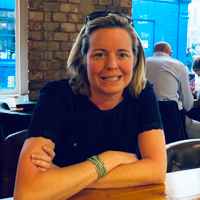 Betsy Burlingame is the Founder and President of Expat Exchange and is one of the Founders of Digital Nomad Exchange. She launched Expat Exchange in 1997 as her Master's thesis project at NYU. Prior to Expat Exchange, Betsy worked at AT&T in International and Mass Market Marketing. She graduated from Ohio Wesleyan University with a BA in International Business and German.
Some of Betsy's articles include 12 Best Places to Live in Portugal, 7 Best Places to Live in Panama and 12 Things to Know Before Moving to the Dominican Republic. Betsy loves to travel and spend time with her family. Connect with Betsy on LinkedIn.