Mogliv-Podilskyi, Ukraine
Last updated on May 08, 2023
Summary: Mogliv-Podilskyi, Ukraine is described as a small, picturesque city located in the western part of the country. It is known for its historical sites, such as the Mogliv-Podilskyi Castle, and its beautiful parks and gardens. Expats love the city's relaxed atmosphere and its friendly locals. The weather in Mogliv-Podilskyi is generally mild, with temperatures ranging from an average low of 28°F (-2°C) in the winter to an average high of 75°F (24°C) in the summer. The cost of living for an expat in Mogliv-Podilskyi is relatively low. The average monthly cost of living for a single person is around $500 USD, while a couple can expect to pay around $800 USD. The cost of a one bedroom apartment is around $200 USD per month, while a two bedroom apartment is around $300 USD per month. The approximate population of Mogliv-Podilskyi is around 40,000 people.
What do I need to know about living in Mogliv-Podilskyi?
When we asked people what advice they would give someone preparing to move to Mogliv-Podilskyi, they said:
"Before retiring in Mogliv-Podilskyi, it is important to research the area and any special requirements that may be needed to relocate there. Cost of living, cultural expectations, weather, healthcare, educational opportunities, and employment are all factors to consider before making the move. It's beneficial to speak with current residents, visit the area and review city data to gain insight and learn more about the region. Those wishing to retire to the area should also consider obtaining a visa or residency, if needed, and researching the real estate and housing markets in the region. Access to banking, transportation and other services should also be investigated to ensure a comfortable transition," said one expat who made the move to Mogliv-Podilskyi.
"Rent with an official rental agreement. It costs twice as much, but if you try the way they do, the first month is low, but you will then be asked for a LOT more, and if you don't pay, they promptly kick you out. Even if you have been there less than 24 hours, there is not a thing you can do. Well, maybe cry. Laws here are lax. You can do things that will amaze you. Even carry a concealed gun, no permit. If you are here over three months, you become an illegal alien. If you leave, you will not be allowed back. If you stay, they cannot afford to kick you out, so they will only fine you $100 upon your eventual departure. I cannot even go across the river to Moldova for lunch! Until I marry. If. If you marry a Ukrainian, you can stay here legally, and not become a UE citizen. I personally will get a UE lawyer to handle the papers. Like everything else here, it costs a lot less than the US. My very low SS Disability income is four times the national average income here. I can not afford to live in California anymore, but I can, here. At least, theoretically. They still are not paying me," explained one expat living in Mogliv-Podilskyi, Ukraine.
Answer Question & View More Answers
What do I need to know before moving to Mogliv-Podilskyi?
Answer Question & View More Answers
Answer Question & View More Answers
Answer Question & View More Answers
Answer Question & View More Answers
Answer Question & View More Answers
Answer Question & View More Answers
About the Author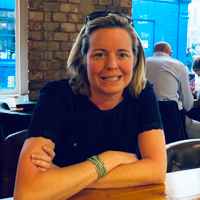 Betsy Burlingame is the Founder and President of Expat Exchange and is one of the Founders of Digital Nomad Exchange. She launched Expat Exchange in 1997 as her Master's thesis project at NYU. Prior to Expat Exchange, Betsy worked at AT&T in International and Mass Market Marketing. She graduated from Ohio Wesleyan University with a BA in International Business and German.
Some of Betsy's articles include 12 Best Places to Live in Portugal, 7 Best Places to Live in Panama and 12 Things to Know Before Moving to the Dominican Republic. Betsy loves to travel and spend time with her family. Connect with Betsy on LinkedIn.