Expats Talk about Health Insurance and Healthcare in Dubai
Last updated on Sep 05, 2022
Summary: Expats and global nomads in Dubai, UAE share their experiences with health insurance, healthcare in UAE, local hospitals and specialists, quality of medical care and more.
How are healthcare services Dubai?
When we asked expats and global nomads about the quality of medical care in Dubai, they replied:
"There are a huge veriety of clinics and hospitals available, and most are held to a very hight standard of care. Seek advice from other expats and do some research, there is loads of info out there. It took us a few trys before we found a doctor that we were comfortable with and so you might need to shop around a bit. Doctors and other health care professionals tend to be expats as well," said one expat living in Dubai.
"The medical care in the UAE and in Dubai was mostly really good. We had a range of private and government hospitals and clinics available to us. The staff were international, as were the hospitals. There were a range of well known American, Canadian and English hospitals," mentioned another expat in Dubai.
"I am a mental health patient and I got a relapse episode here. The medication provided to me has massively improved my life," commented one expat who moved to Dubai.
Are healthcare and health insurance expensive in Dubai?
"Health insurance is covered by the company we work for. We pay a minimal fee per doctors visit but thats it," remarked another expat living in Dubai.
"Our health insurance was provided by the company I worked for. We had to pay about $10 (30AED) for a doctors visit. The process was very smooth and seamless," said one expat living in Dubai.
What are emergency services like in Dubai?
When we asked about emergency services, members in Dubai wrote:
"There are 2 hospitals within 10 km of our house, both easily accessible and of a hugh standard. Both are private and have very good reputations. (Saudi german hospital and al zhara hospital. There are a huge number of clinics so you are never far away from one," added another expat.
"The closest hospital to us was Al Zarah hospital, an outstanding private hospital. In the area there was also the Saudi German Hospital, a range of Mediclinic hospitals and some government medical centers. We were no more that 5 minutes away from the nearest hospital, which remains true for most places in the city. Hospitals and clinics are everywhere. We never did require emergency services, However I have heard that they are reliable," commented one expat who moved to Dubai.
Will I need to travel to see a specialist?
"I ha e never needed to do this, but every specialist we saw was really good and associated with high quality care and facilities," said one expat living in Dubai.
"I never needed to do this, but I would have gone to City Hospital, A mediclinic hospital. They had a range of facilities available, held very high standards and that's where our daughter was born. The facility and the staff were outstanding," mentioned another expat in Dubai.
Are common prescription medications available in Dubai?
"We were able to get everything we needed. We did tend to find a lot of generic brands. We easily got antibiotics over the counter and didnt need a prescription for much, although what we did get a prescriotion for was almost always covered by insurance," said another expat.
"There are pharmacies in every mall and on most streets in the city. Antibiotics can be purchased over the counter. Some medications need a prescription and we found we received a lot of generic brand medications, but never went without anything really. Health insurance covered a lot of the expense, but they weren't terribly expensive to buy either," remarked another expat in Dubai.
"Hospitals are varied, there are really good private hospitals with a high standard of care. Doctors, nurses and staff are international, as are the hospitals available. There are some award winning hospitals like the Cleveland Clinic. Government hospitals are available and provide free vaccinations to residence," remarked another expat living in Dubai.
What have your experiences during the pandemic with the local healthcare system been like?
We asked members about local medical facilities in Dubai, they wrote...
"Very poor PEP protection at SGH but dentist VilaFortuny was excellent with full PEP available," commented one expat living in Dubai, UAE.
What advice do you have for expats having a baby in Dubai?
We asked expat moms who gave birth in Dubai about their experiences and advice they have for other moms to be. They said:
"Ask if the hospital has an NICU or, if there were complications, what hospital nearby would have an NICU [knowing that your infant would need to be transported to that other hospital]," explained one expat.
"Visit all the hospitals to see what you think; ask around - see what people have experienced, especially with the new hospitals. If you don't mind 'roughing it' a bit, go to Al Wasl as it has the best equipment for SCBU and premature babies, and it is cheaper than the big international hospitals," said another person in Dubai.
About the Author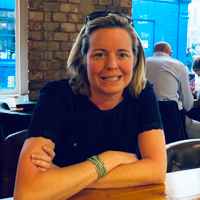 Betsy Burlingame is the Founder and President of Expat Exchange and is one of the Founders of Digital Nomad Exchange. She launched Expat Exchange in 1997 as her Master's thesis project at NYU. Prior to Expat Exchange, Betsy worked at AT&T in International and Mass Market Marketing. She graduated from Ohio Wesleyan University with a BA in International Business and German.
Some of Betsy's articles include 12 Best Places to Live in Portugal, 7 Best Places to Live in Panama and 12 Things to Know Before Moving to the Dominican Republic. Betsy loves to travel and spend time with her family. Connect with Betsy on LinkedIn.