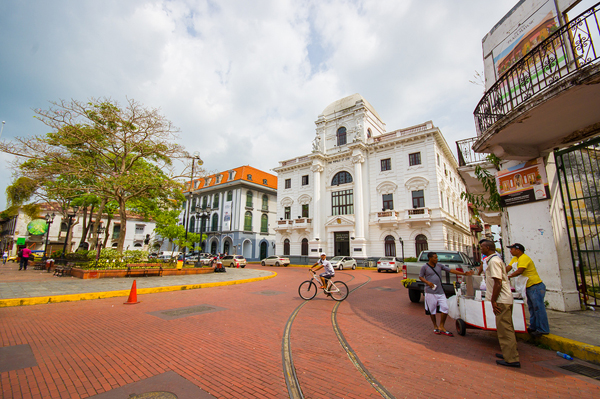 Obtaining a residency visa in Panama is not always easy, but our Guide to Residency in Panama gives newcomers an overview of the steps involved and advice from others who have already navigated the process.
Gather the necessary documents for residency application:

Valid passport
Proof of financial solvency
Police record from your home country
Medical certificate

Apply for a Tax Number:

Visit the nearest Tax Office
Fill out the application form
Provide the necessary documents
Pay the applicable fee

Submit the residency application:

Visit the Immigration Office
Fill out the application form
Provide the necessary documents
Pay the applicable fee

Wait for the approval of your residency application
Receive your residency card
What tips do expats have about residency and visas in Panama?
"Pensionado which relatively easy to obtain. costs about 1700 dollars for a couple," said one expat living in Panama City.
"When we did it the process was relatively easy. Now we understand that a police report will no longer suffice. They require an FBI report now. You have to show verifiable income to support yourself and spouse. Again, do your homework before choosing an attorney," wrote a member in Taboga Island.
"We are in the process of obtaining our 'pensionado visa' from Panama, a visa that allows us permanent residency here, plus several beneficial discounts etc," commented one expat who made the move to Boquete.
"We needed a number of documents, all apostilled, which I had never even heard of apostilled before. All that means is notarized and presented to the correct authority to certify the notary is valid and current. We needed an FBI report which was the most difficult to obtain. I highly recommend using an expediter. Well worth the extra $$ to get it back in a couple of weeks instead of months. The rest was easy. Copies of bank statements, marriage certificate, letter proving monthly income for life (social security or pension as we got residency through the pensionado program). Everything notarized and apostilled," remarked one expat living in Nueva Gorgona.
"The process for obtaining a permanent visa has been streamed lined over the recent years. With a competent lawyer you can get thru the whole thing relatively Quickly. Providing the necessary documentation in advance and being timely for appointments makes the process much easier. Be prepared to visit PTY [Panama City] a few times to sit in the immigration offices while your lawyers submits the numerous copies of documents into your file at the request of someone behind a desk (the Panamanians do not use much in the way of digital, written copies seem endless) Note the dress code for all Panamanian gov offices. Must have a clean conviction record (although it is possible to get waivers) Marriage certs if applicable. Police and FBI report. Recommendations from Banking and business acquaintances. Depending on your status of retiree (pension, friendly nations etc) you must deposit a certain amount of cash into the local bank account (can be drawn out later). Owning property is guaranteed by the Panamanian constitution and can make obtaining the Visa easier," wrote one member in Bocas del Toro.
"Well, actually I never got around to any of that stuff. I'm a complete illegal alien. Nobody seems to care, so I don't either. The problem I see is that the attorneys you'd need help from are going to pay attention to your money. I talked to a local attorney who helps with immigration but he wanted a lot of money, so I just kind of ignored him and plopped myself down here. I don't generally recommend this method; but it works for me. I'm not the type of worry about the fine print," remarked one expat who made the move to Las Tablas.
"We had to prove who we were (IDs), marriage, retirement verification and FBI clearance. Thanks to Panama Relocation Tours, the process was easy. Tedious, but easier than doing it alone," explained one expat living in Playa El Uverito.
"If you plan to stay in Panama for an extended period of time, you will need to obtain a residency visa, also known as a visa de residencia. You must first fulfill certain requirements such as having proof of sufficient economic resources, a police record, and a current passport. You can apply for the visa in your home country before travelling to Panama, or at any Panamanian consulate abroad. Alternatively, you can apply for the visa upon entering Panama at any Immigration offices, through the National Migration Network or at the Immigration office at Tocumen International Airport," said one expat in Panama.
"To just come to Panama for 3 months, no visa is required if you are coming from USA or Canada. You can actually stay for 6 months, but if you want to drive while here, you can only drive for 3 months. You need to leave the country for 72 hours to renew your time for driving. Pensionado visas are popular for retirees and allow you to stay longer. It is quite a bit of paperwork, and costs around $1500 if you use an attorney (recommended). You must prove income of at least $1000/month for this visa type)," commented one expat living in Pedasi, Panama.
"The process of applying for a visa in Panama depends on the type of visa and the duration of stay. To apply for a tourist visa, you must provide a valid passport, a completed application form, a processing fee, and adequate evidence of financial means to cover the costs of your stay. A work visa requires an employment offer from a Panamanian company with an approved government business license, a valid passport and a completed application form, processing fees, and adequate financial means to cover the proposed length of stay. The process of applying for residency in Panama includes submitting an application for residency, providing supporting documents such as a valid passport, proof of financial means to cover living expenses, evidence of health insurance, a police certificate from the country of residence, and a valid work permit, depending on the type of residency being applied for. The applicant may also be required to wait for a period of 6 months to a year before a decision is made, and may even need to attend an interview in Panama. Once granted, the residency will remain valid for two years and can be renewed as long as certain requirements are fulfilled," mentioned one expat living in Panama.