Heidelberg, Germany
Last updated on Oct 14, 2022
Summary: Expats, digital nomads and retirees discuss what it is like to live in Heidelberg, Germany: Cost of living, Finding a home, Meeting People and more.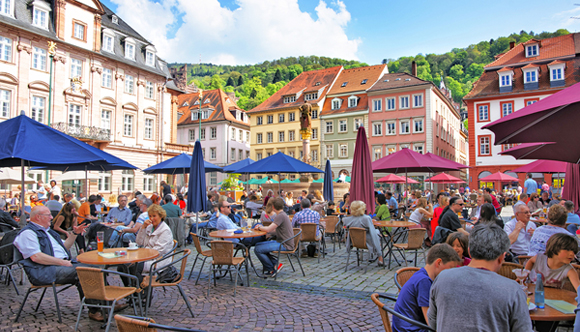 What do I need to know about living in Heidelberg?
When we asked people what advice they would give someone preparing to move to Heidelberg, they said:
"Just try to learn the language; it isn't really necessary but it will increase your opportunities and help you forge friendships with the locals (some Americans here never venture out, socially or culturally, out of the large and established American community.) Other than that just to have a good time and enjoy the area, its a great city with beautiful architecture and a thriving international culture," said another expat in Heidelberg.
How do I meet people in Heidelberg?
If you live in Heidelberg, newcomers to Heidelberg would love to hear your answer to this question.
When we asked people living in Heidelberg about club and activities where newcomers can meet others, they responded:
"In churches, recreational activities for seniors, possible employers with courts and retail or federal government jobs, AA, domestic violence experience helping people, va," said another expat in Heidelberg.
"I met people mainly by going to bars, many of which, because of the Army presence and international community, cater more to English-speakers and Americans (the downside of this is the GI crowd, which, despite having met a lot of cool soldiers, also has a lot of violent and ignorant drunks.) There are probably more wholesome ways of meeting people, but I'm wouldn't be the one to know. If you get a job on a U.S. base, they have a lot of programs and such aimed at helping families and new arrivals adjust and meet new people. The university also to host a lot of cultural events and such. There are a lot of nearby woods and mountains so there's always athletic/outdoors type opportunities," added another person living in Heidelberg.
William Russell's private medical insurance will cover you and your family wherever you may be. Whether you need primary care or complex surgery, you'll have access to the best hospitals & doctors available. Unlike some insurers, we also include medical evacuation and mental health cover in our plans (except SilverLite).
Get a quote from our partner, William Russell
.
Will I be able to find a job in Heidelberg?
When we asked people about industries and career opportunities in Heidelberg, they reponded:
"I was a civillian worker on one of the U.S. bases, which is probably the easiest route for U.S. citizens without a strong background in German and will provide access to a lot of the military infastructure (and I believe the Dept of Defense school system as well.) Their job listings are here- http://www.chra.eur.army.mil/ Outside of that, Heidelberg has a very large high tech software and medical research industry, probably as a result of the university. Tourism and acadamia also seem to be very big, though I know less about them. A decent link is here- http://www.e-heidelberg.com/stay/stay.html Mannheim, which is nearby and much larger and more industrial/business oriented than Heidelberg might yield more options," added another person living in Heidelberg.
What is life like in Heidelberg?
When we asked people living in Heidelberg what life is like and how people spend their time, they said:
"It is a university town, so there's always a lot of nightlife and cultural/academic events. It's population is too diverse to generalize, but it doesn't seem to have as much of a materialistic 9-5 business-minded attitude as I'd imagine would exist in a larger city," remarked another expat in Heidelberg.
What do expats in Heidelberg appreciate most about the local culture?
"Americans are often fake in friendships. We'll 'friend' anyone and not take it seriously. Germans take longer to establish friendships but they are solid friends. Germans work to live, where Americas live to work. We put job as a high priority, Germans put the holiday as a high priority. You can laugh about the 30 days of vacation, but they have similiar productivity output as the USA," remarked another expat in Heidelberg.
What do expats find most challenging?
"Language, language, language. You figure that out and everything else falls into place by itself. Get the language and you'll get everything else," said another expat in Heidelberg.
Is there a lot of diversity? Are people in Heidelberg accepting of differences?
"Heidelberg has a very diverse and international character as a result of several factors. Most notable is the city's large and prestigious university, which attracts lots of German and international students. The city also has large expat and immigrant communities. The U.S. military installations in and around the city and the military personell and civillian workers who live offbase. Because of the academic and international character of the town, most people speak some degree of English," added another person living in Heidelberg.
What are the schools in Heidelberg like?
"The schoool is a great place for your children, as I have previously mentioned they run the IB PYP programme which is excellent. The teachers are all highly qualified from various countries around the world and truly international. From grades 6-10 the school follows the IB MYP and it is in the process of applying to teach the IB Diploma (grade 11 & 12) in Aug 2009," explained one expat living in Heidelberg, Germany.
"Consider alternative schools in the region. The administration is focused on building a business and a concept not focused on providing a positive learning environment with an an emphasis on academics. Everyone on staff is "nice" but not necessarily qualified. This school is *not* accredited nor bound to any set of standards," said another parent with children at Heidelberg International School in Heidelberg.
Answer Question & View More Answers
About the Author

Joshua Wood, LPC joined Expat Exchange in 2000 and serves as one of its Co-Presidents. He is also one of the Founders of Digital Nomad Exchange. Prior to Expat Exchange, Joshua worked for NBC Cable (MSNBC and CNBC Primetime). Joshua has a BA from Syracuse and a Master's in Clinical and Counseling Psychology from Fairleigh Dickinson University. Mr. Wood is also a licensed counselor and psychotherapist.
Some of Joshua's articles include Pros and Cons of Living in Portugal, 10 Best Places to Live in Ireland and Pros and Cons of Living in Uruguay. Connect with Joshua on LinkedIn.