Tamarindo, Costa Rica
Last updated on Sep 17, 2022
Summary: Expats, digital nomads and retirees discuss what it is like to live in Tamarindo, Costa Rica: Cost of living, Finding a home, Meeting People and more.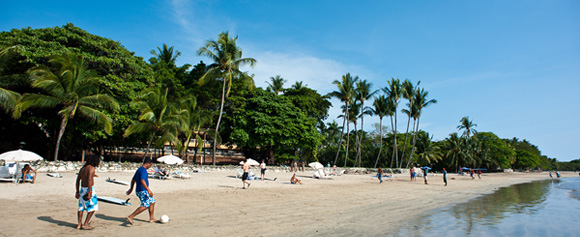 What are the pros and cons of living in Tamarindo?
Expats, digital nomads and retirees living in Tamarindo responded:
"I enjoy the Tamarindo area and surrounding quite well but I prefer the Paquera area and Saint Therese. The infrastructure needs a lot of work here. There are many businesses and expats, lots to do and plenty to see. It is a super area for young and active," said another expat in Tamarindo.
William Russell's private medical insurance will cover you and your family wherever you may be. Whether you need primary care or complex surgery, you'll have access to the best hospitals & doctors available. Unlike some insurers, we also include medical evacuation and mental health cover in our plans (except SilverLite).
Get a quote from our partner, William Russell
.
"Just as anywhere else, pick your friends and associates carefully and be alert at all times," explained one expat living in Tamarindo.
What advice to expats in Tamarindo have about housing?
"It is easy to buy and hard to sell. We bought an ocean view condo in Tamarindo in 2011 and lived in it full time 2013-2018. It then took us over 2 years to sell it. Before buying, we visited Tamarindo a few times at different times of the year, We did enjoy our condo and the amenities offered in Tamarindo, although peak tourist times can get quite busy and crowded. Renting first is a good idea," explained one expat living in Tamarindo.
"This area is overpriced for housing and the regulations are increasing as are taxes. Better to rent," said another in Tamarindo.
What are medical services in Tamarindo like?
When we asked expats and global nomads about the quality of medical care in Tamarindo, they replied:
"The caja is randomly assigned and not really a great value for what you get, private care is better and expat insurance isn't inexpensive. I do better to have my home health insurance and pay cash for services in CR however the providers here are excellent," explained one expat living in Tamarindo.
What do I need to know about living in Tamarindo?
When we asked people what advice they would give someone preparing to move to Tamarindo, they said:
"My wife and I lived in Tamarindo for 5 years. (We now live in southern Nicaragua near our daughter, son-in-law, and two granddaughters.) When we first visited Tamarindo, it felt like driving into a California beach town from the 1960's. We liked the beach front road and string of beach restaurants. But it is also very popular for tourists, so the town is often packed with tourists, which can get a bit annoying. However, there are also low tourist seasons when the town is very pleasant. We liked that we could easily walk to many restaurants in town, And we owned a nice condo with a great view of the bay," said another expat in Tamarindo.
How do I find a place to live in Tamarindo?
If you live in Tamarindo, newcomers to Tamarindo would love to hear your answer to this question.
We asked expats how they chose their neighborhood and found a place to live. They answered:
"On one visit, we took a side trip to Costa Rica to explore the beaches of Guanacaste. When we drove into Tamarindo, it felt a California beach town with a nice vibe. Over the next couple of years, we took a few trips to Playa Flamingo and Tamarindo to further explore the area and to look at condos for sale. We bought an ocean view condo in Tamarindo a couple of years before we retired, and then moved there full time after retiring in May 2013 (age 61-62). We liked the beach and the availability of a variety of restaurants and stores in Tamarindo, and easy walking access in town," remarked another expat in Tamarindo.
About the Author

Joshua Wood, LPC joined Expat Exchange in 2000 and serves as one of its Co-Presidents. He is also one of the Founders of Digital Nomad Exchange. Prior to Expat Exchange, Joshua worked for NBC Cable (MSNBC and CNBC Primetime). Joshua has a BA from Syracuse and a Master's in Clinical and Counseling Psychology from Fairleigh Dickinson University. Mr. Wood is also a licensed counselor and psychotherapist.
Some of Joshua's articles include Pros and Cons of Living in Portugal, 10 Best Places to Live in Ireland and Pros and Cons of Living in Uruguay. Connect with Joshua on LinkedIn.