17 Best Places to Live in Costa Rica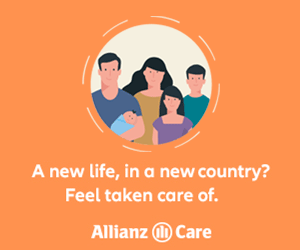 Summary: Costa Rica has a lot to offer expats with its tropical climate, eco-friendly culture, beautiful beaches, welcoming people, good healthcare system and relative safety. Many expats warn newcomers about the high cost of housing and food. In this updated version of the best places to live in Costa Rica we cover many more locations such as Playa Flamingo, Nosara, Lake Arenal, Jaco Beach and Ojochal.
"Expats seem to be all over CR. Some love the beach. Some love the mountains. Some love being alone in the jungle. Some love being surrounded by crowds in San Jose. Best is very subjective. Best to one is worst to the other and maybe vice versa. Using the word best, it might be best to travel there for about two weeks, moving from town to town to town to see what there is to offer," wrote one expat.
Our list of the best places to live in Costa Rica is based upon recommendations from expats living in Costa Rica. If you're considering a move to Costa Rica, we advise that you use this list as a starting point in your search for the best place for you.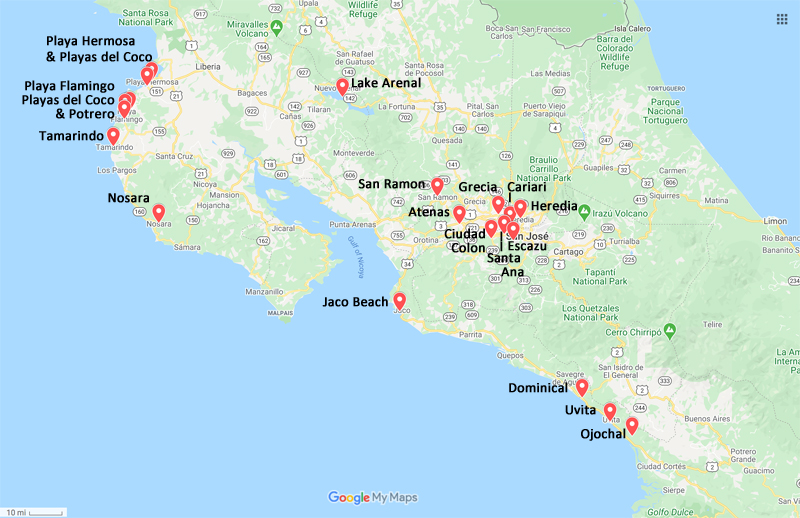 Costa Rica Map" border="0">
The Guanacaste Region of Costa Rica
One expat offered advice to a newcomer looking to settle on the beach in Guanacaste, "I recommend looking at Tamarindo, Playas del Coco, and Samara as moderate size beach towns (small compared to full size CR cities) with decent stores and restaurants conveniently available. You could also look at Playa Grande, Potrero, Playa Flamingo, Playa Hermosa, etc for smaller town options - basically, drive along the coastal towns west and south of Liberia to find the right 'vibe' for what you want. You just need to find a town that feels right."
1. Playa Hermosa and Playas del Coco
Population: estimated at 1,000 Location: Nicoya Peninsula on the northwestern Pacific Coast, 20-30 minutes from Liberia International Airport, 4 hrs from San Jose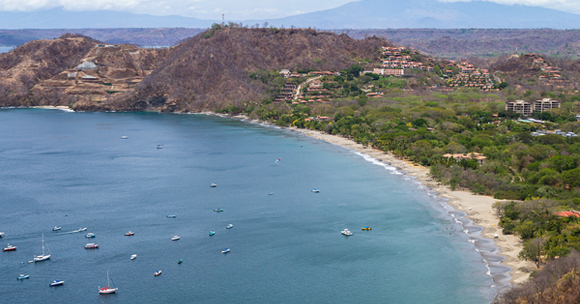 Playa Hermosa in Guanacaste Province is sometimes confused with Playa Hermosa de Jaco (aka Jaco Beach) in Puntarenas Province, which is a popular surfing town. Playa Hermosa in Guanacaste is just north of Playas del Coco. Lakeside International School is located 15 minutes inland from Playa Hermosa and Playas del Coco. One expat described the area saying, "I bought my condo in Playas del Coco. I really like the ocean and I knew that's what I wanted. I watched some videos about Grecia and it seems a very nice place but to me there is something missing, the ocean. Not everybody likes the same things! We put window screens in our condo and we have ceiling fans and now that we are more used to the heat we only turn on one of the AC splits for a few hours during the night. I love walking on the beach and buying cheap red snapper. We also had to find local grocery stores where the meat is much cheaper. Most fruit we get from the fruit stand."
Restaurants Recommendations: If you are in the area, the views and seafood at The Lookout in Playas del Coco are incredible. Father Rooster just down the coast from Playas del Coco (3km) is a lively beachfront bar and grill. In Playa Hermosa, Aqua Sport is the perfect beachfront restaurant to have a cocktail and watch the sunset.
2. Playa Flamingo, Brasilito and Potrero Area
Population: estimated at 1,000 - 2,000 (seasonal) Location: Nicoya Peninsula on the northwestern Pacific Coast, 40 minutes south of Playas del Coco, 55 minutes from Liberia International Airport, 4 hrs from San Jose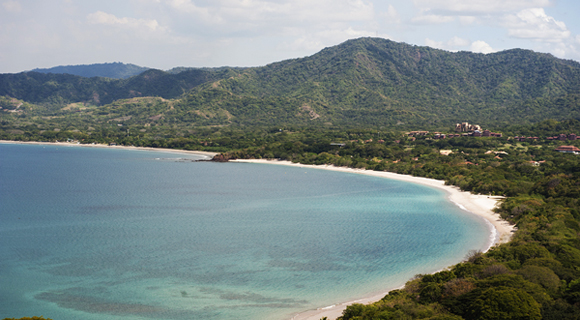 "Brasilito, Playa Flamingo and Potrero. Excellent Expat communities but integrated with the local culture. Also they have two excellent accredited schools if you bring the kids. I would definitely check out Flamingo/Potrero," advised one expat. The schools mentioned are La Paz Community School and Costa Rica International Academy (CRIA). Brasilito is 15 minutes north of one of Guanacaste's most famous beaches, Playa Conchal. Playa Flamingo and Potrero are just a few minutes up the coast from Brasilito.
Restaurants Recommendations: Get breakfast at Carpe Diem Cafe in Protrero, enjoy lunch and a swim while taking in the views at Gracia Mar Vista in Brasilito, watch the sunset at Coco Loco on Flamingo beach.
3. Tamarindo
Population: approximately 6,800 Location: Nicoya Peninsula on the northwestern Pacific Coast, 20-30 minutes from Liberia International Airport, 4 hrs from San Jose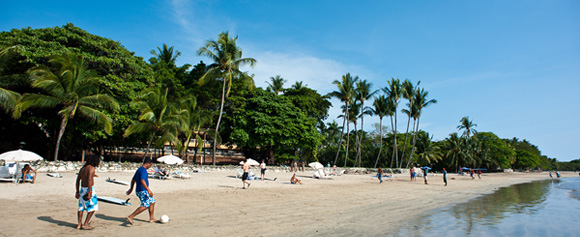 "My wife and I live in Tamarindo - it has a very nice beach with many restaurants close to the beach. The sand drops off very gradually into the ocean, so you can play in the waves in the shallow water, and perhaps body surf or rent a boogie board (if not a surfer). Just find a stretch where you will not be run over by the numerous surfers coming in from deeper water. There are many expats in Tamarindo, but there's no real "meeting places." Breakfast at Nogui's on the beach is sometimes popular with expats. Tamarindo has about 80 restaurants, so it is a good place to find a variety of choices for eating," described one expat living in Tamarindo.
Another expat warned, "Tamarindo is an expensive place to live in, so be prepared to pay more than you hoped for." With regard to the weather, one expat said, "we do wake up with sunshine most every day even in rainy season, I love the Ticos we have gotten to know albeit there is a feeling that you are an ATM machine to some. The beaches are beautiful and the nightlife during tourist season is terrific with live music, fiestas and great restaurants if you avoid the tourist traps."
Restaurants Recommendations: Where to eat while checking out Tamarindo? Make a reservation and enjoy the sunset at Panga's Beach Club, watch a game at Sharky's Sports Bar and get a quick bite for breakfast or lunch at La Bodega.
4. Nosara
Population: approximately 5,800 Location: Nicoya Peninsula on the northwestern Pacific Coast, 1.75 hrs south of Tamarindo, 2.25 hrs from Liberia International Airport, 4 hrs from San Jose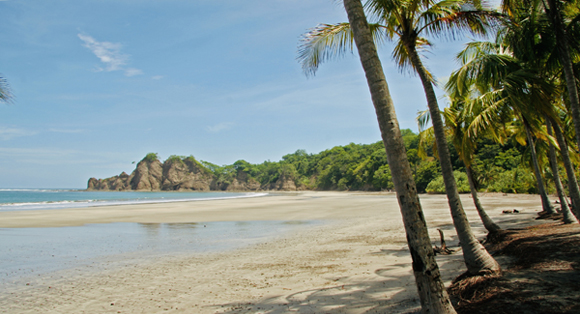 "I would highly recommend going... to the gorgeous town of Nosara. Actually the beach is Playa Guiones. The way the town is built is really nature friendly. You will not see rows and rows of hotels and condos, but the businesses are all built between the foliage. And the beach is protected by tree line as well. My favorite beach south of Tamarindo," according to an expat on the Costa Rica Forum.
Another expat recommended Nosara saying, "For a quieter area filled with expats try Nosara! By volunteering at the Wildlife Refuge or something, you will be able to meet others. It has a stronger community feel for expats than most others."
Restaurants Recommendations: If you're checking out Nosara, stop by the Beach Dog Cafe near the entrance to Playa Guiones to enjoy fish tacos, cocktails and live music. El Chivo is another local favorite with live music, weekend brunch (plus, it's a good spot to watch football).
5. Lake Arenal
Population: approximately 17,000+ Location: 3.5 hrs from San Jose, Inland Lake, 2 hrs from Pacific Coast
Lake Arenal includes numerous towns such as Volcan Arenal, Lago Arenal, Nuevo Arenal, La Fortuna, Tronadora and Tilaran. "People in this region, if they are not native to Costa Rica, are generally retired or have formed their own businesses, which is legal in Costa Rica as long as you have your legal residency. [The area is made up of] A very diverse community consisting of the locals (Ticos), US, Canadian, Austrian, Dutch, German, Spanish, Australians, etc. Life at Lake Arenal is very social and active. We have many social gatherings, fundraisers, water sports, and tourist activities for visiting friends and family. Ladies of the Lake, a large, diverse group of women who meet monthly to share their experiences, challenges, great food, and involvement in local charitable and fun activities," described one expat. "Lake Arenal area is a very nice place to live, I lived there for several months. It is very safe, as most rural areas in Costa Rica. Gated communities are better if you plan to leave the house alone with nobody taking care of the property, non gated communities are usually safe if you have neighbors keeping a close eye on the property."
Restaurants Recommendations: Listen to live music while dining at Moya's Place in Nuevo Arenal (an expat owned hangout), eat an amazing meal at Down to Earth Coffee Store (don't miss the tour).
Guanacaste vs. Puntarenas
"I've been living in Costa Rica for the past 10 years. I love and prefer Guanacaste. It is also preferred by most expats and tourists. Guanacaste lies next to the Pacific Ocean, and its northwestern side is the most preferred due to its less population and better development compared to Limon and Puntarenas. It is quite famous for its breathtaking white sandy beaches, stunning coastline and its variety of wildlife. A simple walk under the jungle canopies with an accompaniment of howling monkeys, chirping of the exotic birds and the beautiful sceneries will definitely mesmerize you. Although the infrastructure is not as well developed, life on the Gold Coast is much more relaxed and friendlier than that of San Jose. It also has the most ideal climate of Costa Rica marked with sunny days most of the year. In fact, this place receives the least amount of rainfall in the country. Here, you also find a large population of expats and foreigners with a mixture of Ticos. It is also home of the famous Tamarindo beach, though this is quite expensive, and Nosara - the most unique and favorite home to many discerning expats," wrote one expat in a discussion about Guanacaste vs. Puntarenas.
Puntarenas Province
Puntarenas Province is the south of Guanacaste and is the largest province in Costa Rica. Puntarenas makes up the majority of Costa Rica's pacific coastline.
6. Playa Jaco (Jaco Beach)
Population: approximately 10,000 Location: Central Pacific Coast
"Foreigners move to Playa Jaco for the beaches, fabulous sunsets, close proximity to an international airport (SJO) and convenient shopping. Additionally, the community has a relaxed vibe, full of great restaurants, plentiful beach access, recreational activities and other expats to socialize. Many beach locations in Costa Rica are expensive. However, Playa Jaco has a strong mix of locals and tourists which helps to keep the cost of living lower. You will find many types of housing here from single family, condominium complexes and beachfront homes in a multitude of price ranges to fit all budgets. The community has a local farmers market (feria) which is always a good deal to purchase locally from regional farmers. The price of fresh fish is an incredible value," wrote one expat living in Playa Jaco.
Restaurants Recommendations: When you're in Jaco, try Puddle Fish Brewery for delicious food and craft beer, Tacobar and El Hicaco for beachside seafood.
Costa Ballena
The stretch of coastline in Puntarenas Province, called Costa Ballena, is home to a number of beautiful beaches and noted for the relatively large enclave of north American and foreign baby boomers, retirees and expats residents. Ballena means "whale" in Spanish and this area is the mating area of the humpback whales seasonally from December to April. Additionally, there a whale's tail shaped beach that juts off the coastline in Marino Ballena National Park in Uvita. Steve Linder's article, The Costa Ballena Region of Costa Rica offers a great overview of the areas best beaches and related activities.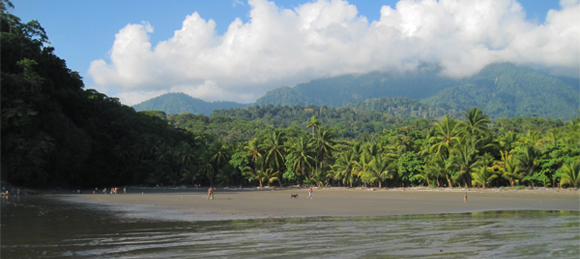 There are three towns for expats in the Costa Ballena region:
7. Dominical
Population: approximately 700 Location: 1.5 hrs south of Jaco Beach, 3+ hrs from San Jose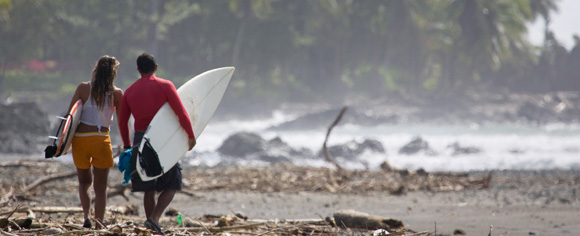 An expat in Dominical suggested, "look for Dominical on the Pacific coast south of Quepos. Just 20 miles inland is San Isidro de El General (aka Perez Zeledon). I couldn't guess how many restaurants there are, maybe 100? Maybe 20 big supermarkets, 15 building supply stores, 8 gas stations, a Caja hospital, lots of private doctors/clinics, soccer stadium, lots of banks, etc. It is on the Pan-American Hwy and two bus lines run every hour between here and San Jose. Plenty of buses to and up and down the coast too. I think there are three taxi companies in town. Yes, $400/mo for an in-town apt. should be easy. 10 mins.out of town and can find a nice house for less than that, some on bus lines."
Restaurants Recommendations: Hungry? Have breakfast (lunch or dinner) at Cafe Mono Congo, have a meal and a craft beer at Fuego Brewing Company and take in the amazing view at La Parcela.
8. Uvita
Population: approximately 1,000 Location: 15 minutes south of Dominical, 3.25 hours from San Jose
Uvita is another beautiful Costa Ballena beach town. "While much less developed, this is an extremely beautiful area and the expat community is relatively established there. While it is more humid with more wet weather that the Northern Coast, it is the only area where the mountains drop onto the beach. Therefore, you can pick your altitude in order to control your temperature and still have the ocean views and a short trip to the beach," described one expat. Centro Educativo Costa Ballena, located in Uvita, is a bilingual, Montessori-style, private school for students from pre-K through 6th grade.
The Envision Festival takes place in Uvita and has grown in popularity since its start in 2010 (in Dominical).
Restaurants Recommendations: If you're in Uvita, visit the Farmer's Market on Saturday (you'll meet some expats there), enjoy pizza at Pizza Time and grab a beer or coffee at Sibu.
9. Ojochal
Population: estimated at 1,000 Location: 15 minutes south of Uvita, 3.5 hours from San Jose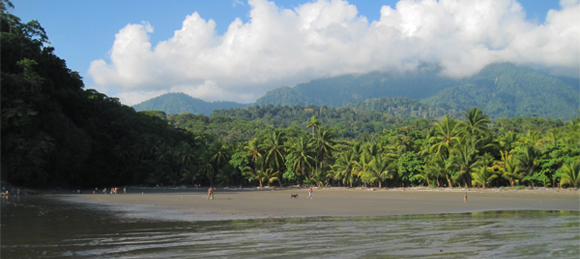 Just south of Uvita, you'll find Ojochal. "I just spent a month in Ojochal housesitting. It is a small village, with several nice features including a great ex-pat community, who pride themselves on contributing to the area and the people in many ways," remarked one expat in Costa Rica. "There's a large US, Canadian and French contingent there, but you can also find residents from every continent," added another. "Ojochal has a great international community with nearly every continent represented in restaurants alone. The geography in the area is stunning with the largest mountain backdrops closest to the coast in the entire country. Zoning laws have been strictly upheld in the area with limits on height so NO high rise buildings and less deforestation than elsewhere in the country," described one expat.
"We have a great international expat community. Ojochal, Uvita and Dominical are considered to be the southern Pacific Region of Costa Rica. The cost of living is lower here than in many other parts of Costa Rica and the pace of life is slower and more relaxing. We have a pot luck brunch in town, pizza night at a local restaurant and a local farmer's market on Saturdays. The is a small denomination of Catholics in town, some mennonites and a few Pageans :'). We have amazing cultural diversity and there is ample economic opportunity due to the high rate of growth in the area. Thera is a lot of construction related work in high end custom homes. The town is very accepting, almost too much so," described another expat living in Ojochal.
Restaurants Recommendations: While you're in Ojochal, you can't go wrong dining at any of these three favorites: Castillo's Kitchen, Citrus or Heliconia.
The Central Valley
Central Valley covers a very, very large area surrounding San Jose in all directions. "The Central Valley is at 4000 feet and perfect weather besides being close to the international airport which is key to our traveling back to the states and afar," explained one expat. People choose the Central Valley for its cooler climate and close proximity to good hospitals and doctors, international school, jobs, shopping and other amenities.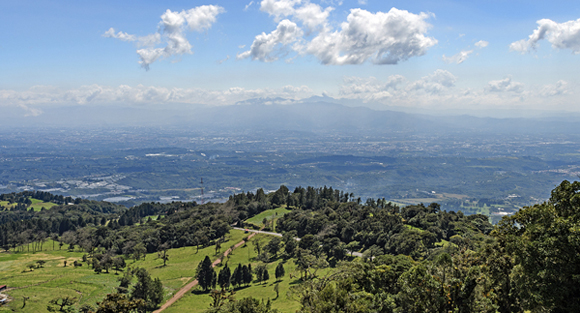 Schools in The Central Valley
American International School (AIS) is located in Ciudad Cariari in Heredia and is one the most well known K-12 international schools in the Central Valley. AIS is 15 minutes from downtown San Jose, 30 minutes from Escazu and 40 minutes from Atenas. Another well-known K-12, American school, The Country Day School is located in San Rafael, Alajuela. It is 15 minutes from Cuidad Colon, 20 minutes from Santa Ana, 20 minutes from Atenas, 25 minutes from Escazu and 1 hour from Puriscal. Other notable schools for expat students in the Central Valley include the British School of Costa Rica in San Jose, Lincoln School in Heredia, Tree of Life International School in Santa Ana, European School in Heredia and Pan-American School in Santa Ana.
Healthcare in the Central Valley
"By living in Grecia or Atenas in the Central Valley or the area between San Isidro de General and Playa Dominical, you will have access to medical care and be able to drive to the beach. Keep in mind that the country's most outstanding public and private medical centers are located in the Central Valley," wrote one member.
Here are a few popular expat towns in the Central Valley:
10. San Ramon
Population: approximately 11,000 Location: 1 hr northwest of San Jose, 1 hr from Gulf of Nicoya (Pacific side of Costa Rica)
San Ramon is "One advantage of San Ramon is that it is a great transportation hub. Living there, you will have the advantage of being able to take a bus to the beach, the capital, or the mountains with very little cost. Within San Ramon, there is also great low-cost public transportation. It is very easy to live there without a car. San Ramon has a large, modern, hospital, an expat community, many restaurants, a small mall with movie theaters, and nice cool weather," wrote one expat.
Restaurants Recommendations: Satisfy your craving for Thai food at Savory a la Thai, get a burger at Chepe's and get coffee at Elements Coffee House.
11. Atenas
Population: approximately 5,000 Location: 35 minutes west of downtown San Jose
"We live in Atenas, it is in between San Jose and the beach. Prices vary and there is a good expat community here. We have 3 large gated communities and many safe barrios. It is a family town, so considered very safe. There are always women walking with their babies in strollers, meaning very safe. We love it here, home of the Chili Cook-off," described one expat living in Atenas. Another expat living in Atenas said, "Atenas is a small town with a small town atmosphere. The OPs are right: the dining is limited and night life is very limited. But that's not what we came for. We enjoy seeing people we know on the streets almost every time we head to town. You won't find a coffee shop or wine bar (yet) in Atenas. Atenas has an exit off the Caldera Highway so it makes sense that it may still see some growth. As with any place else (maybe more so because of the lack of MLS) one has to shop hard to find a good real estate deal. And, of course, that is always subject to various opinions."
"Atenas is considered by National Geographic to have the most perfect climate in the world as it is not too hot, too cold, too wet or too dry. It is close enough to medical care and the city but is fair enough away from the hustle and bustle and is a 'real' town although it does have a thriving ex-pat community," said one expat. "I agree with the posts about Atenas not quite living up to the "best climate" name. We arrived in August to what felt like a sauna... almost unbearable heat and humidity... and ceiling fans that felt like they were only for decoration! :o) But on cloudy days, the weather was quite nice and the evenings cool off quite a bit. I do know that where we were, at the same elevation as the Central School, it is warmer than in some of the other barrios. One thing about Atenas is that we felt SAFE, even at night, while we lived there," revealed another expat living in Atenas. Another expat advised, "We live in Guacimo de Atenas at 2400 feet. The difference between Atenas proper and our house can be as much a ten degrees cooler and another 500 feet up a mountain will make it even cooler."
Restaurants Recommendations: The German cafe, El Balcon del Cafe, serves breakfast and lunch and is known for its amazing cakes and turnovers - Apple Cake, Hazelnut Cake, Cheesecake, apple turnovers, carrot cake, cheese turnovers (the list goes on and on). Kay's Gringo Postres and Cafe is owned by an expat couple from South Dakota and serves breakfast and lunch. Kay's is great place to meet expats if you're in town to check out Atenas. They host a weekly lunch for women (some men come and gather at the same time).
12. Cariari
Population: approximately 22,000 Location: 20 minutes northwest of downtown San Jose
"Take a look at Cariari - Belen, within the Province of Heredia. The Cariari Country Club is there and it would be possible to live within walking distance to the American International School a great school with great teachers. I suggest renting first to see how you like it. There is a good mix of Americans, Canadians, Costa Ricans and other nationalities in the area. There are nice living areas not far from the airport and City Mall, the largest mall in Central America. Crime is relative. I rented a home in Cariari with a teenage son and felt relatively safe because I/we took precautions. Cariari and Belen can be a little warmer than other areas of the Central Valley. Be prepared for sticker-shock. Costa Rica is not cheap," commented one expat.
13. Heredia
Population: approximately 125,000 Location: 20 minutes north of downtown San Jose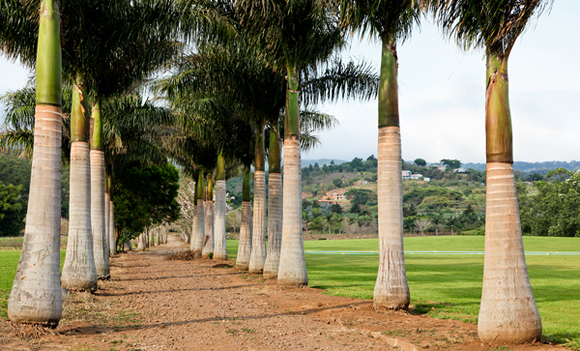 The city of Heredia is home to the European School, a pre-K through 12th grade school. "Heredia is large, by C.R. standards and busy. It's very close to beautiful mountains to the north and good proximity to San Jose," described one expat. "The Heredia area has a variety of climates. It is cooler where I live. 15 min. drive up the mountain from me, it is even cooler. You can buy whatever you need locally and it is a fairly short trip to San Jose (capitol) which has museums and other attractions. If you like nature, just up the mountains there are amazing the forests and parks such as Barva Volcan. I like it here but it would not be for everyone," said another.
Restaurants Recommendations: Artisan Brew Pub has a huge select of craft beers and pizza. El Tigre Vestido's is just 15 minutes away in the mountains in Santa Barbara de Heredia and worth the drive. Their tagline is "from our garden to your table" and they serve breakfast, lunch and dinner with amazing views surrounded by greenhouses, gardens and fruit trees.
14. Grecia
Population: approximately 15,000 Location: 45 minutes northwest of downtown San Jose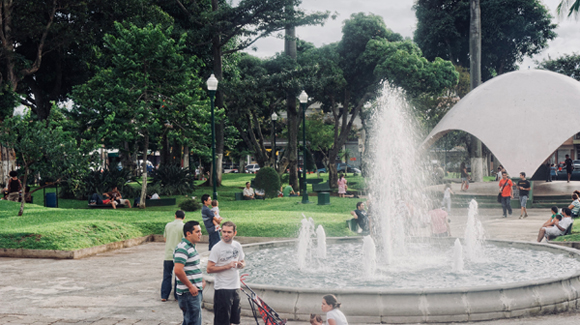 "I love Grecia. Only about 40 min from airport. I am normally the only gringa living in my barrio. 'Busy' is relative. San Jose and Alajuela are too busy for me, and San Ramon too big. I am not a person you will find in a bar, day or night. Many more gringos in Atenas but I think smaller and too warm for me. Most of my friends are Ticos. I see a few gringos in a couple of cafes in the morning when I pass by. In the afternoon, if I go downtown, rarely see any. Most of them live up in the mountains and see a few maybe once a week at the feria. I have been here 5 years, and most see less than once a month. A few go to an English speaking church. I am the only Gringa in my church of about 130 Ticos. Unless you speak fluent Spanish and have all your legal ducks in a row, most expats need to talk to a gringo now and then even if only to ask for info or opinion," said one expat in a discussion about choosing to move to Grecia or Arenal.
Restaurants Recommendations: If you'd like to meet expats while checking out Grecia, stop by the Feria (Farmer's Market) on Friday and have breakfast at Cafe Delicias. Mas Q Sabor serves delicious Tex-Mex food, burgers, salads and smoothies.
15. Santa Ana
Population: approximately 12,200 Location: 25 minutes west of downtown San Jose
Santa Ana is 15 minutes from the Country Day School and 35 minutes from the American International School. With a population of approximately 12, 200, Santa Ana is another one of the more popular expat towns. Pan-American School is located in Santa Ana.
Restaurants Recommendations: Bacchus is an upscale, Italian spot. Porky's Burger Bar is well-known sports bar with burgers, beer and a relaxed atmosphere.
16. Escazu (or San Rafael de Escazu)
Population: approximately 15,000 Location: 15 minutes west of downtown San Jose
If you need to be near schools and San Jose, Escazu is an upscale suburb popular among expats. "Escazu is a very nice suburb outside of San Jose. It is busy and offers everything from shopping to convenience," said one expat. Another said, "Escazu has some very nice areas and offers more in the way of stores, restaurants, medical care and entertainment." Those who prefer living in Atenas and other towns would debate that Escazu has a lot of crime, traffic and too many stores. "We chose to live in the most Americanized place you can live � San Rafael de Escazu in the condo development of Torres del Country. This is a gated community with walking guards throughout the grounds so no barbed wire. They are building beautiful new condos there as we speak, overlooking the Costa Rica Country Club. We got a great deal (we think) on an older one in the development and were able to rent almost immediately our condo for $ 1600/mo until we move permanently in 2-3 years. They are one mile from the US Embassy and across the street from the German Embassy so very safe and lots of great restaurants to walk too, close to an amazing mall just like in a major city in the states (MultiPlaza with even movies in English), the best private hospital you can find in CR (CIMA Hospital) and everyone speaks English everywhere we go. We bought to only live here part time as a 'base' for traveling the world and spending a lot of time back in the states with a very large extended family like you," said one expat.
Restaurants Recommendations: Get breakfast at Bulali and enjoy delicious Peruvian food at Zonna Gastro bar. Craving Indian food? You'll love the open-air ambience and mouth-watering menu at Taj Mahal (the first Indian restaurant in Costa Rica).
17. Ciudad Colon
Population: approximately 10,000 Location: 30 minutes west of downtown San Jose
Cuidad Colon is less expensive than Santa Ana and Escazu and very close to The Country Day School. It's a small town with a low-key, local vibe. According to Wikipedia, Cuidad Colon is home to the University for Peace, which brings students and professors from all over the world to this United Nations-mandated university.
Restaurants Recommendations: Grab a pizza at Restaurante Casa 76 or Che Pizza and enjoy Caribbean food at the eclectic Caribbean Jam.
About the Author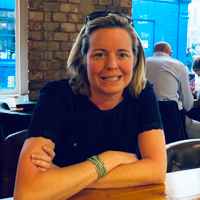 Betsy Burlingame is the Founder and President of Expat Exchange and is one of the Founders of Digital Nomad Exchange. She launched Expat Exchange in 1997 as her Master's thesis project at NYU. Prior to Expat Exchange, Betsy worked at AT&T in International and Mass Market Marketing. She graduated from Ohio Wesleyan University with a BA in International Business and German.
Some of Betsy's articles include 12 Best Places to Live in Portugal, 7 Best Places to Live in Panama and 12 Things to Know Before Moving to the Dominican Republic. Betsy loves to travel and spend time with her family. Connect with Betsy on LinkedIn.