Moving to Oman
Last updated on Feb 01, 2023
Summary: Moving to Oman? Expats talk about what you need to know before moving to Oman.
What do I need to know before moving to Oman?
When we asked people what advice they would give someone preparing to move to Oman, they said:
"When moving to Oman, it is important to consider the climate and the culture. The climate in Oman is very hot and dry, with temperatures reaching up to 40°C in the summer months. To prepare for this extreme weather, it is wise to bring plenty of light and airy clothing. Working permits are also required by all expatriates, as well as any relevant documents such as visas and residence permits. Banking facilities are widely available, so opening a local bank account is easy and convenient. In terms of culture and tradition, Omanis are hospitable people and practice a strong sense of respect and politeness. Additionally, it is important to remember that alcohol is prohibited in the country, and public displays of affection between couples are not permitted. Lastly, the Omani rial is Oman's official currency and English is widely spoken," said another expat in Oman.
"No doubt. Certainly Oman is wonderful place to spend life if you are nature lover and believe in family life. The best location to move in are Al Khuwair, Al -Athaibah, Al Seeb and Al Qurum. These are decent locations with shopping mall in close vicinity," remarked another expat who made the move to Muscat.
Answer Question & View More Answers
How do I find a place to live in Oman?
We asked expats how they chose their neighborhood and found a place to live. They answered:
"To find a place to live in Oman, you can search online, look in the classifieds section of local newspapers, or visit rental agencies and real estate offices. You can also ask trusted friends and acquaintances for advice or recommendations. Additionally, if you are a student or a foreign worker, you may be able to get help from your school or employer. To make sure you get the best deal possible, it's important to research the different neighborhoods in Oman and inquire about the availability and cost of housing," said another expat in Oman.
"Well, I got my accommodation through my employer in decent location. The apartment was spacious and well furnished with all basic amenities provided," remarked another expat who made the move to Muscat.
What is a typical expat home or apartment like in Oman?
"A typical expat home or apartment in Oman will usually be modern and spacious, with air conditioning. Most expats choose to live in higher-end villas, flats, or compounds. Villas typically have a large courtyard or garden, with multiple bedrooms and bathrooms, a large open-plan kitchen, and a separate living area, which contains a number of amenities such as a swimming pool, gym, and tennis court. Inside the apartment or flat, most expats can expect to find modern, western-style furniture, along with plenty of extra storage. Many expats choose to live in compounds, which are luxury developments in wealthy areas of Oman and have a range of amenities and facilities such as gyms, sports facilities, swimming pools and restaurants. In terms of safety, expats should expect to find 24-hour security guards, CCTV cameras and secure electronic gates," added another expat who made the move to Oman.
"Detached villa - this is typical. We have lots of space, marble floors. We like our landlord. But, we have an old-fashioned kitchen. The landlord won't refurbish it because he doesn't understand the British tradition for using the kitchen as the hub of family life. In Omani culture, the kitchen is for servants and the family would never set foot in it. So it's dark, with a small window, 70's tiling, grimy grout and an old wallbanger AC," explained one expat living in Muscat, Oman.
What is the average cost of housing in Oman?
If you are thinking about moving to Oman, cost of living in probably a key consideration. Expats commented about the cost of housing:
"The cost of housing in Oman generally varies depending on the location and quality of accommodation, but can range from relatively affordable to expensive," commented one expat who made the move to Oman.
"Lower - Cost of housing in our home city, Edinburgh, is incredibly high. We would never be able to afford to live in a house this size at home," remarked another expat in Muscat, Oman.
Should I buy or rent a home in Oman?
If you have not spent a lot of time in Oman, you should rent before even thinking about buying. We asked expats there about the buy vs. rent decision:
"Whether you should buy or rent a home in Oman depends on your individual circumstances. The cost of renting or buying a home will depend on several factors, including your budget and the size of the property you need. If you plan to live in Oman for a short period of time and do not intend to build up equity, renting may be a better option. However, if you wish to take advantage of the potential for capital gain in the Omani real estate market and stay in the country for longer, then buying may be a better choice. Ultimately, this decision will be based on your individual situation and needs," remarked another expat who made the move to Oman.
What should I pack when moving to Oman?
We asked people living in Oman to list three things they wish they had brought and three they wish they had left behind. They responded:
"Clothing suitable for hot and humid weather, toiletries, medications, passport, visa, vaccination and medical documents, mosquito repellent, sun block, snorkeling or scuba diving equipment, books, CDs and DVDs, an international driver's license, laptop, camera and necessary electronics, basic kitchenware and utensils, air conditioning unit, rolled up carpets and cushions, cultural artifacts from home and anything else you cannot live without," remarked another expat in Oman.
"Three things I would have bought are culture, respect and nature. Three things I would have left are infrastructure development, events and happenings and traffic accidents," said another expat in Muscat.
What cultural faux pas should I try to avoid making in Oman?
We asked people in Oman if they could share any humorous cultural blunders they commited. For new expats, keep in mind that these incidents are an inevitable part of expat life. Learning to laugh about them is the key!:
"In Oman, it is important to be respectful of the cultural customs and to avoid offending local sensitivities. There are few hard-and-fast rules, but some common faux pas to avoid include: • Wearing skimpy clothing as it is considered immodest; • Showing public displays of affection; • Eating or smoking in public during the month of Ramadan; • Giving or receiving gifts with the left hand; • Talking about religion; • Taking photographs of people without their permission; • Not acknowledging or addressing people with titles such as "sir" or "madam"; • Not respecting prayer times by speaking loud near mosques; • Not respecting the local dress code; and • Not respecting the local customs of hospitality," commented one expat who made the move to Oman.
"I ate a banana in front of a very hungry Omani in the middle of Ramadan. I was shocked when I found out that I'd totally forgotten about Ramadan but the Omani was very nice about it," remarked another expat in Salalah, Oman.
About the Author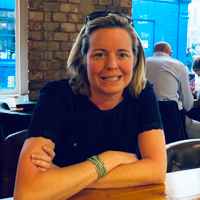 Betsy Burlingame is the Founder and President of Expat Exchange and is one of the Founders of Digital Nomad Exchange. She launched Expat Exchange in 1997 as her Master's thesis project at NYU. Prior to Expat Exchange, Betsy worked at AT&T in International and Mass Market Marketing. She graduated from Ohio Wesleyan University with a BA in International Business and German.
Some of Betsy's articles include 12 Best Places to Live in Portugal, 7 Best Places to Live in Panama and 12 Things to Know Before Moving to the Dominican Republic. Betsy loves to travel and spend time with her family. Connect with Betsy on LinkedIn.