Living in Chile
Last updated on Feb 03, 2023
Summary: The approximate population of Chile is 18.5 million people. The largest cities in Chile are Santiago (the capital), Valparaíso, Concepción, Viña del Mar, and Temuco. Expats love living in Chile for its stunning natural beauty, its vibrant culture, and its friendly people. Life in Chile is often described as relaxed and laid-back, with a strong emphasis on family and community. Popular foods in Chile include empanadas, pastel de choclo (a corn-based dish), cazuela (a stew), and curanto (a seafood dish). The cons of living in Chile include the high cost of living, the lack of job opportunities, and the language barrier. The average cost of living for an expat is around $2,000 to $3,000 per month, depending on lifestyle and location.
What do I need to know about living in Chile?
When we asked people what advice they would give someone preparing to move to Chile, they said:
"Before retiring in Chile you should make sure to research your visa and residency requirements. It is also important to familiarise yourself with the culture and the local language, Spanish. You should consider the cost of living and compare this to your potential income. Make sure to consider important factors such as the healthcare system and plan on how to access it once you arrive. Research the country's taxation system and the taxes you may have to pay on your retirement income. Finally, take into account the climate of the area you plan to live in and make sure it is suitable for you," explained one expat living in Chile.
"Santiago I would give them advice to be open minded, considerate of the local cultures, and respectful of local traditions. I have lived in three different countries around the world and no one can honestly say what it's like to live in any of those countries until they experience it for," said another expat in Santiago.
Answer Question & View More Answers
How do I meet people in Chile?
When we asked people living in Chile about club and activities where newcomers can meet others, they responded:
"Meeting people in Chile can be done in a variety of ways, from joining activities with locals, such as a weekly soccer game, a yoga class, or a language exchange meetup, to visiting popular spots for Chileans such as cafes, bars, clubs and parks. There are also lots of great online resources such as Couchsurfing, Meetup, and Facebook groups for expats and locals to find each other and form social networks. Joining a language school, volunteer organization, or cultural activity may also provide a great opportunity to meet new people and practice your Spanish," commented one expat who made the move to Chile.
"If you're lucky enough to live in Santiago, all of the other replies are credible. However, if you get tired of the urban madness of Santiago and move to one of the less populated towns, meeting people is hard. Outside of Stgo, people distrust everyone and with good reason - taking advantage of people, stealing from them and only being interested in your social class is the hallmark of small town Chile. But it's quiet, beautiful, safe and much cheaper. It's hard to connect with people down here as they're much more religious and politically conservative than I am. The friends that I have made all came through chance encounters (I speak fluent Spanish) with people that I have been working with or people that I meet in stores or on the street," remarked another expat living in Chile.
Answer Question & View More Answers
What is life like in Chile?
When we asked people living in Chile what life is like and how people spend their time, they said:
"Expat life in this area can be rewarding and full of interesting experiences. Socializing and making new friends is easy as there are plenty of activities and events happening, both through expat organizations and among locals. While there are some cultural differences to consider, the people here are generally welcoming and hospitable. Additionally, it is usually easy to find English-speaking schools, medical care and other services. The cost of living, while not particularly low, is not prohibitively expensive either. Generally, expats in this area have a wonderful time and feel welcomed into a vibrant and welcoming community," commented one expat who made the move to Chile.
"The typical Chilean works +10 hours a day. That is due to his not being able to focus for eight to leave on time. In general, families focus on families. Weekends are considered as religious family lunches and meetings," remarked another expat living in Santiago, Chile.
Answer Question & View More Answers
Is there a lot of crime in Chile?
We asked people if there is a lot of crime. They answered:
"Crime rates in Chile vary by region. Generally, in the major cities, crime rates are lower than in many other countries. This can be attributed to the country's low levels of inequality and low poverty rate. While it is relatively safe to travel to Chile, there is still a risk of becoming a victim of petty theft, pickpocketing and even, in some cases, of violent crime. In certain areas, the risk may be higher due to higher concentrations of criminal activity," said another expat in Chile.
Is there a lot of diversity? Are people in Chile accepting of differences?
"In Chile there is a great diversity of people, races, and ethnicities, from indigenous groups like the Mapuche and Aymara in the south to newer immigrants from South and East Asia, Europe, and other nations. Chileans are generally open to people from other countries and cultures and are accepting of differences in terms of race and ethnicity. In terms of sexual orientation and gender identity, the situation is more complex; while the country has taken important steps to protect the rights of LGBT individuals, there is still considerable prejudice and discrimination," remarked another expat who made the move to Chile.
"Santiago has become a very diverse city over the past three years. Religion, which ran 95% of the country, has dwindled as it has around the rest of the world. Diverse cultures, due to immigration principally from Haiti, Columbia and Venezuela has changed Chile's look on life forever. Different sexual belief have also become much more flexible. Homosexuality is accepted openly," explained one expat living in Santiago, Chile.
Answer Question & View More Answers
What are the schools in Chile like?
"Schools in Chile generally follow a pedagogical model that combines class activities in the classroom with experiential learning. Schools also incorporate classroom discussions and group activities as part of the curriculum. Students are encouraged to take an active role in their education by contributing to studies and activities in small groups. In addition to academics, schools also emphasize social development, communication, and autonomy. In terms of creating a more equitable learning environment, schools in Chile have adopted several strategies, such as abolishing tuition fees and providing access to technology in the classroom. Overall, there is a focus on creating a quality, diverse learning experience for students in Chile," explained one expat living in Chile.
"If you want your child to have Spanish immersion and perhaps go to university in Chile one day, then Nido is not the school for you. If you see Chile as a temporary stop, want your child to keep up with international education standards and get some Spanish, and you have an employer paying or can afford the fees, then I wouldn't hesitate to go with Nido," said another parent with children at Nido de Aguilas in Santiago.
Answer Question & View More Answers
Is the cost of living in Chile high?
We asked people how much they someone comfortably live on in Chile, they wrote:
"The cost of living in Chile is generally moderate compared to other countries in Latin America. Prices for basic goods, such as groceries and transportation, are relatively lower than those in more developed countries. Rent and utilities, however, can be more expensive compared to other Latin American countries, so it is important to consider these costs when budgeting," remarked another expat living in Chile.
About the Author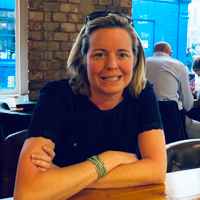 Betsy Burlingame is the Founder and President of Expat Exchange and is one of the Founders of Digital Nomad Exchange. She launched Expat Exchange in 1997 as her Master's thesis project at NYU. Prior to Expat Exchange, Betsy worked at AT&T in International and Mass Market Marketing. She graduated from Ohio Wesleyan University with a BA in International Business and German.
Some of Betsy's articles include 12 Best Places to Live in Portugal, 7 Best Places to Live in Panama and 12 Things to Know Before Moving to the Dominican Republic. Betsy loves to travel and spend time with her family. Connect with Betsy on LinkedIn.