Living in Russia
Last updated on Feb 03, 2023
Summary: The approximate population of Russia is around 144 million people. The largest cities in Russia are Moscow (12.5 million people), Saint Petersburg (5.3 million people), Novosibirsk (1.6 million people), Yekaterinburg (1.5 million people), and Nizhny Novgorod (1.3 million people). Expats love living in Russia for its rich culture, vibrant cities, and beautiful landscapes. People describe life in Russia as exciting and diverse, with a wide range of activities and experiences to enjoy. Popular foods in Russia include borscht (a beetroot soup), pelmeni (dumplings), blini (pancakes), and shashlik (grilled meat skewers). The cons of living in Russia include the language barrier, the cold weather, and the bureaucracy. The average cost of living for an expat is around $1,500 to $2,000 per month in US dollars. This includes rent, utilities, food, and other expenses.
What do I need to know about living in Russia?
When we asked people what advice they would give someone preparing to move to Russia, they said:
"Before retiring in Russia, you should familiarise yourself with the Russian language and culture, as well as the regulations and laws of the Russian government. Having a good understanding of local customs and regulations can save you from unexpected surprises. Additionally, it is important to understand the Russian economy and currency (Rubles), as well as the current state of the job market. Familiarising with local retirement regulations can also help you avoid expensive mistakes or problems after your move. Furthermore, having the necessary documentation such as visas, permits, and passports ready is essential for transitions. Lastly, it is wise to plan in advance for long-term costs such as healthcare, taxation, and housing expenses," wrote a member in Russia.
How do I meet people in Russia?
When we asked people living in Russia about club and activities where newcomers can meet others, they responded:
"Meeting people in Russia can be done in a variety of ways. One of the best ways is to join local activities and events that have been organised for the expatriate community. Meetup.com is an online platform with dozens of international social events and meet-ups for expats and locals alike. Joining a club or gym can be another way to meet people and make friends in Russia. Language classes and study groups are also great outlets for meeting people. There are also many online platforms such as InterNations that connect expatriates around the world, allowing for virtual connection and advice. Finally, and perhaps the most traditional way, people can socialize and meet new individuals at local bars, pubs and cafes," remarked another expat who made the move to Russia.
What is life like in Russia?
When we asked people living in Russia what life is like and how people spend their time, they said:
"Life as an expat in the area can be very rewarding. Many expats have the opportunity to explore a culture that may be quite different than theirs. They also have access to a wide variety of activities, such as events, festivals, and historical sites. They can also enjoy the laid-back lifestyle of the area and experience the spectacular landscapes. It is also a great place to meet people from all backgrounds and make new friends. The cost of living is generally lower than in more developed countries, making it easier for expats to live comfortably. In addition, the city is generally very safe, with a low crime rate.Overall, it can be a great place for expats to settle and enjoy their new lives," said another expat in Russia.
Is there a lot of crime in Russia?
We asked people if there is a lot of crime. They answered:
"Crime is a problem throughout Russia, although the levels of crime vary significantly from place to place. The country's most populous cities, such as Moscow and St. Petersburg, experience high levels of violent crime, including homicide and armed robbery and property crime. However, outside of these metropolitan areas, crime rates tend to be much lower," added another expat who made the move to Russia.
Is there a lot of diversity? Are people in Russia accepting of differences?
"Yes, there is a lot of diversity in Russia. It is made up of a multitude of ethnic, linguistic and religious groups, each of whom bring their own customs and practices to the country. The country is also home to a variety of immigrant communities, fostering a strong sense of multiculturalism. Generally, Russians tend to be accepting of differences and are known for their hospitality. Nevertheless, there are some areas in which people may discriminate against those who are not of Russian origin," explained one expat living in Russia.
What are the schools in Russia like?
"Russia has a variety of different schools, ranging from state institutions to international schools. The Russian state provides education both through primary, secondary, and higher education. Primary and secondary education in Russia consist of a nine-year mandatory period, followed by vocational or academic further education. Russia also has universities, colleges and academies providing higher education in the sciences and humanities. All universities offer undergraduate and postgraduate programs in all major fields of study, such as sciences, engineering, business, and medicine. International schools offer courses in different languages or bilingual, and are tailored to meet the needs of foreign students wishing to study in Russia," said another expat in with children at .
"A pricey school with the curriculum of a mid-level American public school. It changed to common core a few years ago which is baffling and the change was done apparently without clear understanding of the international parents. It is now a mish mash of PYP, common core and IB programming. The math program is very poor. They run some standard testing but the computer systems often fail during testing and scores are therefore uneven. Teachers' kids appear to be given preferential treatment. Teachers have special use of facilities and parents are made to pay to even use the gym facilities! This school is sub par in my opinion. It is a shiny, beautiful building on the outside, without the academic structure you would expect. Administration is not responsive and can actually be unwelcoming to those who point out problems. We were glad to leave," remarked another parent with kids at Anglo American School of Moscow in Moscow.
Answer Question & View More Answers
Is the cost of living in Russia high?
We asked people how much they someone comfortably live on in Russia, they wrote:
"The cost of living in Russia can vary depending on where you are, however the overall cost of living is generally considered to be quite affordable. Russia is much cheaper than many other developed nations, particularly for basics such as food and accommodation, so it can be a great place to visit or live on a budget," remarked another expat living in Russia.
About the Author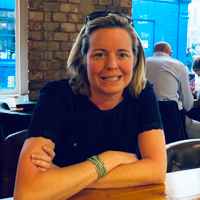 Betsy Burlingame is the Founder and President of Expat Exchange and is one of the Founders of Digital Nomad Exchange. She launched Expat Exchange in 1997 as her Master's thesis project at NYU. Prior to Expat Exchange, Betsy worked at AT&T in International and Mass Market Marketing. She graduated from Ohio Wesleyan University with a BA in International Business and German.
Some of Betsy's articles include 12 Best Places to Live in Portugal, 7 Best Places to Live in Panama and 12 Things to Know Before Moving to the Dominican Republic. Betsy loves to travel and spend time with her family. Connect with Betsy on LinkedIn.