15 Expats Talk about Health Insurance and Healthcare in Georgia
Last updated on Feb 12, 2023
Summary: The quality of medical care in Georgia is generally comparable to the US. Georgia has a well-developed healthcare system, with a wide range of medical services available. Emergency services are generally reliable and efficient, and ambulances can be called by dialing 911.
How are healthcare services Georgia?
When we asked expats and global nomads about the quality of medical care in Georgia, they replied:
"Healthcare services in Georgia include a range of primary care and medical specialty services, as well as a specialized network of clinics and hospitals dedicated to providing quality healthcare. The public healthcare system in Georgia is overseen by a national Ministry of Health, which is responsible for ensuring that all citizens have access to quality healthcare services. The public healthcare system includes a network of clinics, hospitals and health centers to provide primary care and health promotion services. The quality of healthcare provided in the public sector varies depending on region and the availability of resources, but is generally good. Foreign residents are able to access the public healthcare system in Georgia on the same basis as Georgian citizens, though some foreign citizens may be required to obtain a residence permit to take advantage of specific services. Expats in Georgia can use the public healthcare system, although they may opt to use a private health insurance in order to access higher quality services. In either case, Expats in Georgia should research their options to understand the best way to access Georgian healthcare services," mentioned one expat in Georgia Rep.
What are medical services in Georgia like?
When we asked expats and global nomads about the quality of medical care in Georgia, they replied:
"In Georgia, there is a wide range of medical services available to citizens. The country is well-equipped with modern hospitals, clinics, and medical centers that provide quality care. Skilled physicians, nurses, and other healthcare professionals are available to provide specialized medical treatments. Georgia has well established programs and services for easy access to healthcare. Patients can expect to receive high-quality treatment and care from experienced, knowledgeable professionals. Furthermore, the government is committed to providing free medical services for low-income citizens and those with disabilities," commented one expat who moved to Georgia Rep.
Are healthcare and health insurance expensive in Georgia?
"Healthcare and health insurance in Georgia can be expensive, especially if you are not eligible for subsidies or have a limited budget. The cost of insurance plans can vary significantly and many people struggle to afford quality health coverage. Additionally, there are also high out-of-pocket costs, as well as deductibles, copays and copayments. Many people find that healthcare is unaffordable without insurance, since the cost of treatment and medications can be incredibly high," commented one expat living in Georgia Rep.
What are emergency services like in Georgia?
When we asked about emergency services, members in Georgia wrote:
"Georgia has a wide range of emergency services available, including police, fire, and medical services. To call for an ambulance in Georgia you would dial 911, where a call operator will then provide instructions for further emergency help. In a medical emergency, the 911 operator will dispatch the closest emergency medical personnel to provide assistance," remarked one expat in Georgia Rep.
Will I need to travel to see a specialist?
"The cities of Atlanta, Decatur, Augusta, and Savannah have the most populated medical specialists in the state of Georgia. In addition, smaller cities such as Macon, Columbus, Dalton, Marietta and Alpharetta are quickly becoming hubs for high-caliber specialists in many different fields. Whatever type of medical specialist a person is looking for, they are likely to find what they need in one of these Georgia cities," remarked one expat living in Georgia Rep.
Are common prescription medications available in Georgia?
"Prescription medications are widely available throughout Georgia. Medications can be obtained from the pharmacy at the patient's local pharmacy, over the counter, or via mail order. Most pharmacies in Georgia offer a wide range of prescription medications, including both brand-name and generic medications. Many pharmacies also offer specialty prescription medications such as biologic drugs, which are used to treat conditions such as multiple sclerosis, rheumatoid arthritis, and psoriasis. Pharmacies in Georgia are regulated by the Georgia Board of Pharmacy, which ensures the safety and efficacy of prescription medications," wrote one expat.
Do you have anything more to add about local medical facilities in Georgia?
"Georgia has a good quality of medical facilities and medical care, with a variety of well-tailored options to choose from. Several significant medical centers are present in the country, such as Georgia's National Centre for Disease Control and Public Health, and numerous private clinics. Georgia continually strives to stay up to date on medical advancements, and it is standard practice for doctors in the country to stay current on the latest technologies and treatments. Georgia's doctors and medical professionals are also exceptionally highly skilled, offering excellent quality medical care to their patients," mentioned one expat in Georgia Rep.
As a foreigner living in Georgia, will I have access to public healthcare? What is it like?
"Yes, foreigners living in Georgia will have access to public healthcare. Public healthcare in Georgia is administered through a state-funded system known as the National Health Insurance Fund, which is also known as the Social Service Agency. The system provides a wide range of medical services, from basic primary care services such as check-ups and vaccinations to more comprehensive services such as surgeries and hospitalizations. In addition to these services, the system also offers specialized care, such as psychological and physiotherapy, as well as preventive and public health services. Patients are required to pay a nominal fee for the services, which are generally reasonable and affordable," wrote an expat living in Georgia Rep.
What have your experiences during the pandemic with the local healthcare system been like?
We asked expats in Georgia if they have access to public healthcare in Georgia. And, if they do have access, what is it like. They wrote...
"My experience with the local healthcare system in Georgia during the pandemic has been generally positive. Despite the immense strain on the system, I have found most providers to be professional, caring and responsive to my needs. Appointments have been rescheduled with meaningful notice to accommodate social distancing protocols and staff have been accommodating in making sure that both virtual and in-person visits have been available, depending on the situation. Although many non-essential services have been postponed or canceled, urgent or critical procedures have been scheduled in a timely manner. Overall, I have had a good experience with the local healthcare system in Georgia, and I feel confident in its capability to provide me with the care I need," wrote one expat.
What advice do you have for expats having a baby in Georgia?
We asked expat moms who gave birth in Georgia about their experiences and advice they have for other moms to be. They said:
"Make sure you engage with the maternity care services early in your pregnancy, so that you can have the chance to meet your midwife or doctor and ask any questions you have about the birthing process and procedures in Georgia. It's also important to familiarise yourself with the birthing options in the country, such as midwife-led birthing and hospital births, to ensure that you are making the best decision for you and your baby. During the process, make sure to communicate any concerns you have with the medical staff, and don't hesitate to ask for a second opinion if necessary. Finally, be sure to stay well-informed about the postnatal follow-up care in Georgia, so that you can make sure your baby gets the utmost care and support it needs," remarked one in Georgia Rep.
Are healthcare services good in Georgia?
We asked people if they have access to good medical care in Georgia. They wrote:
"In Georgia, healthcare services are provided through a variety of settings, including private physician practices and hospitals. Healthcare facilities in Georgia work together to provide comprehensive and high-quality care, offering services that cover primary healthcare, mental health, maternal and child health, oral health, and other specialized services. Patients are able to receive diagnostic and educational services, as well as long-term and rehabilitative care. In addition, many outpatient and pharmacy services are available across the state to provide preventative care and treatment for chronic conditions. Furthermore, Georgia has an extensive network of health insurance providers, which provide access to healthcare for individuals and families," wrote a person living in Georgia Rep.
About the Author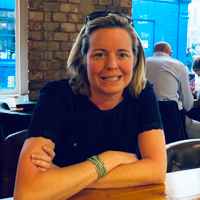 Betsy Burlingame is the Founder and President of Expat Exchange and is one of the Founders of Digital Nomad Exchange. She launched Expat Exchange in 1997 as her Master's thesis project at NYU. Prior to Expat Exchange, Betsy worked at AT&T in International and Mass Market Marketing. She graduated from Ohio Wesleyan University with a BA in International Business and German.
Some of Betsy's articles include 12 Best Places to Live in Portugal, 7 Best Places to Live in Panama and 12 Things to Know Before Moving to the Dominican Republic. Betsy loves to travel and spend time with her family. Connect with Betsy on LinkedIn.