Retire in Barbados
Last updated on Dec 02, 2021
Summary: Retirees share their experiences living in Barbados. What are the challenges and rewards of retiring in Barbados?
What is it like to retire in Barbados?
"We have a very active expat community with lots of clubs to join such as the American women's club, Canadian women's club, majong club, cards group, sailing club, etc. Their are also lots of opportunities for volunteering in different groups if that suits you. The recreation mostly centers around water life (beach, boating, snorkeling, etc) but we also have other interests as I mentioned above. The nightlife is good. We do not really go clubbing but have lots of opportunities to meetup with friends from drinks or have cocktails at fundraisers and other parties. The restaurant selection is also quite good," added another person in Clapham Ridge.
What advice do overseas retirees have for others considering retiring abroad?
"Go with an open mind, do not expect to live as you would in your home country. After all you are leaving that place right. Ask for help when you need it. In most cases if you are friendly with the locals and they will be friendly with you," said another retiree in living in Clapham Ridge, Barbados.
What are the most challenging aspects of retiring in Barbados?
"The cost of flights in and out of Barbados is quite expensive. The cost of food and water is also much higher than alternatives," explained one retiree living in Clapham Ridge.
What are the most rewarding aspects of retiring in Barbados?
"We have all we need on this island. We can go fishing, sailing, see a concert, play sports, go to the horse track, eat at good restaurants, go to the drive in and much, much more. This is a Caribbean island with much to offer in the way of modern amenities and development," explained one retiree living in Clapham Ridge.
What are healthcare services like in Barbados?
We asked retirees if they have access to good medical care in Barbados. They wrote:
"Yes, they have both a government hospital as well as private hospital. These are located in the south east part of the island near Bridgetown. They also have many clinics around the island and an ambulance service. As in most places healthcare for major issues can be quite expensive. Make sure you have private healthcare insurance and understand your coverage before needing it," remarked another retiree in Clapham Ridge.
About the Author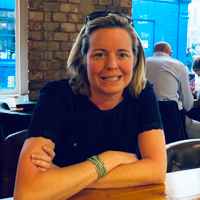 Betsy Burlingame is the Founder and President of Expat Exchange and is one of the Founders of Digital Nomad Exchange. She launched Expat Exchange in 1997 as her Master's thesis project at NYU. Prior to Expat Exchange, Betsy worked at AT&T in International and Mass Market Marketing. She graduated from Ohio Wesleyan University with a BA in International Business and German.
Some of Betsy's articles include 12 Best Places to Live in Portugal, 7 Best Places to Live in Panama and 12 Things to Know Before Moving to the Dominican Republic. Betsy loves to travel and spend time with her family. Connect with Betsy on LinkedIn.