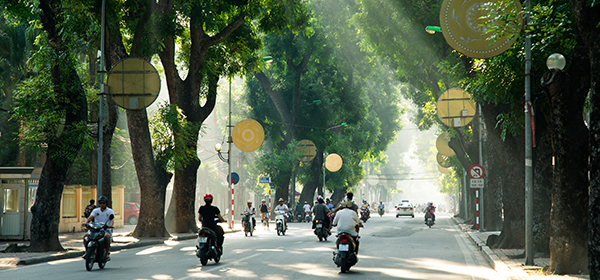 Welcome to Hanoi! If you're planning to move to Hanoi, congratulations on taking the first step towards a new adventure. While there are many things to think about before you leave, such as visas, housing, and transportation, it's important to remember that once you arrive, the fun really begins. In this article, we'll introduce you to some of the best sites, restaurants, and nightlife that Hanoi has to offer, as well as provide tips on recreational activities and making friends in Hanoi.
Hanoi is a bustling city full of culture, history, and entertainment. Tourists and locals alike can find plenty of sites of interest to explore. The Old Quarter is a great place to start, with its narrow streets and traditional architecture. The Hoan Kiem Lake is a popular spot for locals and tourists alike, with its beautiful gardens and pagodas. The Temple of Literature is a must-see, as it is the oldest university in Vietnam and is a great place to learn about the country's history. The Ho Chi Minh Mausoleum is also a popular destination, as it is the final resting place of the country's beloved leader. The Museum of Ethnology is another great place to visit, as it showcases the culture and history of the 54 ethnic groups in Vietnam.
Hanoi is also known for its vibrant restaurant and nightlife scene. Some of the most popular restaurants include KOTO, a restaurant that serves traditional Vietnamese dishes with a modern twist, and La Badiane, a French-Vietnamese fusion restaurant. For a more casual dining experience, there is Quan An Ngon, a street food restaurant that serves up delicious local dishes. For a night out, there are plenty of bars and clubs to choose from. The most popular ones include The Rooftop Bar, which offers stunning views of the city, and The Hanoi Social Club, which is a great place to meet locals and enjoy some live music.
Hanoi also offers plenty of recreational activities for tourists and locals alike. The city is home to several parks, such as the Hoan Kiem Lake Park, the West Lake Park, and the Thong Nhat Park. There are also several golf courses, such as the Hanoi Golf Club and the King's Island Golf Club. For those looking for a more active experience, there are plenty of outdoor activities to choose from, such as hiking, biking, and kayaking. The city also has several indoor activities, such as bowling, ice skating, and rock climbing.
Insider Tips from Expats in Hanoi: Making the Most of Life and Connections
"Depends on interests of course. UNIS (United nations international school) is out of town but offers courses to everyone, including language classes. L'Espace (French) Goethe (German) and other national organisations offer courses, exhibitions and events. Cinematheque offers "arthouse" films for members. Hanoi Opera House offers wonderful performances, very reasonably priced tickets so enjoy. for other information on events/organisations google Hanoi Infoshare and New Hanoian," said one expat living in Hanoi.
"Expats in Hanoi often join clubs and activities such as language exchange groups, sports teams, and book clubs. Expats can also meet people by attending events such as art exhibitions, music concerts, and festivals. Additionally, many expats join social media groups and attend networking events to meet other expats and locals. Finally, expats can also meet people by attending classes, such as cooking classes, yoga classes, and art classes," wrote a member in Hanoi.
"Locals definitely around family, and expats with kids have plenty of opportunity to meet people through school events, same as anywhere else. As the capital, there are many NGOs here this also makes the expat experience very interesting, you meet many people doing interesting and worthwhile things," commented an expat living in Hanoi.
"Life for expats and digital nomads in Hanoi is generally quite pleasant. The city is vibrant and full of culture, with plenty of opportunities to explore and experience the local way of life. The cost of living is relatively low, making it an attractive destination for those looking to stretch their budget. The city is also well-connected, with good public transport and a wide range of accommodation options. The people are friendly and welcoming, and the food is delicious. With its mix of modern and traditional, Hanoi is an ideal destination for those looking to experience a different culture while still having access to the comforts of home," said an expat in Hanoi.