10 Best Places to Live in Puglia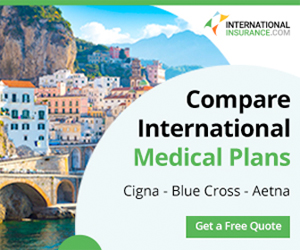 Summary: Puglia or Apulia is sometimes referred to as the new Tuscany. With its low cost of living, friendly Pugliese people, beautiful beaches and villages of whitewashed homes, Puglia is a hidden gem among expats. If you're thinking about moving to Puglia, our list of the 10 best places to live in Puglia is based upon expat advice and recommendations.
If you're moving to Puglia or considering a move there, here are the 10 best places to live in Puglia according to expats. Our list differs from a typical list of the best places to travel in Puglia. One expat explains, "If you are only here in the warm months, a seaside location may suit you well; but you might be interacting with a more transient international population. I live here all year and I wanted a yearround community with an established Italian residency. Some of the best beaches are in the south both in the Adriatic and Ionian Seas, but some of these places become ghost towns in winter. It really comes down to what situation will sustain you and your goals. You need to scout around and imagine yourself in a place from both a romantic and a practical perspective. The good news is that there is adequate diversity of living situations that should provide a good choice and fit for your needs."
1. Bari
Population: approximately 325,000
Location: On the Adriatic coast, in the middle of Puglia's coastline
If you asked an expat about the best places to live in Puglia, Bari may not be at the top of the list. It's the capital of Puglia, a major Italian seaport and the second largest city in southern Italy (Naples being the largest). But, for expats that need to be near a city for employment, transportation and other conveniences, Bari is a great place to live. Palese Airport is Bari's international airport with direct flights to many cities in Europe.
Restaurants: While you're in Bari, we recommend drinks at La Ciclatera and an amazing contemporary Italian meal at Le Giare Ristorante.
2. Monopoli
Population: approximately 49,000
Location: 45 minutes south of Bari, on the Adriatic coast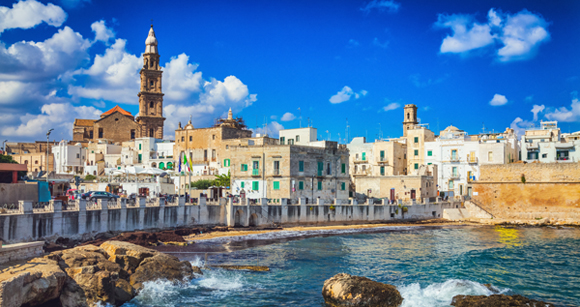 "I work and live in Puglia, Monopoli to be exact. The people here are far more friendly than those of the north, but the every day working person here has little interest in conversing with a foreigner. I am surrounded by olive, cherry, and pear trees, with a view of the Adriatic. I have come to love it here although it didn't start that way due to my head demanding the convenience I grew accustomed to in the USA," wrote one expat.
Restaurants: If you're visiting Monopoli, we recommend La Tana Del Luppolo (brew pub), Chine (pizza) and Piazza Palmieri (local dishes).
3. Fasano
Population: approximately 40,000
Location: 45 minutes south of Bari with coastal areas (Adriatic) and inland city center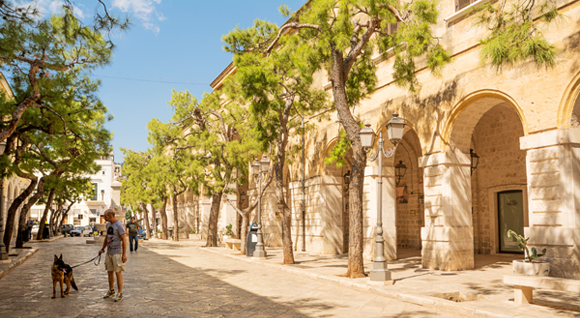 Fasano is in the Valle d'Itria area of Puglia. "It's easy to write off Fasano but this small city also has many charming contrade (some right on the Adriatic ) and others like Laureto and Selva that are in higher elevations with outstanding valley or sea views and cool summer evenings. (Fasano, the city, has endless convenience, dining, and shopping opportunities at very reasonable prices -- something you come to appreciate when you actually live here)," mentioned one expat in a discussion about retiring in Southern Italy.
Restaurants: If you're in Fasano, enjoy local dishes at Locanda di Martume and spend the afternoon at ArcheoLido Egnazia beach.
4. Locorotondo
Population: approximately 14,000
Location: 1 hour south of Bari, 20 minutes further inland from Fasano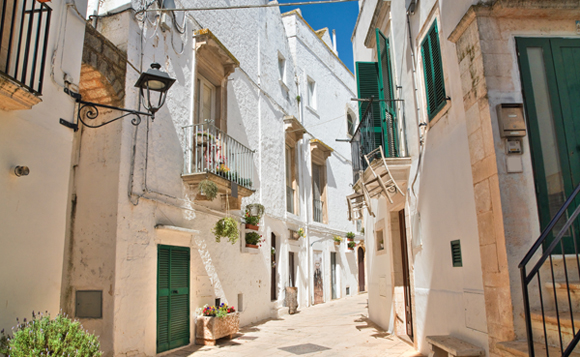 "We live in Locorotondo, one of Italy's most beautiful hilltop towns. For us the plusses (not in any order of priority) are: The natural beauty of the surrounding area; friendliness of the towns-folk; wonderful weekly market; fabulous cuisine; proximity to east and west coast coves and beaches; the choice of two international airports both within an hour's drive; cycling and walking trails....I could go on and on," said one expat.
Restaurants: If you're visting Locorotondo, have wine and appetizers at Controra, celebrate a special occasion or take a cooking class at Leonardo Restaurant & Resort or have drinks and dinner with live music at Docks 101.
5. Martina Franca
Population: approximately 49,000
Location: 1 1/4 hours south of Bari, 35 minutes to beach (Adriatic coast)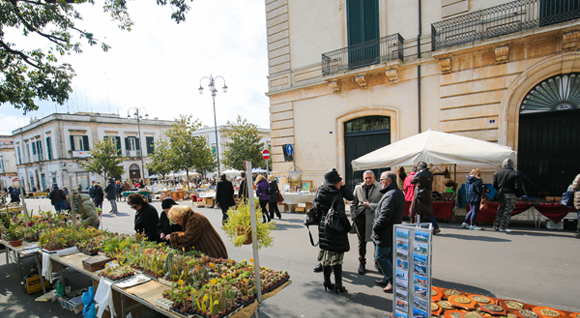 "I rented an apartment for two months in Martina Franca owned by a friend of a friend. It was expensive because it was high season and was listed on Air B&B as a vacation rental. The centro storico of Martina Franca is really a wonderful place, but the surrounding countryside of all the towns of the Val d'Itria offer accommodations," recalled one expat.
Restaurants: If you're on a look-see trip to Martina Franca, Terra Terra is a charming spot for dinner and Pizzeria Jonny's pizza will have you craving more.
6. Ostuni
Population: approximately 31,000
Location: 1 1/4 hours south of Bari, 30 minutes east of Martina Franca, 15 minutes to beach (Adriatic coast)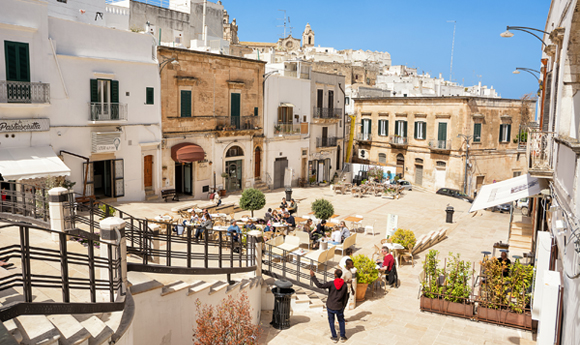 Ostuni is referred to as Puglia's white city because of its whitewashed homes. "We loved Ostuni and spent hours walking around looking at the houses, the people and places to eat. When it was time to eat, we found an outside bar with weirdly shaped bean bags and sat there taking in the sun and atmosphere all afternoon. It was so beautiful," recalled one expat who settled in Ceglie Messapica, 20 minutes from Ostuni.
Day-to-Day Challenges of Living in a Town Like Ostuni
Living in an old city, like Ostini, does come with day-to-day challenges that anyone relocating there should understand. "I'm an American who lived and worked in Puglia for over a year. I have friends from that time that will never be forgotten. Living in a villa etc. in a place like Ostuni has some challenges. I had to have water brought in by truck and pumped into a tank. My oven ran off of propane and heating came by way of a pellet stove. Drying clothes outside on a drying rack, even in winter. If you live in the city areas these things do change to be closer to the way you live now but the prices increase," explained one expat in a discussion about retiring in Ostuni.
Restaurants: If you're touring Ostuni, Masseria Salinola Ristorante at the hotel Masseria Salinola is an experience.
7. San Vito dei Normanni (SV)
Population: approximately 20,000 (that number doubles in the summer)
Location: 30 minutes northwest and inland from Brindisi, 1 hr 15 minutes south of Bari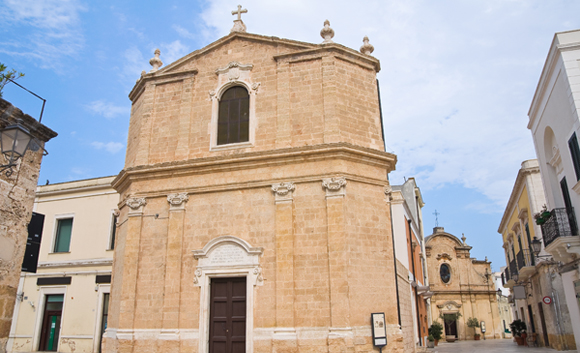 "We chose San Vito Dei Normanni (SV) just outside of Brindisi, in Puglia for several reasons. First and foremost, I met my wife there in 1993 while temporarily assigned to the former American Air Base located just outside the city. We were married in a small church in Lecce in 1994 but had not gone back to visit until 2008, after our oldest son moved back. San Vito Dei Normanni is a nice small sized city of about 20,000 people, but doubles in the summer (as do most small cities and towns in Puglia) due to tourism. The tourists are mainly northern Italians and Europeans and Puglia has been a hidden gem for a long time. There is a also a pretty good sized English speaking community comprised of mainly British, but some American, French, and Canadian as well. Also many of the older generation Italian business people speak some English due to the proximity the base was to the city and the business opportunities it offered," commented another expat in a discussion about how you chose your area of Italy.
Restaurants: If you're in SV, have a delicious local meal at La Locanda di Nonna Mena or satisfy your steak and grilled meat cravings at L'Archetto della Brace.
8. Brindisi
Population: approximately 87,000
Location: 30 minutes north of Lecce, on the Adriatic Coast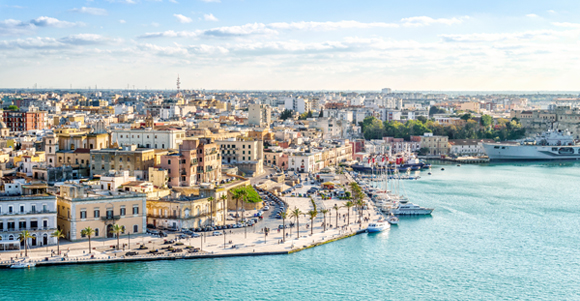 Brindisi (pronounced BRIN-di-si, not brin-DI-si) has a lot to offer expats, especially families and working expats needing easy airport access and reliable train routes into Rome (starting at 5 hours). Brindisi is a larger city with an QSI International School of Brindisi, a major airport, ferry service to Greece (i.e. 6-8 hours to Corfu), train access to Rome and Ostuni and more. "We live outside of Brindisi and it is very easy to catch a ferry to Greece as well as the train from Ostuni. There is the fast train to Rome with just a few stops, and then the one that stops in many small towns along the way. Once you get to Rome, you can change to many other places within Italy and Europe."
Restaurants: While you're in Brindisi, try Rendez-Vous Caf� & Bistrot for local cuisine or Brunda Pizzeria for amazing pizza and beer.
9. Lecce
Population: approximately 95,000
Location: 20 minutes to beach, 1 hour to bottom of the heel of Italy's boot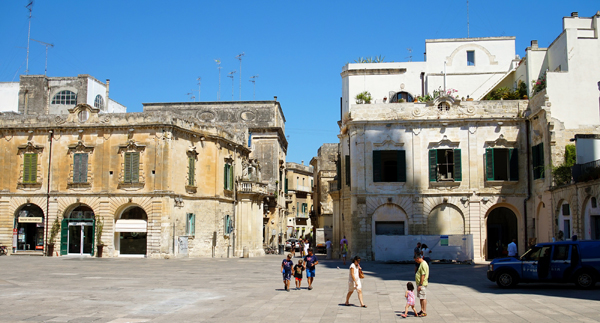 "I live in Puglia and love to visit Lecce, which is the region's most beautiful town. It has a large centro storico but also an attractive area outside of the main walls, which is likely where you'll find the most affordable (and newer) rentals," wrote one expat who retired in southern Italy. "I fell in love with Lecce. Nice little airport to get me to Greece, best beaches in all of Italy, great opera house, etc," said one expat. If you're researching Lecce, it's a city and a province," wrote another expat.
Restaurants: If you're visiting Lecce to see if it's right for you, we recommend La Drogheria Lecca for a modern, local meal or Pizza and Company for pizza.
10. Gallipoli
Population: approximately 20,000
Location: 30 minutes southwest of Lecce on the Ionian Coast (west)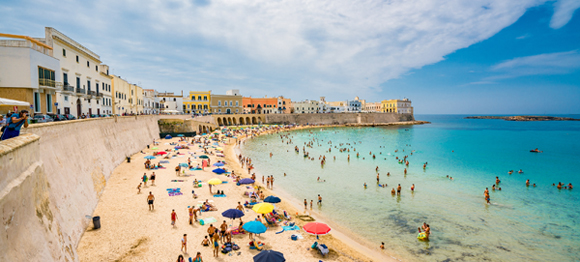 Gallipoli is a beautiful seaside town in Puglia (it's not related to the Gallipoli Campaign, which took place in Turkey). The heart of the old city is on an island connected to the mainland by bridge.
Restaurants: If you're in Gallipoli, 15 Gradi Winebar is a great spot for dinner with locals or Le Garibaldine for delicious local seafood.
About the Author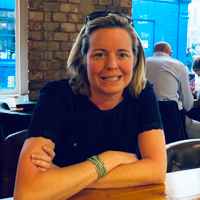 Betsy Burlingame is the Founder and President of Expat Exchange and is one of the Founders of Digital Nomad Exchange. She launched Expat Exchange in 1997 as her Master's thesis project at NYU. Prior to Expat Exchange, Betsy worked at AT&T in International and Mass Market Marketing. She graduated from Ohio Wesleyan University with a BA in International Business and German.
Some of Betsy's articles include 12 Best Places to Live in Portugal, 7 Best Places to Live in Panama and 12 Things to Know Before Moving to the Dominican Republic. Betsy loves to travel and spend time with her family. Connect with Betsy on LinkedIn.
Comments
HenryFMiller
Hi, I have just found this website today as I was searching for information about southern Italy. There is a lot of wonderful information, thank you! Only one criticism if I may, or perhaps I just haven't seen it yet, there doesn't seem to be any information or advice/suggestions about schools. I am an expat looking into possibly moving to this region and I would have though one of the most important factors for any family would be schools? Would you be able to assist me with this? My concern is that in general knowledge education facilities in the South of Italy are of a much lower standard than the north, so how do I go about finding a good school? Are there certain schools that are more popular with expats? Your advice will be much appreciated, thank you.