Moving to Italy
Last updated on May 14, 2023
Summary: Many expats and digital nomads move to Italy for its rich culture, beautiful scenery, and delicious food. The most popular cities for expats and digital nomads in Italy are Rome, Milan, and Florence. People looking for a place to live in Italy can search online for rental listings, contact real estate agents, or look for postings on expat forums. Additionally, many expats and digital nomads find housing through word of mouth or by networking with other expats in the area.
What do I need to know before moving to Italy?
When we asked people what advice they would give someone preparing to move to Italy, they said:
"Start early and look at everything that you can. You cannot tell what a place is like from pictures or even from the outside. Also, try to find a local that can help you," replied a member in Parma.
"Make sure to make connections with the International Women's Club of Torino - facebook or their website - whether you are a woman or man. They are tremendously helpful in getting you set up for living there. Please, realize living in Italy is not like Germany or England. So much different than coming and seeing the sights and staying in a hotel. Life is hard for most Italians. Both spouses work to be able to afford a small apartment and cover expenses. It isn't quite like Mexico or Spain. More of a "2nd. world" country, if that's a word. Has Internet and cells phones, but power outages, antiquated ways, and ancient buildings that are falling apart. Realize you may need to purchase your own kitchen for the apartment you rent - stove, cabinets, sink, dishwasher. They aren't guaranteed even if you see them in the kitchen when you view the place. Negotiate for them as part of your rent so you don't have to get rid of them when you leave. Also know that there is no MLS listing for all the area possible apartments. Each real estate office and each agent have their own set of apartments to rent. If you don't like the ones you see, ask what another agent has listed. Learn as much Italian as you can before you go - only the young will know some English. And most who say they speak it, mean they understand it when they hear it. Make sure to plan a trip to your home country once a year for perspective and respite for your brain," commented one expat who made the move to Torino.
Answer Question & View More Answers
How do I find a place to live in Italy?
We asked expats how they chose their neighborhood and found a place to live. They answered:
"Searched the internet for months before arrival to become familiar with the area. Stumbled upon our purchase by accident at our first visit.," commented one expat who made the move to Minturno.
"We were desperate as we couldn't find anything to fit our needs so we just took the one we could find. It is not a great fit for us and we have continued to search for another apartment to no avail. Italy is a place where you have to know someone and we are just now finding those connections after 2 years," remarked one expat in Parma, Italy.
Answer Question & View More Answers
What is a typical expat home or apartment like in Italy?
"We live in a two-family duplex with a yard in the wooded hills area just outside Torino city limits. Very typical of most expats I know who have children. It's closer to the international school in Chieri. And easy to get to the city (10-15 min.). And much quieter. Easy to get to shopping," said one expat in Torino.
"We have a large country property with a 200 year-old stone farmhouse on it that we restored. We have a 100% organic 'azienda agricola' with 500 producing olive trees and 250 citrus trees with other ornamental trees and two natural water springs on it. It is heavenly. The other expats in the area are a mix of apartment dwellers and countryside lovers like us (there are just a few of us)," said one expat who made the move to Catanzaro.
Answer Question & View More Answers
What is the average cost of housing in Italy?
If you are thinking about moving to Italy, cost of living in probably a key consideration. Expats commented about the cost of housing:
"Much higher. Meat is expensive. Gasoline/diesel is high. It's cheaper to buy clothes and house items in the US on holidays and bring them back in the suitcase," commented one expat who made the move to Torino.
"Well, property taxes here are incredibly low. At least compared to my native California. Houses and even apartments can be very expensive here though. There are places here in Catanzaro, apartments, overlooking a parking lot asking over 400,000 EURO! We bought our beautiful property (just outside of Catanzaro and about 15 minutes to the Mediterranean sea) with a lot of land and producing orchards and rebuilt the home spending around 600,000Euro. However, going outside the city into a rural community, even 10km outside of town, you can pay half of that. Here, neighbours are an issue and there are many lawsuits when they cannot get things sorted out (especially in our area where there are many lawyers who are unemployed). We got lucky and have a large piece of property with no problems. Here, in the country you can get a good deal. If my property were in California, we would be paying well over 1,000,000 dollars easily! We enjoy our life in the country here and wich those thinking of coming here the same good fortune," remarked one expat in Catanzaro, Italy.
Answer Question & View More Answers
Should I buy or rent a home in Italy?
If you have not spent a lot of time in Italy, you should rent before even thinking about buying. We asked expats there about the buy vs. rent decision:
"If you are looking to experience the Italian lifestyle, buying a home in Italy may be the best option. Not only can you enjoy the beauty and cultural atmosphere of Italy, but buying a home can also be a great investment in your future. However, if you are planning to stay in Italy for a short period of time, renting a home might be the better option for you. Renting allows you to explore the country without making a long-term financial commitment, giving you the flexibility to move around if needed," replied a member in Italy.
"We paid an attorney in Rome to ensure that the process was easy. He was expensive, but well worth the money. Without good language skills one is at the mercy of the system. Our attorney stood the ground for us when necessary," commented one expat who made the move to Minturno.
What should I pack when moving to Italy?
We asked people living in Italy to list three things they wish they had brought and three they wish they had left behind. They responded:
"Things to bring: 1. Cling Wrap - the kind here is very thin and incredibly hard to tear. I always end up with half the roll bunched up in a mess. 2. Packaged mixes such as muffin mix, Bisquick, packaged seasonings - while on the rise, prepared food mixes aren't as popular in Italy. 3. Good, sturdy ice cube trays. Italians don't use ice in regular drinks, and don't seem to make blender drinks. So the quality of the ice cube trays here is bad. Hard to use and very small. Things I could have left behind: 1. Large Pyrex dishes. The ovens here are smaller and the larger Pyrex will not fit in the oven. 2. Large cat litter box. We have two cats. Everything here is smaller and you won't be able to find the large litter box bags. 3. Large Tupperwares. Fridges are smaller and you shop more and store leftovers less. I only use my small plasticware to store," said one expat who made the move to Bergamo.
Answer Question & View More Answers
What cultural faux pas should I try to avoid making in Italy?
We asked people in Italy if they could share any humorous cultural blunders they commited. For new expats, keep in mind that these incidents are an inevitable part of expat life. Learning to laugh about them is the key!:
"I do it all the time....most due to mispronunciations or verb tenses. I wore shorts and a t-shirt out in my "garden" (think no grass, just bricks) due to what I'd call heat. I swear I have permanent heat stroke here. My landlord comes out of his apartment in long pants and a coat. I'm from the northern US. I got the funniest look from him. He can't understand why we haven't turned on the heat yet," commented one expat who made the move to Torino.
"Don't expect people to smile and say hello as you pass someone on the street. They won't even make eye contact with you unless you're in the down town shopping districts. I wash my car while bareback and I deeply offended a few people. It is considered very rude to display your body in public," remarked one expat in Verona, Italy.
Answer Question & View More Answers
Why do people move to Italy?
When we asked people why foreigners move to Italy, they responded:
"My husband and I went to Italy together in 2016 and returned 2017 with our children and their significant others for Christmas then in 2018 we decided we would retire there. The cities are magnificent and Uniquely different from each other. We are from NY and have an apartment in Manhattan. I am of Italian decent and felt a natural pull to be in Italy more than just to vacation. Italy has it all and most regions are a reasonable distance of you settle in the center of the country. We looked for 2 years, going back two or three times a year to find our house. We looked in Tuscany because even though it is top of the mind and quintessential Italy to Americans, there is good reason. It is BREATHTAKING. So is Umbria. We settled in an area that is not tourist driven. We have over 200 olive trees and had our first harvest this past fall. We found excellent tradesmen to help us renovate. They and their families became our friends. We shared our garden tomatoes, garlic and olive oils with each other. We are learning Italian through them because they do not speak English. It has been an amazing first year. We are an hour to Florence by car. And 2 1/2 hours to Rome. We are 2+ hours to the Adriatic or the Mediterranean. We have not only Florence but Perugia and Arezzo supper close as well as the wine regions of Chianti, Montepulciano and Montecino. Do you love sunrises and sunsets? Do you love looking over a valley with the fog draping the hills? Do you love food, wine and clean air? Do you love time standing still? We do. This is a very short list why we chose to live in Italy. ," commented one expat who moved to Italy.
Answer Question & View More Answers
How are healthcare services Italy?
When we asked expats and global nomads about the quality of medical care in Italy, they replied:
"Healthcare services in Italy are provided by both public and private institutions. The public healthcare system is managed by the Ministry of Health and is funded by the government. It is generally of high quality and is available to all Italian citizens and foreign residents. Expats in Italy can use the public healthcare system by registering with the local health authority and obtaining a health card. This card allows them to access the same services as Italian citizens, including free or discounted medical care, hospitalization, and prescription drugs. Private healthcare is also available in Italy, and many expats opt to use private services for more specialized care," remarked one expat in Italy.
"If in serious health...seek English speaking private physician..."you get what you pay for"," wrote one expat living in Italy.
What are medical services in Italy like?
When we asked expats and global nomads about the quality of medical care in Italy, they replied:
"The cost and quality of healthcare options in Italy is a primary reason why I will likely obtain residency and retire," wrote one expat living in Florence.
About the Author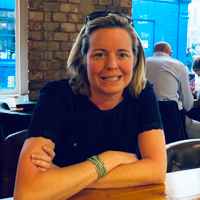 Betsy Burlingame is the Founder and President of Expat Exchange and is one of the Founders of Digital Nomad Exchange. She launched Expat Exchange in 1997 as her Master's thesis project at NYU. Prior to Expat Exchange, Betsy worked at AT&T in International and Mass Market Marketing. She graduated from Ohio Wesleyan University with a BA in International Business and German.
Some of Betsy's articles include 12 Best Places to Live in Portugal, 7 Best Places to Live in Panama and 12 Things to Know Before Moving to the Dominican Republic. Betsy loves to travel and spend time with her family. Connect with Betsy on LinkedIn.