Moving to Italy
Last updated on Aug 24, 2022
Summary: Moving to Italy? Expats talk about what you need to know before moving to Italy.
What do I need to know before moving to Italy?
When we asked people what advice they would give someone preparing to move to Italy, they said:
"As far as the actual move, pair down to two suitcases per person. Ditch or store the rest. Don't drag it around. AirB&B's allow you to rent for 29 days. After that, the owner must have a legal rental agreement. Short-term rentals in fully furnished apartments allow you to live several places to see how you like it. Choose places close to stores, train stations, bus lines. If you do find a charming old house up on a hill, be careful if it's too remote. Unfortunately, remotely located houses can be targets for robberies. I know some people who built their dream home and have been robbed 5 times while away. If you don't speak Italian, you're in trouble. Finding community, especially a community of like-minded English speakers is difficult in most cities in Italy. Facebook pages are the best way to connect," explained one expat living in Passignano sul Trasimeno, Italy.
"Join the expat groups online and read or connect with anyone who has lived in the area you choose. I visited Italy two years prior to find the city that suited my needs and personality. You have to narrow down what is important to you, city or country life. Also find a place you can easily catch a train from and has bus service," said another expat in Florence.
Answer Question & View More Answers
How do I find a place to live in Italy?
We asked expats how they chose their neighborhood and found a place to live. They answered:
"On accident, really. We were in Perugia in an AirB&B. We noticed a poster for a concert on Isola Maggiore on Lake Trasimeno. We went, and were charmed with Passignano sul Trasimeno. We found an apartment and moved," remarked another expat in Passignano sul Trasimeno, Italy.
"I researched a year before moving on the Internet and found apartmentsflorence.com who skyped with me from Florence. Lorenzo the owner described many different options and I felt very comfortable making the decision which apartment to rent before I moved. Took care of the first months rent online, very efficient," said another expat in Florence.
Answer Question & View More Answers
What is a typical expat home or apartment like in Italy?
"A mansarda, attic apartment. We know some expats who have bought "rustico" homes and embarked on extensive, and expensive, remodels. Others purchased apartments. We are renting a cheap apartment, but it is too small, too noisy, and are hoping to find something better," said another expat in Passignano sul Trasimeno.
"I chose a two bedroom apartment because my 28 year old daughter came with and we wanted our own bedrooms. Plus, we knew we would have relatives and friends come. There was an elevator that maybe half of the apartments have with washer in the unit. Not many houses to rent except maybe in the country," remarked another expat who made the move to Florence.
Answer Question & View More Answers
What is the average cost of housing in Italy?
If you are thinking about moving to Italy, cost of living in probably a key consideration. Expats commented about the cost of housing:
"Housing prices vary a great deal. A decent apartment can be had for 130,000 euros. Homes in the Umbria region though are disappointingly high priced. We've seen places for over 200,000 euros that needed extensive remodeling and repair. Rome and Naples and Florence are higher priced. The other factor is there are many homes that have poor lighting, no fly screens on the windows, very hard water that clogs pipes, and mold problems. It's hard to find a modern-designed home like you'd easily find in any town in the US," commented one expat who made the move to Passignano sul Trasimeno.
"The euro was high in 2013 when I moved there at 1.47 so my first apartment was 1200 euro a month. I moved closer to the city center by the Ponte Vecchio and I paid 1600 euro which is much higher than Minneapolis. You can stay within 1000 for a two bedroom if you don't mind being out of the center of town or in a lower neighborhood," remarked another expat in Florence, Italy.
Answer Question & View More Answers
Should I buy or rent a home in Italy?
If you have not spent a lot of time in Italy, you should rent before even thinking about buying. We asked expats there about the buy vs. rent decision:
"We paid an attorney in Rome to ensure that the process was easy. He was expensive, but well worth the money. Without good language skills one is at the mercy of the system. Our attorney stood the ground for us when necessary," explained one expat living in Minturno, Italy.
What should I pack when moving to Italy?
We asked people living in Italy to list three things they wish they had brought and three they wish they had left behind. They responded:
"I wish I had brought: 1) dried dill; 2) shredded coconut; 3) some books in English. I wished I had left: 1) lots more clothing; 2) misc. household items easily bought here; 3) six or eight pairs of shoes," said another expat in Passignano sul Trasimeno.
"When I moved to Florence, I actually brought five suitcases, way too much of everything. It cost me so much more in fees so would recommend two suitcases at the most. My luggage was too heavy so I wish I would have chosen lighter suitcases, less heavy clothes and less shoes. They have better and less expensive shoes as well as clothes," remarked another expat who made the move to Florence.
Answer Question & View More Answers
What cultural faux pas should I try to avoid making in Italy?
We asked people in Italy if they could share any humorous cultural blunders they commited. For new expats, keep in mind that these incidents are an inevitable part of expat life. Learning to laugh about them is the key!:
"I'm sure I have, but ignorance is bliss. A time or two I haven't know if I was in the men's or women's bathroom because there isn't a standard way of designating them," said another expat in Perugia.
"Italians eat with knife and fork in each hand and do not switch forks after cutting meat to the other hand to eat. Also, do not drive or park in Restricted Zones within cities - you will be ticketed or booted," remarked another expat who made the move to Florence.
Answer Question & View More Answers
How are healthcare services Italy?
When we asked expats and global nomads about the quality of medical care in Italy, they replied:
"If in serious health...seek English speaking private physician..."you get what you pay for"," offered another expat living in Italy.
"Use public healthcare system which is adequate and kept my federal employee insurance if I need it. Have used the insurance only a few times in ten years," added one expat living in Pineto.
"My area in northern Italy has extremely good hospitals and doctors for major problems. There are many specialists if needed. The town doctor that we have been assigned is on the other hand not very dedicated or knowledgable. He is useful for refilling prescriptions and sending patients to specialists when needed," commented another expat living in Sarzana.
About the Author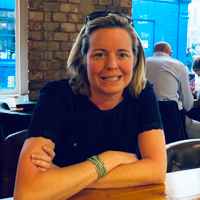 Betsy Burlingame is the Founder and President of Expat Exchange and is one of the Founders of Digital Nomad Exchange. She launched Expat Exchange in 1997 as her Master's thesis project at NYU. Prior to Expat Exchange, Betsy worked at AT&T in International and Mass Market Marketing. She graduated from Ohio Wesleyan University with a BA in International Business and German.
Some of Betsy's articles include 12 Best Places to Live in Portugal, 7 Best Places to Live in Panama and 12 Things to Know Before Moving to the Dominican Republic. Betsy loves to travel and spend time with her family. Connect with Betsy on LinkedIn.