Moving to Turkey
Last updated on Feb 03, 2023
Summary: Many expats and digital nomads move to Turkey for its low cost of living, warm climate, and rich culture. The most popular cities for expats and digital nomads in Turkey are Istanbul, Ankara, and Izmir. People looking for a place to live in Turkey can search online for rental listings, contact real estate agents, or look for postings on expat forums. Additionally, many expats and digital nomads find housing through word of mouth from other expats and digital nomads already living in Turkey.
What do I need to know before moving to Turkey?
When we asked people what advice they would give someone preparing to move to Turkey, they said:
"Before moving to Turkey you should research the cost of living, the local customs and laws, and the language. You should make sure you have sufficient funds to cover your cost of living and make sure you have the necessary paperwork to legally stay in the country. It may also be beneficial to become familiar with the local culture, including dress codes and etiquette, so that you are well prepared to interact with the locals. Also, you will want to research the availability of healthcare and insurance options, as well as access to transportation, shopping and recreation in the area you will be living. Additionally, you may want to research if there are cultural differences in communication, as well as any specific safety concerns that may exist. Lastly, you should make sure you have the necessary visas and other paperwork required for your stay," said another expat in Turkey.
"I know an expat who moved her stuff from abroad to Izmir by boat and that was costly. I would suggest just buying furniture here there's lot of designs and styles. Bring what you can from home in your suitcases and even if you have to pay an $50 bucks for an extra suitcase, it's worth it if the contents mean a lot to you. Find a neighborhood that feels comfortable and pleasant to you. It's important to like what you see when you look out the window and walk down the street. I like how all the apartments in my area are different architecturally and it's pleasing to the eye. The streets are tree-lined and it's not very noisy. So, make sure you feel good about the place you're in," remarked another expat who made the move to Izmir.
Answer Question & View More Answers
How do I find a place to live in Turkey?
We asked expats how they chose their neighborhood and found a place to live. They answered:
"The best place to start your search for a place to live in Turkey is by looking at local real estate sites, including kiralikdaire.com, webnetistanbul.com, sahibinden.com, hurriyetemlak.com, arabam.com, or vivyapi.com. You can also use international real estate sites, such as rightmove.co.uk and british-realestate.co.uk. Keep in mind that you may want to look for an apartment in the larger cities, such as Istanbul, Ankara, or Izmir, as they tend to offer more options and better availability. Additionally, make sure to research the different neighborhoods in the city to find a place that suits your needs and fits within your budget," said another expat in Turkey.
"I recently married a lovely Turkish man and he already has his own home in a very nice neighborhood of Karsiyaka. It's a 10 min. walk to the seaside and parks and there are ample corner markets, bakeries, pharmacies and grocery stores nearby. The post office isn't far away either, so we are in a good location," added another expat who made the move to Izmir.
Answer Question & View More Answers
What is a typical expat home or apartment like in Turkey?
"Expat homes and apartments in Turkey generally follow the same trends as the local population, with a focus on inner city living, typically in apartment blocks with access to amenities such as shops, cafes, restaurants and public transportation. However, expats may prefer to live in gated communities with access to additional amenities and security features, or in more rural areas where they can buy a plot of land and build their own house. Apartments tend to be large, dark and cool, and they often feature spacious balconies and large windows that open up to the city and surrounding views," commented one expat who made the move to Turkey.
"We live in an apartment ('daire' as they say in Turkish) which is of a good size for us (open kitchen and a decent size living room, one bathroom, two bedrooms and a balcony). I have met a few expats and they all have similar housing," remarked another expat in Izmir, Turkey.
Answer Question & View More Answers
What is the average cost of housing in Turkey?
If you are thinking about moving to Turkey, cost of living in probably a key consideration. Expats commented about the cost of housing:
"The cost of housing in Turkey varies widely depending on the region, property type and amenities. In general, however, the average cost of housing in Turkey is quite reasonable, with most housing starting at mid-range prices," added another expat who made the move to Turkey.
"Lower--because in the States I paid rent. My husband had his own home so there's no rent. Yay! However, even if we did pay rent it would be cheaper than back in the US. A person can find a nice apt. for anywhere between 450 to 600 Turkish lira. But 500 TL seems to be more of the average in our neighborhood," explained one expat living in Izmir, Turkey.
Answer Question & View More Answers
Should I buy or rent a home in Turkey?
If you have not spent a lot of time in Turkey, you should rent before even thinking about buying. We asked expats there about the buy vs. rent decision:
"Buying a home in Turkey can be a great investment. However, it is important to weigh the costs and benefits of both buying and renting. Buying a home often involves large upfront costs, and may result in long-term financial obligations. Renting often involves lower upfront costs, and more flexibility in terms of moving or relocating. Depending on the duration of stay, renting may be the preferred option for some people. It is important to take into account the location, facilities and the overall costs when making this decision. Ultimately, it is important to make a choice that suits your individual situation and goals," remarked another expat in Turkey.
"I had a house built after buying a plot of land with a Turkish friend. It is not difficult to buy property here, but despite what UK and Turkish real estate agencies that you do not need to use a Avukat (lawyer) i recommend you use one. It is best to ask other expats which lawyer they used, as like anywhere, some are better than others. Renting is quite straightforward, although in some cases you are required to pay upfront a payment for anything from one month to one year in advance," said another expat in Antalya.
What should I pack when moving to Turkey?
We asked people living in Turkey to list three things they wish they had brought and three they wish they had left behind. They responded:
"It is recommended to pack clothing appropriate for the climate and season in which you are moving to Turkey; lightweight summer clothing and warmer winter clothing should be considered. You should also pack basic personal supplies such as toiletries, bedding, and towels. Additionally, any important documents or paperwork such as passport and visa should also be packed. Other items to consider packing include electrical adapters, air conditioners, kitchen items, cleaning supplies, and any specialty items you might need," commented one expat who made the move to Turkey.
"At the moment, the only things I wish I would have brought with me are a nice tin of baking cocoa, some good quality slippers in a size 10 for ladies and my collection of dvds," remarked another expat in Izmir, Turkey.
Answer Question & View More Answers
What cultural faux pas should I try to avoid making in Turkey?
We asked people in Turkey if they could share any humorous cultural blunders they commited. For new expats, keep in mind that these incidents are an inevitable part of expat life. Learning to laugh about them is the key!:
"In Turkey, it is considered rude to discuss politics in public, so it is best to avoid talking about controversial topics or international issues. Hand gestures can be interpreted differently in other cultures, so it is best to avoid gesturing too much or using certain gestures that could be misinterpreted. It is important to dress modestly and conservatively, especially when visiting mosques. Shoes should be removed when entering a home and socks should be worn when visiting mosques and other holy sites. It is customary to refuse a food or beverage item once or twice before accepting it. Showing the soles of your feet or pointing them towards someone is considered rude and offensive. Public displays of affection should be kept to a minimum as such behavior is viewed negatively," replied a member in Turkey.
"I wanted sour cream. Didn't know Turks don't use it. Could not find it. So I got a grocery store manager, stood at the dairy counter, and said "Moo!" loudly and stuck out my tongue, grimacing. A customer then said "you won't find sour cream in Turkey."," commented one expat who made the move to Fatih, Istanbul.
Answer Question & View More Answers
About the Author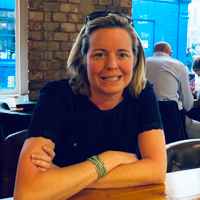 Betsy Burlingame is the Founder and President of Expat Exchange and is one of the Founders of Digital Nomad Exchange. She launched Expat Exchange in 1997 as her Master's thesis project at NYU. Prior to Expat Exchange, Betsy worked at AT&T in International and Mass Market Marketing. She graduated from Ohio Wesleyan University with a BA in International Business and German.
Some of Betsy's articles include 12 Best Places to Live in Portugal, 7 Best Places to Live in Panama and 12 Things to Know Before Moving to the Dominican Republic. Betsy loves to travel and spend time with her family. Connect with Betsy on LinkedIn.