Moving to Qatar
Last updated on Nov 27, 2021
Summary: Moving to Qatar? Expats talk about what you need to know before moving to Qatar.
What cultural faux pas should I try to avoid making in Qatar?
We asked people in Qatar if they could share any humorous cultural blunders they commited. For new expats, keep in mind that these incidents are an inevitable part of expat life. Learning to laugh about them is the key!:
"I tried to shake the hand of a Qatari man. He told me that he did not shake the hands of women," mentioned another expat when asked about moving to Doha.
"Yes, when I turned and suddenly saw a women covered in an abaya and I nearly screamed. It took me some time to get used to the women in black," commented one expat who made the move to Doha.
Answer Question & View More Answers
How are healthcare services Qatar?
When we asked expats and global nomads about the quality of medical care in Qatar, they replied:
"Do not worry if your company does not provide insurance. National Health in Qatar is beyond compare. It costs QR100 for a year. When you go private they quite often refer you to National Health system as they have the best facilities. Only draw back is queuing even when you have an appointment," commented one expat who moved to Doha.
About the Author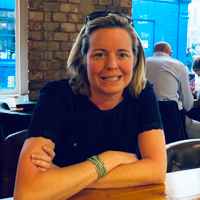 Betsy Burlingame is the Founder and President of Expat Exchange and is one of the Founders of Digital Nomad Exchange. She launched Expat Exchange in 1997 as her Master's thesis project at NYU. Prior to Expat Exchange, Betsy worked at AT&T in International and Mass Market Marketing. She graduated from Ohio Wesleyan University with a BA in International Business and German.
Some of Betsy's articles include 12 Best Places to Live in Portugal, 7 Best Places to Live in Panama and 12 Things to Know Before Moving to the Dominican Republic. Betsy loves to travel and spend time with her family. Connect with Betsy on LinkedIn.