Living in Thailand
Last updated on Feb 06, 2023
Summary: The approximate population of Thailand is 69 million people. The largest cities in Thailand are Bangkok, Nonthaburi, Pak Kret, Hat Yai, and Chiang Mai. Expats love living in Thailand for its tropical climate, friendly people, and low cost of living. People describe life in Thailand as relaxed, laid-back, and full of adventure. Popular foods in Thailand include Thai curries, noodles, and rice dishes. Popular snacks include mango sticky rice, fried bananas, and coconut ice cream. The cons of living in Thailand include the language barrier, the lack of public transportation, and the hot and humid climate. The average cost of living for an expat is around $1,000 to $2,000 per month. This includes rent, food, transportation, and entertainment.
What do I need to know about living in Thailand?
When we asked people what advice they would give someone preparing to move to Thailand, they said:
"Before retiring in Thailand, it is important to be aware of the visa requirements and options available. It is important to consider healthcare options in Thailand and research what is covered and not covered by public healthcare and private insurance policies. You should also consider the cost of living in Thailand, as it can vary greatly depending on what city or region you choose to retire in. Research some expat communities in Thailand and decide which location would be most comfortable for you. It is important to consider the logistics of bringing your possessions to Thailand, as well as storage and shipment options if needed. Additionally, it is important to become familiar with the local culture and customs before retiring in Thailand. It is good to research local language schools in advance, as this could be a great way to connect with the locals," wrote a member in Thailand.
"I think the best advise is to make sure you have a way of earning money that does not involve having to find work here - unless you are an English teacher. If you can find an opportunity to work remotely, that is best. If you are from the US, there is a 12 hour time difference. This actually works to your advantage because you can answer emails in the morning and then again at night. This allows you to respond promptly to clients and also allows you to enjoy the entire day without distractions (as everyone in the US is sleeping). A new law is requiring all expat to enroll in an insurance plan. I would have advised that anyway, but it is now mandatory. I would also say, bring less clothes than you think you need and bring more of your favorite cosmetics and linens. There are many knock-offs in Thailand in the cosmetic offerings and more likely than not, you will be buying an inferior product. It is also hard to find good quality sheets and towels and even pillows, so I recommend bringing your own. Good quality water shoes and practical shoes are also hard to find and when you do, quite expensive," commented one expat who made the move to Ao Nang (Krabi).
Answer Question & View More Answers
How do I meet people in Thailand?
When we asked people living in Thailand about club and activities where newcomers can meet others, they responded:
"You can meet people in Thailand in a variety of ways. Consider participating in local activities and join clubs or organizations, attending events in your area, expanding your network online, volunteering with a local charity, or getting a job in Thailand. You can also join in on conversations with locals at street food markets, markets, malls and skate parks. Make sure to be friendly and open to conversation when meeting new people. Additionally, many people meet people through mutual friends or by meeting them through mutual interests. Also, don't forget to connect with people on social media such as Facebook, Twitter and Instagram. Good luck meeting people in Thailand," added another expat in Thailand.
"Most people start by getting introduced through the expats in Krabi Facebook page. The is really only one expat group called Skal, that has any formal meetups. And I use the word 'formal" loosely as nothing in this area of Thailand is formal. A lot of expats meet through Yoga and Muayi Thai. Of course families tend to meet through the private schools and after school Kumon classes," remarked another expat who made the move to Ao Nang (Krabi).
Answer Question & View More Answers
What is life like in Thailand?
When we asked people living in Thailand what life is like and how people spend their time, they said:
"Life as an expat in this area has many benefits. This area offers a wealth of lifestyle opportunities that one can enjoy. With a multitude of different cultures and a good sense of community, there is something to be enjoyed by everyone. The cost of living is generally quite low, with the prices for accommodation, food and other services remaining affordable for expats. There is good public transport links and services available for those without vehicles. The country's location makes for perfect holiday getaways whether it be a long weekend at the beach, a day trip to the city or an extended stay on an island paradise. There is an abundance of activities to do in this region, from outdoor adventures such as scuba diving and hiking, to cultural experiences such as visiting old temples, festivals and markets. Many expats stay in the region for a number of years and form strong friendships with those who live there, making life as an expat a truly rewarding and enjoyable experience," wrote a member in Thailand.
"Live here is sooo laid back. For the expat, the majority are retirees. Life does not revolve around work, it revolves around play. Many expats - the younger ones- tend to get jobs related to beach activities - snorkeling, diving, paddle boarding.... Where to eat is usually the top priority for most expats," commented one expat who made the move to Ao Nang (Krabi).
Answer Question & View More Answers
Is there a lot of crime in Thailand?
We asked people if there is a lot of crime. They answered:
"Crime does occur in Thailand, especially in the larger cities and tourist areas. However, the overall crime rate in Thailand is relatively low compared to other countries. Violent crimes, such as assault and theft, are not as common but do occur in some areas. It is important to be aware of your surroundings and take the necessary precautions to stay safe while in Thailand," remarked another expat who made the move to Thailand.
"Very, very little crime here. You can leave your groceries in your motorbike basket, go do more shopping and when you return, everything will still be there," explained one expat living in Chiang Mai, Thailand.
Answer Question & View More Answers
Is there a lot of diversity? Are people in Thailand accepting of differences?
"Thailand is a culturally diverse country, with the majority of the population belonging to the Thai ethnic group, but also including people from Chinese, Malay, Mon, Khmer, Lisu, Karen, and various other minority backgrounds. As a general rule, the Thai people are very warm and welcoming to all people regardless of race, ethnicity, gender, or sexual orientation, although there is still some discrimination toward minority ethnic and religious groups," wrote a member in Thailand.
"In terms of religion, the area is diverse but there is a large Muslim population. The Muslims have fantastic food on offer and everyone seems to get along quite well. As this area is full of tourists you will find a melting pot from Russia, Australia, England, other European countries, there are few Americans. The Thai people are very accepting of all different people. They also have 'she boys' which are well esteemed in Thailand. These are men who dress up as women. Expats are welcomed. You will learn quickly that there are few restaurants and bars where certain groups of expats tend to socialize. Economically, there is a huge gap between the rich and the poor. The majority being poor or working class. I think the beauty of the area helps bring people together and bridge this gap though," commented one expat who made the move to Ao Nang (Krabi).
Answer Question & View More Answers
What are the schools in Thailand like?
"Schools in Thailand generally follow the national curriculum and provide education from primary level (ages 6-12) through to secondary level (ages 12-18). Most students attend government-run schools, which are provided free of charge, although there are also several private international schools available. Schools generally place an emphasis on academic achievement, with a focus on core subjects such as Thai, Math and English. There is also an emphasis on developing student's social, emotional and physical skills. Schools provide both Thai language and English courses, with English classes starting from primary level and increasing in complexity at each grade. The Thai education system is ranked highly on the international education rankings, with the country producing some of the best students in the world," said another expat in with children at .
"The school's academics are rigorous. Students are accepted into top US and UK universities. Students apply and are accepted by universities in Europe, China, Thailand, Canada, and Australia also. English fluency is expected and required to succeed at the high school. The high school offers many Advanced Placement classes; French, Spanish, and Thai language classes are on offer. Approximately one third of students are Western, one third are Korean, and one third are Thai," remarked another parent with kids at Chiang Mai International School in Chiang Mai.
Answer Question & View More Answers
Is the cost of living in Thailand high?
We asked people how much they someone comfortably live on in Thailand, they wrote:
"The cost of living in Thailand is generally lower than in other countries, although prices vary between different cities and regions. Rent, food, utilities, and transportation costs tend to be low, while goods such as luxury items and imported products can be more expensive," added another expat who made the move to Thailand.
"I think one person can live comfortably in Chiang Mai for between $1000-2000/month," explained one expat living in Chiang Mai, Thailand.
Answer Question & View More Answers
About the Author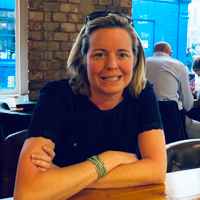 Betsy Burlingame is the Founder and President of Expat Exchange and is one of the Founders of Digital Nomad Exchange. She launched Expat Exchange in 1997 as her Master's thesis project at NYU. Prior to Expat Exchange, Betsy worked at AT&T in International and Mass Market Marketing. She graduated from Ohio Wesleyan University with a BA in International Business and German.
Some of Betsy's articles include 12 Best Places to Live in Portugal, 7 Best Places to Live in Panama and 12 Things to Know Before Moving to the Dominican Republic. Betsy loves to travel and spend time with her family. Connect with Betsy on LinkedIn.