Cost of Living in Thailand
Last updated on Nov 27, 2021
Summary: What is the cost of living in Thailand? Expats, digital nomads and retirees living in Thailand talk about the general living costs, the cost of housing and health insurance.
Is the cost of living in Thailand high?
We asked people how much they someone comfortably live on in Thailand, they wrote:
"I think one person can live comfortably in Chiang Mai for between $1000-2000/month," remarked another expat in Chiang Mai.
"It depends on your life style, I know people who live on 50,000 baht a month, we spend about 100,00 baht a little more, a little less, depending on what we are doing," explained one expat living in Nonthaburi.
Will I save money living in Thailand?
"The exchange rate from US dollars to Thai baht has been improving in the time I've been here, so that's a plus. But the cost of living has been rising as well," remarked another in Chiang Mai.
"We are able to do pretty much anything we want, travel, go out to dinner every night, help the family. Lots of freedom we never could afford before," explained one expat.
What is the average cost of housing in Thailand?
If you are thinking about moving to Thailand, cost of living in probably a key consideration. Expats commented about the cost of housing:
"I have just rented a lovely apartment in Hua Hin, Thailand. Hua Hin is about 3 hours south of Bangkok. A great location, on the coast with amazing golf courses. It's a modern city but not nearly as busy as Bangkok. All of the major hotels are here. There is a great mix of modern shopping malls and old markets. My apartment is small but there's just one of me. It's 33 sq. meters. A bedroom, combined kitchen/living room, and a bathroom with a big shower. The building is two years old. It's one block from the ocean and a five-minute walk to a gorgeous shopping mall with grocery store. There is a lovely pool and gym. I am paying 10,000 baht - as of October 2022 that's CDN$400 per month. I'm from Vancouver, Canada. A comparable apartment would be $2000 a month in Vancouver," said another expat in Thailand.
"Much lower of course! But I do deal with funky factors, not so clean, not so airtight and not so functional," remarked another in Phuket.
Answer Question & View More Answers
About the Author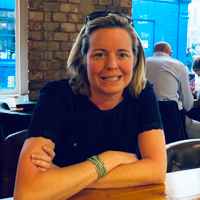 Betsy Burlingame is the Founder and President of Expat Exchange and is one of the Founders of Digital Nomad Exchange. She launched Expat Exchange in 1997 as her Master's thesis project at NYU. Prior to Expat Exchange, Betsy worked at AT&T in International and Mass Market Marketing. She graduated from Ohio Wesleyan University with a BA in International Business and German.
Some of Betsy's articles include 12 Best Places to Live in Portugal, 7 Best Places to Live in Panama and 12 Things to Know Before Moving to the Dominican Republic. Betsy loves to travel and spend time with her family. Connect with Betsy on LinkedIn.