Real Estate in Thailand
Last updated on Dec 18, 2022
Summary: People living in Thailand offer advice about real estate. How do you find a home in Thailand? Should you buy or rent? What is the cost of housing?
How do I find a place to live in Thailand?
We asked expats how they chose their neighborhood and found a place to live. They answered:
"Finding a place to live in Thailand is a relatively straightforward process if you know where to look. You can start your search by looking online, as most rental accommodations can be found on real estate websites such as DDproperty and Bangkok Garage. You can also check out classified sections of websites such as Craigslist, Expat, and Kijiji for additional rental options. If you're looking for a more economical option, you can look for accommodation on sites like Gumtree, Facebook, and Couchsurfing. Additionally, newspapers and magazines such as Bangkok Post and BK Magazine are a great place to search for rentals. If you're looking to rent long-term, you can start by negotiating a price directly with landlords or real estate agents in the area. Lastly, if you are looking for a more authentic living experience, you can opt for a homestay or rent a room in a local Thai house," added another expat who made the move to Thailand.
"I searched all the rental sights and settled on a PEACEFUL place short term, through airB&B that spoke English and had a friendly feel. That was a crucial part of the transition. The I made connections and wound up renting long term in the same area in Phuket. Rental agencies and driving in place I was unfamiliar with was stressful and did not avail me a long term home," explained one foreigner living in Phuket, Thailand.
Answer Question & View More Answers
What is a typical expat home or apartment like in Thailand?
"Expat homes and apartments in Thailand vary depending on the city and budget. Typically, they are cozy and spacious, with air conditioning, an equipped kitchen, and western-style bathrooms. Depending on the neighborhood, they may offer amenities such as swimming pools, gym access, or other recreational activities. Expat homes and apartments in Thailand usually offer excellent value and comfort, providing an enjoyable and convenient place to live," remarked another member in Thailand.
"2 bedroom house on a bit of land. I do not know what is "typical" for expats living in Phuket," explained one expat living in Phuket, Thailand.
Answer Question & View More Answers
What is the average cost of housing in Thailand?
If you are thinking about moving to Thailand, cost of living in probably a key consideration. Expats commented about the cost of housing:
"The average cost of housing in Thailand varies widely depending on the location and type of housing, but is generally considered to be much lower than that of other popular tourist destinations in Asia," remarked another member in Thailand.
"I have just rented a lovely apartment in Hua Hin, Thailand. Hua Hin is about 3 hours south of Bangkok. A great location, on the coast with amazing golf courses. It's a modern city but not nearly as busy as Bangkok. All of the major hotels are here. There is a great mix of modern shopping malls and old markets. My apartment is small but there's just one of me. It's 33 sq. meters. A bedroom, combined kitchen/living room, and a bathroom with a big shower. The building is two years old. It's one block from the ocean and a five-minute walk to a gorgeous shopping mall with grocery store. There is a lovely pool and gym. I am paying 10,000 baht - as of October 2022 that's CDN$400 per month. I'm from Vancouver, Canada. A comparable apartment would be $2000 a month in Vancouver," explained one expat living in Thailand.
Answer Question & View More Answers
Should I buy or rent a home in Thailand?
If you have not spent a lot of time in Thailand, you should rent before even thinking about buying. We asked expats there about the buy vs. rent decision:
"Buying a home in Thailand may be a more cost-effective and long-term investment if you are looking to settle in the country. However, it is important to consider both the rental and purchase option before making a decision. Before buying, confirm that the property you are interested in is correctly registered, that you are allowed to purchase it, and that you will be able to obtain a loan if needed. Renting may be a better choice for those looking for more flexibility or for those who are only staying for a short period of time; rent is generally more affordable, and allows you to find a property in the area you desire without the long-term commitment of a purchase. Ultimately, the decision to buy or rent will depend on your specific situation and goals," remarked another foreigner who made the move to Thailand.
"Rent. I had a number of rental agents show me many places before I settled one that satisfied me," explained one person living in Chiang Mai, Thailand.
Answer Question & View More Answers
About the Author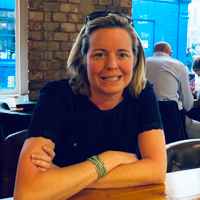 Betsy Burlingame is the Founder and President of Expat Exchange and is one of the Founders of Digital Nomad Exchange. She launched Expat Exchange in 1997 as her Master's thesis project at NYU. Prior to Expat Exchange, Betsy worked at AT&T in International and Mass Market Marketing. She graduated from Ohio Wesleyan University with a BA in International Business and German.
Some of Betsy's articles include 12 Best Places to Live in Portugal, 7 Best Places to Live in Panama and 12 Things to Know Before Moving to the Dominican Republic. Betsy loves to travel and spend time with her family. Connect with Betsy on LinkedIn.