Phuket, Thailand
Last updated on Mar 10, 2023
Summary: People describe Phuket, Thailand as a tropical paradise with stunning beaches, lush jungles, and vibrant nightlife. Expats love the laid-back atmosphere, the friendly locals, and the abundance of activities and attractions. The weather in Phuket is typically hot and humid, with temperatures ranging from 75-90 degrees Fahrenheit (24-32 degrees Celsius). The average cost of living for an expat is around $1,000-$2,000 USD per month. The cost of a one bedroom apartment is around $400-$800 USD per month, and a two bedroom apartment is around $600-$1,200 USD per month. The approximate population of Phuket is around 400,000 people.
What do I need to know about living in Phuket?
When we asked people what advice they would give someone preparing to move to Phuket, they said:
"Before retiring in Phuket, expats should research the cost of living and the availability of healthcare services. It is also important to familiarize oneself with the local culture and customs, as well as the language. Additionally, expats should consider the climate and the type of accommodation they would like to live in. Finally, it is important to research the visa requirements and the process for obtaining a retirement visa," said one expat who made the move to Phuket.
"Check out the English language newspaper - it'll give you LOTS of insight - even classified about rental houses, jobs and more at www.Phuketgazette.com Amd check out this site: www.Phuketdelight.com for information about life and living and working on the island You WILL love it here," explained one expat living in Phuket, Thailand.
What do I need to know before moving to Phuket?
About the Author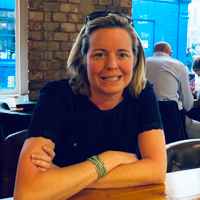 Betsy Burlingame is the Founder and President of Expat Exchange and is one of the Founders of Digital Nomad Exchange. She launched Expat Exchange in 1997 as her Master's thesis project at NYU. Prior to Expat Exchange, Betsy worked at AT&T in International and Mass Market Marketing. She graduated from Ohio Wesleyan University with a BA in International Business and German.
Some of Betsy's articles include 12 Best Places to Live in Portugal, 7 Best Places to Live in Panama and 12 Things to Know Before Moving to the Dominican Republic. Betsy loves to travel and spend time with her family. Connect with Betsy on LinkedIn.