Arabian Ranches, the UAE
Last updated on Jul 10, 2023
Summary: Expats, digital nomads and retirees talk about what it is really like living in Arabian Ranches, UAE. They offer advice about meeting people, cost of living, finding a home and more.
What do I need to know before moving to Arabian Ranches?
When we asked people what advice they would give someone preparing to move to Arabian Ranches, they said:
"Arabian Ranches, located in Dubai, UAE, is a popular residential area for expats due to its luxurious lifestyle and high-quality amenities. Before moving to Arabian Ranches, expats should be aware of several important factors. Firstly, the cost of living in Arabian Ranches is relatively high, with rent for villas and townhouses being quite expensive. However, the quality of housing is exceptional, with most homes being spacious and well-maintained. The community is family-friendly, with several international schools, nurseries, and parks available for children. It's also pet-friendly, which is a rarity in Dubai. Arabian Ranches is a bit far from the city center, so having a car is almost a necessity. Public transportation is not as readily available, and taxis can be expensive for daily commuting. The community is predominantly English-speaking, making it easier for expats from English-speaking countries to settle in. However, learning some basic Arabic phrases can be beneficial. The area is known for its safety and security, with 24/7 security and gated communities. However, it's important to respect the local laws and customs, as the UAE has strict rules regarding behavior and dress code. The climate in the UAE is extremely hot, especially in the summer months. Homes in Arabian Ranches are equipped with air conditioning, but it's important to stay hydrated and avoid spending too much time outdoors during peak heat hours. Lastly, Arabian Ranches offers a variety of recreational activities, including golf courses, polo fields, and equestrian clubs. There are also several shopping centers, restaurants, and healthcare facilities within the community," remarked one expat who made the move to Arabian Ranches.
How do I find a place to live in Arabian Ranches?
About the Author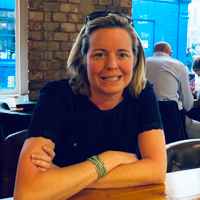 Betsy Burlingame is the Founder and President of Expat Exchange and is one of the Founders of Digital Nomad Exchange. She launched Expat Exchange in 1997 as her Master's thesis project at NYU. Prior to Expat Exchange, Betsy worked at AT&T in International and Mass Market Marketing. She graduated from Ohio Wesleyan University with a BA in International Business and German.
Some of Betsy's articles include 12 Best Places to Live in Portugal, 7 Best Places to Live in Panama and 12 Things to Know Before Moving to the Dominican Republic. Betsy loves to travel and spend time with her family. Connect with Betsy on LinkedIn.