Grecia, Costa Rica
Last updated on Jan 18, 2023
Summary: People describe Grecia, Costa Rica as a peaceful, friendly, and safe town with a strong sense of community. Expats love the small-town atmosphere, the friendly locals, and the low cost of living. The weather in Grecia is typically warm and sunny, with temperatures ranging from the mid-60s to the mid-80s Fahrenheit. The average cost of living for an expat is around $1,000 to $1,500 per month. The cost of a one bedroom apartment is typically around $400 to $500 per month, while a two bedroom apartment can range from $500 to $700 per month. The approximate population of Grecia is around 25,000 people.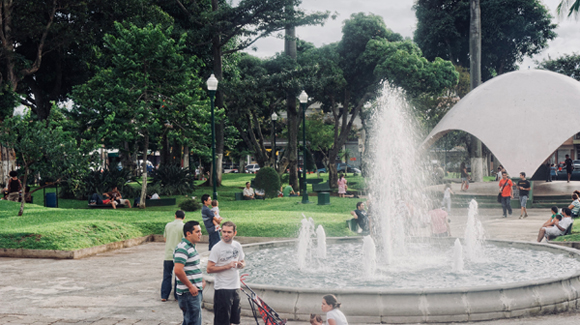 What do I need to know about living in Grecia?
When we asked people what advice they would give someone preparing to move to Grecia, they said:
"Have lived in Grecia for 7-1/2 yrs. It is a small city and in my opinion the best unless you insist on beach area which is too hot for me. No a/c necessary where I live. Easy to get to know people if you are friendly. I can't walk down the street without people I know honking or waving. I live happily without a car which means not using all my pension on repairs and high gas," remarked another expat who made the move to Costa Rica.
What do expats in Grecia appreciate most about the local culture?
"There was little I found to appreciate about the culture in Boquete. I sensed a certain resentment among the Panamanians against x-pats. The ones I encountered did not make an attempt to engage. Grecia was distinctively different. The Ticos were gracious, friendly and willing to provide assistance as best they could," added another expat who made the move to Grecia.
What do expats find most challenging?
"Communication, lack of mobility, the total inconvenience of it all. Also, trying to make ends meet financially. The phrase Retire for Less and only needing $1000.00 per month is bogus. In both locations supply and demand caused prices on consumer goods to spike, rent is on the rise. Only utilities were in line with the advertisements," remarked another expat living in Grecia, Costa Rica.
Is there a lot of crime in Grecia?
We asked people if there is a lot of crime. They answered:
"I imagine there is the usual crime, but it isn't obvious. I live in a gated community with roving security so I feel safe," remarked another expat who made the move to Grecia.
What are the pros and cons of living in Grecia?
Expats, digital nomads and retirees living in Grecia responded:
"The most wonderful people. We have become friends of whole Tico families. They will do everything to help you. On the other hand, most expats we have met seem guarded, and not that friendly and even selfish. Someone I asked about shipping small items to CR, was not willing to share what she uses even though she talks regularily about things that had just arrived. ," added one expat living in Grecia.
"I get a little tired of the rainy season by October each year. I love that we have everything we need nearby ... Whether it's fresh vegetables or inexpensive repairs. I do miss not being able to travel and see friends and family in the states, but that will pass when the pandemic is over. We have a great pod of expat friends very close, and I hike with two women several times a week. I love that the guys one lot over play loud beautiful music all day. We have lots of animals and I can even get hay in the middle of downtown. We can dive to the closest beach within about an hour, but in the mountains where we live, we don't need AC or heat. We can go to museums and theatre in about an hour (once things open up again).," commented one expat who moved to Grecia.
What type of social life can someone expect in Grecia?
When we asked expats and global nomads about their social experiences in Grecia, they replied:
"Mainly with Ticos in Spanish speaking church, volunteering, and neighbors. Most of the expats have not seen in town since Covid," remarked another expat living in Grecia.
"The expats and locals not as friendly as previous years because uncomfortable in masks, and for Ticos, financial difficulties - in my opinion," said another expat.
What advice to expats in Grecia have about housing?
"Glad we rent. Several expats who own and want to return to their home country have had to wait years to sell here," commented one expat who moved to Grecia.
What are medical services in Grecia like?
When we asked expats and global nomads about the quality of medical care in Grecia, they replied:
"Options are not centralized. Seems "word of mouth" is the only way to learn options," remarked another expat in Grecia.
"I was hospitalized for a week. Other than the $75 a month I pay for my public health coverage, it cost me nothing. I saw several specialists and had many high end tests.Wonderful care," added one expat living in Grecia.
About the Author

Joshua Wood, LPC joined Expat Exchange in 2000 and serves as one of its Co-Presidents. He is also one of the Founders of Digital Nomad Exchange. Prior to Expat Exchange, Joshua worked for NBC Cable (MSNBC and CNBC Primetime). Joshua has a BA from Syracuse and a Master's in Clinical and Counseling Psychology from Fairleigh Dickinson University. Mr. Wood is also a licensed counselor and psychotherapist.
Some of Joshua's articles include Pros and Cons of Living in Portugal, 10 Best Places to Live in Ireland and Pros and Cons of Living in Uruguay. Connect with Joshua on LinkedIn.